Are you looking to feed your boredom with an interactive table game at home? Possibly, the best table hockey games on our list are the way to go here. These hockey tables are an excellent pass-time activity for the whole family.
Table hockey is fast-paced, interactive, and a fun sport. These games boast an opportunity for physical activity at home for the dull kids. Thus, these tables are going to provide limitless functions within the comfort of your cozy rooms. But there are some things worth considering before buying one.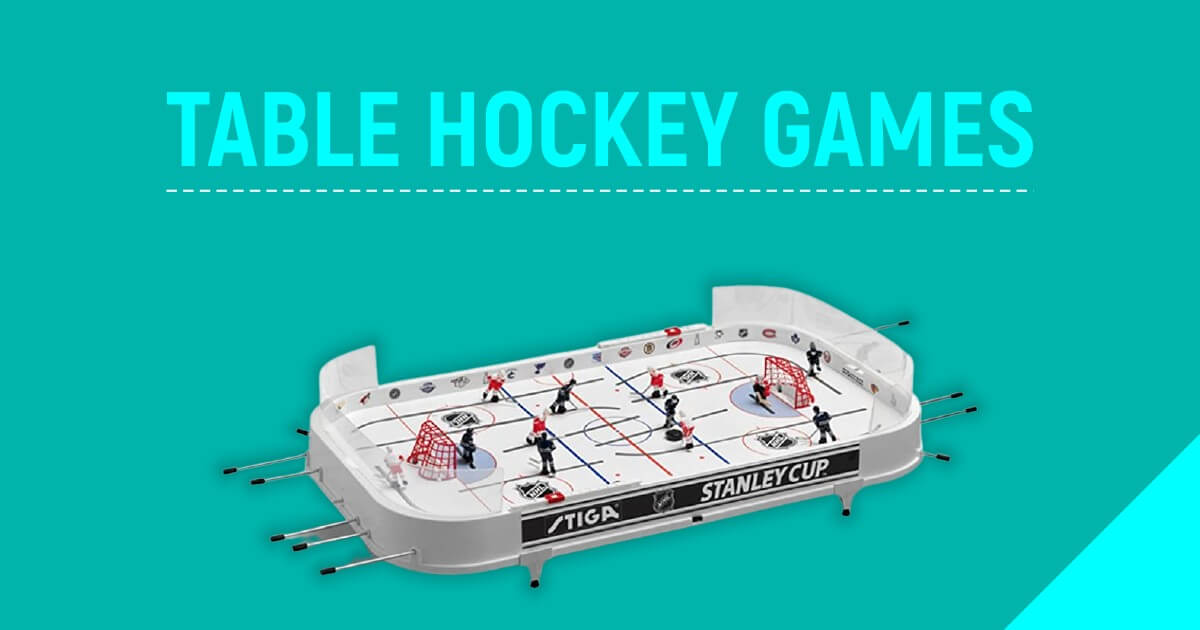 The built quality and durability profile of a hockey table must be demonstrated. On the flip side, a buyer must consider an appropriate size that suits his need. Moreover, the prices of the tables vary concerning their quality and airflow providing motors. Therefore, choose the one according to your need and make the right purchase.
Best Table Hockey Games | Editorial Pick
EDITOR
CHOICE
★★★★★
Sport Squad HX40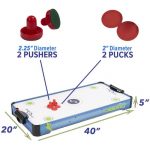 Manual Sliding
12V Fan
Compact Look
TOP
RATED
★★★★★
MD Sports Air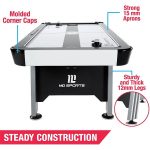 LED Scoring
Even Airflow
Punched Graphics
BEST
SELLING
★★★★★
Atomic 90″ LED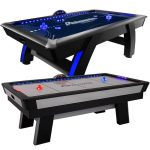 Futuristic Look
Lumen-X Tech
82-Inch Surface
Best Table Hockey Games | Detailed Reviews
We have already reviewed some of the best air hockey mini tables that are truly portable. But, if you are looking for something big for the house parties, here are the most amazing table hockey games to try this year.
BEST OVERALL
Sport Squad HX40 Air Hockey Table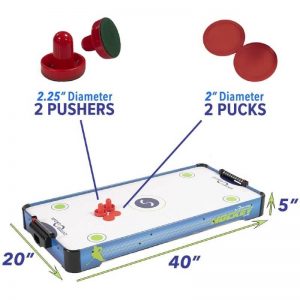 ★★★★★
Sliding Scorer
Smooth Gameplay
Features:
It has manual sliding scorers installed on both sides for keeping up with match updates
The table is A/C supported with a 12V fan to support a smooth gameplay
Your wonderful hockey table doesn't require assembling and comes with detailed components
A compact table that weighs 10.7 lbs. with non-marking rubber pads for base protection
Take hockey excitement to another level with a quickly assembled table that guarantees quality satisfaction. Its compact form factor and high output fan make it one of the best table hockey games.
This table makes up for a great fun treat to share with your friends and family. Needless to say, it is one of the best air hockey tables to get under just $500 this year.
Specification:
Dimensions: 40 X 20 X 5 inches
Weight: 10.7 lbs.
Material: Plastic, Rubber, Engineered Wood
Blower: 12 Volts
Available Colors: Sky Blue & Dark Blue
Age Recommendations: kids & adults
Substantial 12V Blower: The powerful 12V blower delivers the equivalent flow of air throughout the surface. Powerful air distribution technology allows an even continuous flow of air throughout the surface. Players will no longer experience friction and dead spots on the playfield due to this powerful blower.
Quality Components: It comes with high-quality game components that vouch for a quality air hockey experience. You are getting two 2.25 inches top-quality strikers and two 2 inches plastic pucks that are made out of premium plastic. These components offer a superior air hockey experience.
Compact Design: Sports squad store has provided a substantial 40 inches table in a manageable size that is easy to carry. It offers a great tabletop experience with rubber padding for the base protection for a complete quality check. Further, it's very lightweight for its size, making it a convenient table to carry.
Manual Sliding Scorers: Players can stay alert about the goal counts with the two manual sliding scorers. The scorers are cleverly installed on both sides that conveniently present the goal updates.
Pros
An impactful 12V blower for even airflow
This table doesn't require assembling
It comes with high-quality pucks and strikers
The price is low
Compact and portable table
Cons
Complains about air fan stop blowing air
Our Take: The high-quality pucks and strikers with the table compact and lightweight are suitable for kids and adults to play together. Further, it comes with a manual sliding scorer on both sides of the table for keeping up updates.
BEST-RATED
MD Sports Air Powered Hockey Table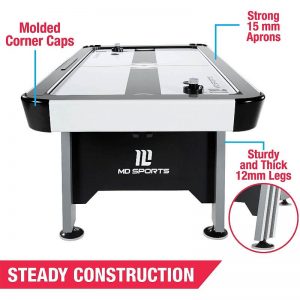 ★★★★★
LED Scoring
High-Quality Motor
Features:
The table incorporates an LED scoring system with incredible sound effects
Its high-quality motor ensures an even airflow across the playfield area
The table's surface has punchy color graphics for an enjoyable air hockey session
Go all premium with this interactive air hockey table from MD Sports. Its durable construction stands on the signature MDF legs with leg-levelers for a steady experience even with an uneven base surface.
The table comes with a complete range of accessories so that you can get started right away.
Specifications:
Dimensions: 84 x 42 x 32 inches
Weight: 92.4 lbs.
Color: white, grey, & black
Motor: 120 V
Material: Wood & Plastic
Assembly Required: yes
Of Players: 2
Ongoing Construction: The 84 inches generous surface is built with incredibly durable plastic, while the frame is made out of wood. Your pucks glide smoothly on the playfield thanks to this premium UV coating on the surface. While the wood construction makes sure that the table accompanies long-term usage.
LED Scoring Feature: It comes with the modern electronic scoring feature with LED presentation to keep the players updated. The LED bar flashes after each goal and produces a very colorful effect in the game. Moreover, it features authentic sound effects for a professional experience.
High-Quality Motor: Players can trust this motor, offering a powerful airflow throughout the playfield. The experience is exalted with its consistency feature so that players can forget the troubles of dead spots. As a result, pucks slide without facing resistance on the playfield.
Balanced Game: Impressive leg levelers on the table provide a flat playfield to its players. Moreover, the advanced leg-levelers can adapt to uneven surfaces while promising a flat playfield area. The base materials are resilient, offering a great foundation for your game.
Pros
LED scoring feature flashes for a convenient goal update
Pucks glide thanks to UV coating
Durable built quality
Leg-levelers for a flat playfield area
Friendly price
Cons
The surface is prone to scratches
Issues with a scoring mechanism
Our Take: An 84 inches premium surface table with UV coating and equipped with an LED scoring system that makes an awesome air hockey game for all.
POPULAR CHOICE
Atomic 90″ LED Light Up Table
★★★★★
Multicolored Board
Lumen-X Tech
Features:
Non-stop pucks action thanks to the seamless PVC playing surface
LED Lumen-X technology promises a multi-colored experience that comes to life
82 inches large surface is supported by the 4 robust legs for a strong game foundation
It comes with a powerful 120V motor for a consistent flow of air across the playfield
Bring the colors of a modern air hockey table with this table's Lumen-X technology. Its maximum powered motor and PVC playing surface makes it one of the best table hockey games.
This table can lighten a dark room for an exhilarating game overall. Without any doubt, it is one of the most amazing air hockey tables to get under $1k this year.
Specifications:
Dimensions: 90 x 49 x 31.25 inches
Size: 7.5 inches
Weight: 220 lbs.
Available Colors: black & grey/black
Blower: 120 V
Material: High speed PVC, Engineered Wood
Assembly Required: yes
Of Players: 4
Maximum Flow: A consistent airflow on an air hockey table is crucial. And that's where this table's dominating 120V motor capacity comes into action. It offers a brilliant flow of air, so the pucks remain in a state of action no matter what happens.
LED Lumen-X Technology: This modern technology offers an exceptional color-rich experience with each color flashing. It adds red, blue, and green colors with sound effects giving a magical experience. Each color changes after a player score a goal. Hence, expressing more color variations for a stellar game.
PVC Surface: Your smooth PVC surface offers an exceptional glide capacity to all the color-blinking pucks. The motor blows a substantial amount of air on the playfield with a supported PVC surface. As a result, the pucks flow smoothly without grappling with the surface resistivity.
All The Accessories: Players are getting all the accessories needed to support the best air hockey experience. The accessories include: 2 LED pushers, 2 round pucks, and 1 hexagonal spinner LED puck.
Pros
LED Lumen-X technology illuminates the game
120V motor for unbeatable airflow
Smooth pucks flow thanks to PVC surface
Stable and sturdy legs
Cons
Complains about goal scorer working issues
High price
Our Take: LED Lumen-X technology combines with the velvet smooth PVC surface offers a bright air hockey game for all. Further, it comes with all the accessories that you need to doubles the fun.
THEMED
EastPoint Sports Hover Hockey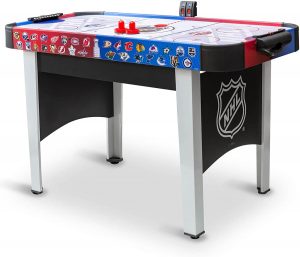 ★★★★★
Full Accessories
LED Scoring
Features:
This 48 inches table comes with 2 air hockey pucks and 2 quality pushers
Players can start with the game in minutes because of the convenient setup
It comes with an LED scoring system to keep players informed about the game
The sports hover hockey table packs powerful airflow on the glossy surface that is loved by all. It brings the unique LED scoring functionality that keeps players updated about the scorecard.
Moreover, it has a promising surface that is free of resistance and friction. So, just club it with some high-quality air hockey pucks to get the best experience.
Specifications:
Dimensions: 48 x 24 x 30 inches
Size: 48 inches
Color: black
Material: plastic
Assembly Required: yes
Electronic Scoring Functionality: This table deals with the new trends of technology by infusing an LED scoring system. This advanced feature keeps players updated about the goal's count with a quick glimpse.
Many hockey tables have manual sliding scorers that bring pauses between goals but not with this one. So, players no longer have to bother for updated the scorer panel because this electronic scorer does it for you.
Easy To Get Started: Now you won't have to worry about the complicating table assembling as this table is easy to get started. You'll be given each and everything in the package, and it'll take a few minutes to set up the table. So players can get started right away.
Flawless 48 Inches Surface: It's a premium powered by the consistent blow of air by the strong motor. The 48 inches length makes an ideal size for all types of players to enjoy an air hockey game. Furtherly, the air is distributed evenly on all parts of the playfield so the pucks can float without trouble.
Pros
Advanced electronic scoring system keeps players informed
The best surface for smooth pucks action
Premium blower offers even airflow across the playfield
Unbeatable durability
Leg levelers make it a stable table
The price tag is low
Cons
Fan working issues
Complains about damaged shipments
Our Take: An ideal 48 inches smooth playfield with an LED scoring feature offers sublime air hockey for people of all ages.
HEAVY-DUTY
Hall of Games Edgewood 84″ Table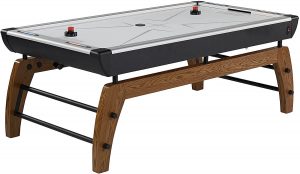 ★★★★
Signature Design
UL Certified
Features:
Signature wooden legs with PVC laminate along with metal cross bar providing stability
It comes with an LED scoring system with the special sound effects
120V AC UL certified motor ensures a consistent flow of air for a sublime game
It has laminated MDF aprons and a metal bar for connecting the most durable table profile
Redefine air hockey game with this Edgewood 84″ packing 120V AC UL certified motor. If you have a good budget, it can also be the one of the best air hockey tables for kids.
The table is a fantastic blend of durability and sophistication. Its foundation is laid on robust legs that level every surface with the unique leg-levelers.
Specifications:
Dimensions: 84 x 44 x 32 inches
Weight: 212.25 lbs.
Color: white & black
Blower: AC 120V
Material: Wood, Metal, PVC
Assembly Required: yes
Signature Design: Hall of games has offered an incredible design with the enhanced durability. Its remarkable wood built is supported with sublime quality metal for extra strength.
The table has wooden legs that are made out of solid wood grain and are PVC laminated. In the meantime, the sophisticated leg's design is complemented with metal bars for ensuring extra safety.
Effortless Motor: The whole playing surface is boosted by a 120V AC UL-certified motor offering impeccable airflow. You will no longer feel dead spots on the playfield because of the consistent airflow.
Score With Effect: Your table is offering an interactive game with the LED scorer function accompanying sound effects. Players after each goal are notified with the sound effect. They can always have visual certification through the authentic LED scoring system on the table on the flip side.
Durable Profile: 84 inches playfield is protected all around with the key elements in the construction. The metal connectors join the MDF laminated aprons of this table. And the metal crossbar connects with solid wooden legs. Overall, giving the most distinguishable design that is ultra-durable at the same time.
Pros
Solid base foundation with wooden legs having PVC lamination
Offers in-game sound effects
Premium airflow because of 120V AC motor
UL certified motor
Hidden leg levelers offer consistent game
Cons
Substantial weight makes it hard to move
High price
Our Take: Power of 120V AC motor combining with the PVC laminated legs with levelers offers premium air hockey game.
PROFESSIONAL
Hathaway Midtown Family Game Table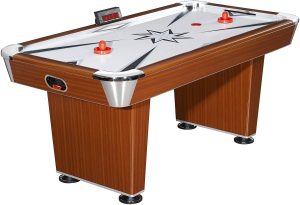 ★★★★
Precise Air Holes
High-Gloss Poly
Features:
Consistent air influx through 1950 precisely drilled air holes
It has a scratch-resistant high-gloss poly sealed playing surface promising the best puck flow
It comes with chrome finished corners and versatile leg levelers
This table comes with a warranty of 180 days (6 months)
Discover the magnificence of an air hockey table with the cherry wood tone laminated finish on this table. It has a scratch-resistant poly sealed surface making it one of the top-rated table hockey games.
Moreover, you're getting maximum airflow thanks to a stronger blower in this table.
Specifications:
Dimensions: 72 x 36 x 31 inches
Playing Surface: 64 x 30 x ¾ inches
Striker Size: 3.75 inches
Pucks Size: 3 inches
Air Holes: approx. 1950
Weight: 97 lbs.
Color: Cherry Finish & Silver
Blower: 110V
Superb Air Influx: The extraordinary airflow is made possible by a 110V air blower and the 1950 air holes on the playfield. It offers a continuous flow of air through every hole for keeping pucks in action throughout.
Furthermore, each part of the playfield is powered by the blower's airflow leaving the fears of dead spots behind.
Adjustable Leg-Levelers: Your classic air hockey table has these flexible leg-levelers that are independent and adjustable. They are easily adaptable to even a bumpy surface. So players get a stable and flat playfield even on a tough surface.
Fun Score Updates: Get your all score updates with this motion-based electronic scoring system installed on this table.
Classic Take On An Air Hockey Table: Your Hathaway Midtown 6′ is a perfect presentation of class and technology. The impressive cherry wood tone lamination gives an incredible appearance even from a fair distance. It is constructed with engineered wood offering a high value of endurance. Also, players are getting 2 high-quality strikers and 4 pucks with the table.
Pros
Powerful blower for a maximum air influx
1950 air holes for even air distribution
Independent leg levelers for a certain stability
Classic appearance complemented by cherry wood tone lamination
Cons
Some holes can be misplaced
Complains about the fragile construction
Our Take: Poly sealed surface with over 1950 air holes offers a quality air flux for a quality experience. Plus, this table is made with a sturdy material that provides longevity.
SLEEK LOOK
Rally and Roar Air Hockey Table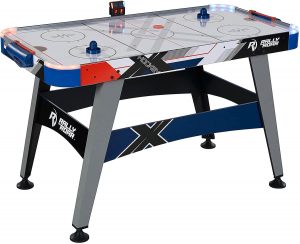 ★★★★
Dual Scoring System
Rigid Leg Frame
Features:
There are 2 types of scoring systems, including the LED as well for updating the player
Leg levelers are designed on the leg frame that will sustain the balance of the gaming surface
54 inches of gaming length has been delivered here with a wide range of boundaries
Advanced gaming structure has collaborated here along with an intense lighting system to glow up the dull surrounding.
The exterior is well polished with smooth textured throughout the material that will keep the ground in align position. And, of course, the hockey table is ready to go without any mechanism.
Specifications:
Dimensions: 54 x 27 x 32 inches
Size: 54 inches
Weight: 46 lbs.
Color: blue & grey
Blower: 12V
Material: plastic
Firm Construction: Tough quality plastic manufacturing is used here for covering protection from the exterior to the ground as well. Plus, the boundaries of the hockey table are connected with gripped impact having 27 inches width.
Light Glowing Impact: The four corners of the table have LED lights that come with a structure that will glow whenever you want to add some fun. It just only requires a direct electrical connection with the provided adopter without any batteries. Plus, the assembling is quick, and instructions are given in the manual.
Balanced Game: Impressive leg levelers on the table provide a flat playfield to its players. Moreover, the advanced leg-levelers can adapt to uneven surfaces while promising a flat playfield area. The base materials are resilient, offering a great foundation for your game.
Digital Scoring: The scoring technology has been optimized; here, you get double options, including LED and manual, regarding the scoring aspect. The 12v motor has been featured to keep the surface smooth with professional airflow.
Pros
Leg levelers are there for balancing the body
Plastic frame structure with LED light system
Motor system for keeping the airflow on the surface
It got 30 days Moneyback guarantee
Cons
The size table is a bit small as compared to standard tables
Our Take: The dual scoring system, along with a wide-angle playing surface having a 12v motor for airflow system, is one of the best hockey tables.
FAQ Regarding Best Table Hockey Games

Q. What is the best table hockey game?

The best table hockey games are Atomic 90″ or 7.5 ft. LED Light UP Arcade Air Powered Hockey Tables and Sport Squad HX40 40 inch Table Top Air Hockey Table, according to our reviews.

Q. What is table hockey called?

A table hockey game is also known as a rod hockey game. This game is played with stick hockey, along with bubble hockey and board hockey in particular. Further, it is a game for mainly two people, and this hockey game is derived from ice hockey.

Q. Is table hockey a sport?

Yes, Table hockey is a sport that is being played on table hockey. Further, the International Table Hockey Federation (ITHF) uses table hockey manufactured by Stiga.

Best Table Hockey Games | Quick Comparison

Infographics: Best Table Hockey Games

Our Recommendation

Our 1st recommendation is the Atomic 90″ or 7.5 ft LED Light UP Arcade Air Powered Hockey Tables as one of the best hockey table games. LED lumen-x system, along with 90-inches surface length and smooth airflow, makes it a must-pick-up.

Moreover, our 2nd recommendation is Sport Squad HX40 40 inch Table Top Air Hockey Table as the best portable hockey table game. A handy design structure together with plastic, rubber, and wooden frame construction.

Conclusion

Here is the best selection of table hockey games having a smooth playing surface and balanced structure. The manufacturing has been done with sturdy substances including metal, wood, plastic craftsmanship for a professional response.

Alongside, all of the tables have aligned leg connections to support the hockey games' ground surface. Moreover, the required accessories like pucks and pushers are also included in the package, so you don't have to buy them separately.