Must be getting bored during the long-way traveling time? Travel chess sets are the perfect selection to ease your mind and have some strategic gaming fun anywhere you want. The portability factor of these games is because of the easy foldable structure along with lightweight construction.
In the meantime, you can secure the set of chess accessories in the casing, which the chessboard will adopt after folding. And of course, the surface quality of the games is top-notch with the smooth impact of the ground substance.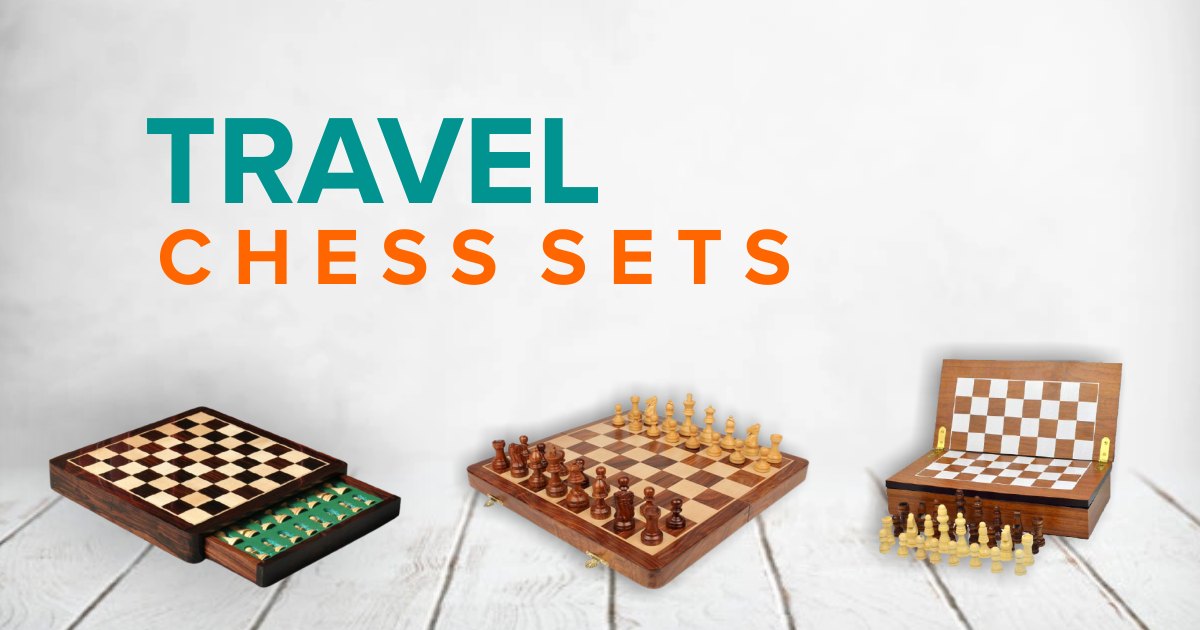 You can also enjoy a magnetic platform on the chessboard compatible with the given accessories. So without further ado, let's look at the best portable and travel-friendly chess sets to try this year.
Best Travel Chess Sets | Editorial Pick
EDITOR
CHOICE
★★★★★
Chess Armory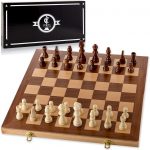 Travel Friendly
Hand Crafted
15″ Board
TOP
RATED
★★★★★
QuadPro Magnetic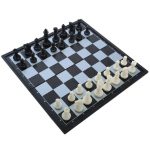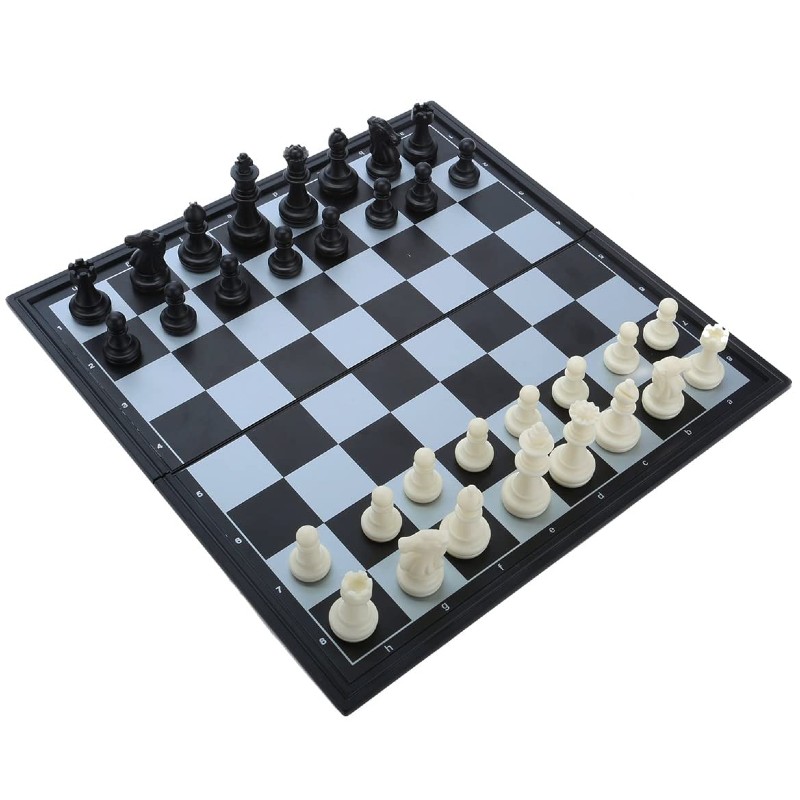 No Moving Noise
Lightweight
Buckling System
BEST
SELLING
★★★★★
FanVince Chess
Professional Choice
Strong Magnets
Hinged Design
Best Travel Chess Sets | Reviews
You may have already loved our list of the best chess sets overall. But, if you are especially looking for a portable and travel-friendly chess set, here they are.
BEST OVERALL
Chess Armory Wooden Chess Set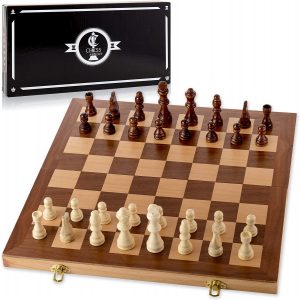 ★★★★★
15 Inches Board
Foldable Surface
Features:
The folding design structure of the board will turn into a portable casing that you can carry anywhere
15 inches board size surface with a plan and smooth manufacturing of the exterior to consider
The chess pieces are crafted with hand construction and detailed designing of the structure
Chess Armory has promised premium quality regarding the manufacturing and craftsmanship of the gaming equipment. The standard size of the board surface is balanced with even ground material that will prevent any damage.
Plus, all the required gaming sets are there in the package as a collection. So, you can surely consider it as one of the best sports board games to try this year.
Specification:
Dimensions: 15.55 × 7.95 × 2.36 inches
Weight: 2.14 pounds
Board Material: Walnut wood
Piece Material: Wood
Nature: Foldable board
Genre: Strategy
King Pieces: 3 inches
Staunton Design: Classical Staunton detailing of the chess pieces in this game set will differentiate the looks of accessories from the usual ones. Moreover, the interior straps featured inside for holding the equipment will take a firm grip and prevent them from falling off.
And don't worry about the scratches anymore, because each piece has felt bottom with no mark issues.
Secure And Easy To Store: The folding travel chess sets come with magnetic clips or hinges that offer secure and comfortable storage so you can remain relaxed while traveling.
Portable Accessories: Walnut construction in the inlaid section first invigorates the appealing sense of the board by smoothening the surface. There are 32 chess pieces, including 3 inches size of the king piece as well. Moreover, the foldable chess board is surely unique and stable with an easy portability factor.
Pros
15″ x 15″ sized foldable table with a felt bottom surface
Walnut construction will maintain the durability of the product
Goldish and brownish design structure with appealing
Lightweight and standard size pieces to move swiftly in the game
The casing will be secure with a magnetic clasp featured on the side
The price tag is low
Cons
The hinges are misaligned
Board misses few unfinished spaces on the surface
Chess pieces are very lightweight
Our Take: A complete range of foldable and secure chess board sets, which are lightweight along with walnut construction, will be your traveling partner. In addition, the folding design, along with hinges, makes it secure and portable.
BEST-RATED
QuadPro Magnetic Travel Chess Set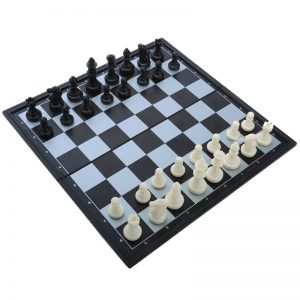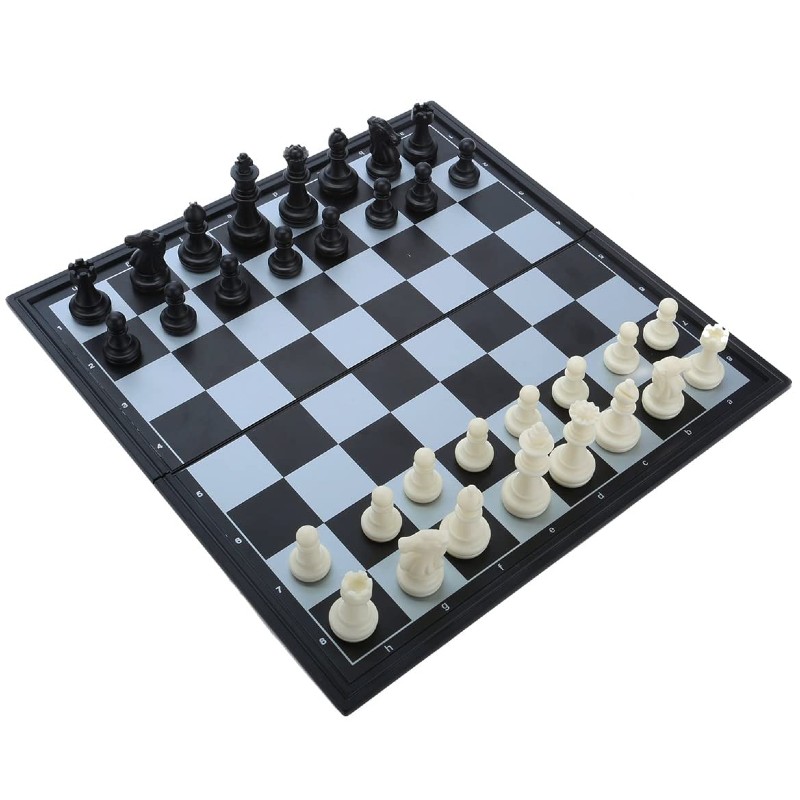 ★★★★★
No Moving Noise
Lightweight & Foldable
Features:
All pieces of chess have gone through a flocking process to reduce the moving noise to zero
Pieces are made smoothly that helps them not to burn, and perform lifetime duty
A lightweight and foldable chess set that you can carry all the way with you without any issue
The chessboard has a buckling system that needs a flick to open
This chess set is suitable for adults and kids as well
If you are in search of a long-lasting and the most durable chess set, then have a look at these fully-featured travel chess sets made with the finest quality material that is waiting for you.
This set comes with a bunch of new quality features making it more appealing and prominent.
Specifications:
Dimensions: 9.84 × 0.78 × 9.84 inches
Weight: 12.8 ounces
Board Material: Plastic
Piece Material: Plastic
Nature: Magnetic
Recommended Age: 6 years or up
A Buckling Feature: If you are having a problem with opening your foldable chessboard. If it takes force to lift so leave them and have a deep look at this chessboard. It comes with an easy and simple buckling feature that is effortless to open.
Variety Of Applications: It has a foldable design and offers you to store the chess pieces easily, and all the pieces are secure in one place. Moreover, this novel-style chess set is perfect for traveling as well as for home, picnic, school, company, or other places. The best thing it is suitable for all ages.
A Complete Package: QuadPro company made this set to perfection in which they give a chessboard for splaying and storing. Also, there thirty-two smooth chess pieces processed through flocking. The half foldable chessboard makes it easy traveling and outside gaming chess.
100% Moneyback Guarantee: If you are not satisfied with the chess set, you can get your money back as the company offers a 100% moneyback guarantee for the customers' satisfaction and peace of mind. You will replace the set or get your money back.
Pros
The chessboard comes with supporting feet for stability
A free beam pocket to store your pieces
Every square dimension is increased to 64 centimeters
There is a hundred percent money-back guarantee
A small enough chess board for your traveling comfort
The price tag is friendly
Cons
The board size is comparatively small
The magnetic aspect is not very sticky
Our Take: Improves your future analyzing and decision-making skills with this easy learning chess game with making your free time interesting. Further, this chess set is stable and suitable for all ages.
POPULAR CHOICE
FanVince Chess Set Magnetic Travel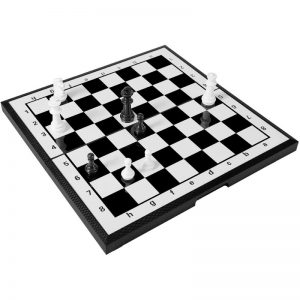 ★★★★★
Compact 9.5″ Board
Strong Magnets
Features:
It is designed for the professional player, but the plus point is even beginners can play
A 9.5″ wide and length board is given to makes your gameplay more comfortable
The board has a hinges design that makes the closing and opening of the board simple
A magnet is fitted in the bottom of every chess piece to avoid falling
A lightweight chess set made with premium quality that provides the smooth feeling
Are you going outside for parties, gatherings, and occasions? Don't you have a spacious and wide place to keep your chess set?
So, don't worry, and take this classical lightweight small-size portable chess set with you to make your traveling easy and tension-free.
Specifications:
Dimensions: 9.45 × 9.45 × 0.69 inches
Weight: 10.2 ounces
Board Material: Solid Wood
Piece Material: Solid Wood
Nature: Magnetic
Genre: Entertainment
No. Of Players: 2
Magnetic Board: This chess set is renowned for the best stability it has because of its magnetic nature. Both board and chess pieces have a magnetic ability that attracts each other and got a firm grip. This magnetism allows the pieces to remain stable as long as you move their position.
Perfect For Traveling: The chessboard has a foldable design that makes it a perfect choice for traveling. The king stand is 1.74 inches tall. Moreover, the open size is 9.45 x 9.45 x 0.69 inches, while the folding size is 9.61 x 4.81 x 1.34 inches. This compact chess set is suitable for home, picnic, school, or other places.
A Versatile Choice: Beat your boring time with this super exciting chess set that has a foldable black and white-colored board. Also, two black and white-colored sets of the chess piece can give a feel to an iconic classical chess game.
100% Money-Back Guarantee: The company offers a 100% moneyback guarantee to their customers for their satisfaction.
Pros
A foldable chessboard with lightweight construction easy to carry
Made of durable and supreme class abs plastic for best long performance
A mind engaging educational game for your kids and for enhancing their mental level
The classical unique is the best gift for classic chess lovers
Rules of the game are printed on the box for an easy play
Low price
Cons
The Board surface gets scratches after playing
Chess pieces feel off from the surface
Our Take: Easy you're traveling with this handiest portable chessboard and invite your best mate to have a challenge full of tactics. Plus, it comes with a moneyback guarantee in case if you are satisfied you can get your money back.
DURABLE
Magnetic Wooden Chess Checkers Set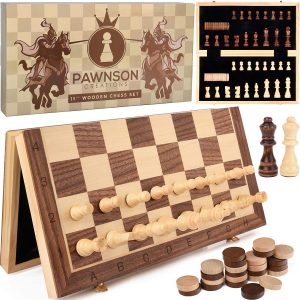 ★★★★★
Completely Portable
Complimentary EBook
Features:
There is a guidebook provided with the set to ease your gaming rules
Now twenty-four checker pieces are included with the chess set for more simple, fun
The board is design with a magnetic nature that keep the pieces stable all the time
A foldable board comes with the set making it portable chess set for traveling and outside plays
Perfect chess set for beginners as it comes with E-book
Buy this all-new wooden made chess set that is perfectly designed for traveling. This board has a folding feature that you can fold to keep in a bag, and you can even take it in your hand.
Also, turn your boredom with this easy tactical learning travel chess sets into excitement and entertainment.
Specifications:
Dimensions: 15 × 15 × 1 inches
Weight: 2.3 pounds
Board Material: Wood
Piece Material: Wood
Nature: Magnetic
Genre: Strategy & Educational
No. Of Players: 2
A Portable Set: It has a unique foldable design and small size that makes it one of the best portable chess sets of all time. Also, it has a lightweight design that is effortless to carry. If you are having trouble with carrying your old chess set with you outside. Do not worry because this set will help you out.
Wooden Chess Set: This chess set is comprised of walnut wood which makes it durable and long-lasting. It got a premium quality hand-carved Staunton style along with 3 inches king piece that makes it unique. Further, it is best for adults as well as for kids and beginners.
Further, the open dimensions of the set are 15 x7.5 x 2 inches, while its folding dimensions are 15 x1 5 x 1.
What Is In The Pack? This chess set includes a portable folding board made of high-class wood that lasts for a long time. Furthermore, two sets of chess pieces and a twenty-four checker for small kids to recognize easily.
Further, a unique E-Book chess game for beginners and 2 extra Queens for pawn promotion come with the set.
Pros
Now the chess pieces remain at their place with a magnetic nature in the board, and pieces
Made of prime quality wood that even hard drops don't affect its quality
An extra protecting surface is coated on the board for more security
2 extra queens you will get with this set
Cons
All chess pieces are not magnetized properly
The folding aspect is not aligned
Our Take: Now turn your free and boring time into surprising fun with this uniquely assembled chess board that comes with an accessible price tag. Plus, a suitable set for beginners and adults and get 2 extra queens as a gift.
TRAVEL-FRIENDLY
Checkbook Magnetic Travel Chess Set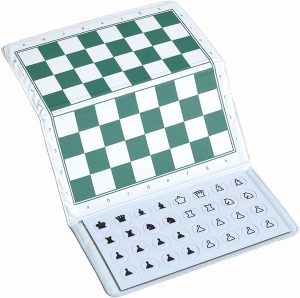 ★★★★
Smallest Chess Board
Unique Foldable Design
Features:
The smallest size chess game that you can even put in your pocket
Improves your decision-making skills and grow your mind better
Also, enhance your child's basic mathematical understanding
The best convenient chess set for traveling with portability feature
A heavy-duty chess set that works for a lifetime without any change in the quality
This is one of the most small-sized chess sets and is particularly made for all scenarios. If you are outside on a picnic and getting bored, then take this chess set with you to excite your time.
Buy this unique design lightweight chess set for your family and friends to spin the world of frustration into craziness.
Specifications:
Dimensions: 6 × 3.1 × 0.5 inches
Weight: 0.8 ounces
Board Material: Plastic vinyl
Nature: Magnetic
No. Of Players: 2
A Learning Chess: Buy this great learning chess set for your kid's mental and basic learning. Algebraic and science symbols are imprinted on the corners of the chessboard. Those notations and symbols will help your kids knowing the basics of science and math. Gift your children and intimates for learning purposes.
Take It Everywhere: Are you having a problem with your big-sized chessboard? Then have a closer look at this chessboard which is made for easy traveling. It has such a small size and lightweight that it offers you to put in your pocket and travel without problem.
Pros
Algebraic notations are printed on the chessboard, making it a teaching chess set
There is a protecting cover given to keep all your accessories safe
Kids can even learn basic science through this completely featured set
The best low price travel chess set
Cons
Labeled pieces can peel off
Magnetic quality has poor strength
Our Take: Improves your kid's mental level by learning math and science at the same time. It also offers you to have entertainment and classy fun.
WOODEN
ColorGo Magnetic Travel Chess Set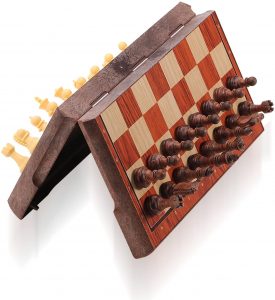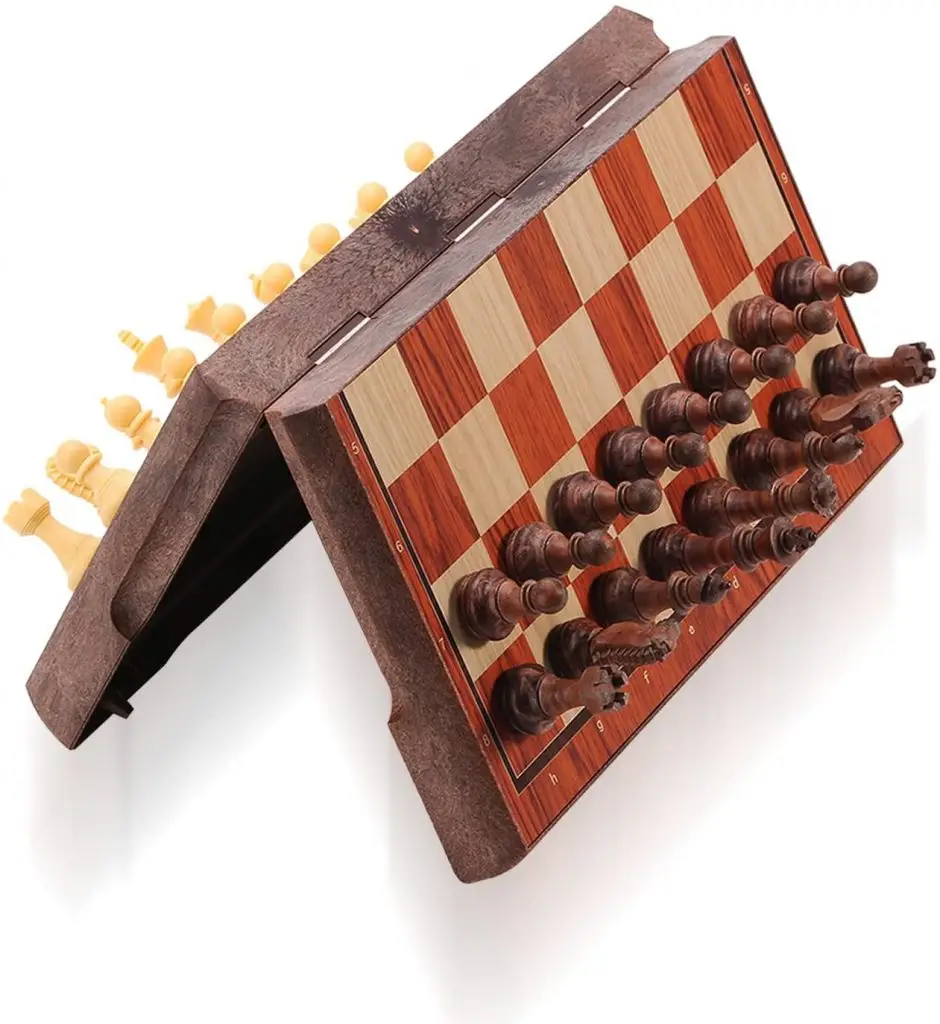 ★★★★
Smoother Surface
Magnetic System
Features:
The chessboard has a smooth surface so that you can feel comfortable when playing
Magnetic system is the chess set keep the piece stay at their places
The width of the board is increased for a spacious and wide gameplay
All pieces are flocked for reducing the noise while moving
The board has a perfect size for traveling everywhere without any tension
Make your day by playing this well-crafted magnetically design new style chess set. Also, this chess game helps you to enhance your tactical and choosing skills in simple terms and conditions.
This is such an easy game that peoples of all ages can play; even kids of six years can enjoy this exciting chess.
Specifications:
Dimensions: 9.64 × 8.46 × 0.76 inches
Weight: 1.06 pounds
Board Material: HIPS Plastic
Piece Material: HIPS Plastic
Nature: Magnetic
Premium Quality Chess Set: ColorGo has manufactured this chess set with supreme quality materials. This set has a lifetime guarantee, and it can endure all types of weather because of its firm and smooth assembling. The board and pieces are made of world-class HIPS plastic, and they have a magnetic nature which makes them sturdier and more durable.
Strong Magnetism: it keeps all chessmen stay in their place as it got a strong magnetism that holds the chessmen strong. It will not fall until the player moves the chessboard.
Perfect For Traveling: A foldable design that makes it portable, and you can carry t easily with you. The open dimensions are 9.64 x 8.46 x 0.74 inches, while the folding dimensions are 8.46 x 4.8 x 1.5 inches, make it mini chess set for traveling.
All New Accessories: There are thirty-two classy chess pieces made for a lifetime and a wide foldable magnetic board. ColorGo also proudly offers you a hundred percent cashback for their chess set if something happens with it.
Pros
Compatible chess set for traveling in buses, planes, and trains with a foldable feature
Wide and spacious storage in the board for pieces
A buckling system is fitted with the board for easy opening
Made of World-class "HIPS" plastic for best and durable performance
Cons
Damage plastic reported by few customers
It doesn't lock properly
Our Take: A hand-made set from all top-class material maintaining the performance with a touch of entertainment is the best choice for you. It is the best set for indoor and outdoor play.
UNIQUE STYLE
Wooden Magnetic Chess Set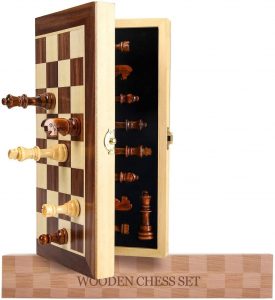 ★★★★
Foldable Design
2 Extra Queens
Features:
A foldable board made to keep all the pieces safe from damage
Now get 2 extra queens with this chess set
All the pieces of chess are handmade and made of birch wood for long-lasting
The chessboard is polished with the inlaid walnut wood paint that adds up more uniqueness
A lightweight special design perfectly made for traveling and gatherings
Hnoerin company has brought you the most exciting chess game made for all ages. Are you on a hunt for a portable chess set that will fit everywhere?
So, don't look anything else just by this top-ranked chess set for you and make your chill time into pleasure. The gaming surface is stable with portable flexibility for everybody.
Specifications:
Dimensions: 11.93 × 6.3 × 2.05 pounds
Weight: 1.7 pounds
Board Material: Walnut Wood
Piece Material: Walnut Wood
Nature: Magnetic
Foldable Chess Set: The easily foldable flexibility of this gaming set will let you quickly assemble the game board without any hassle. And the securing lock system has been featured on the side of the board that will hold a grip after you close the chess set.
Plus, the Dutch wood construction will make sure that no damages will take the place of the exterior, even with no scratches as well.
A Stellar Option: All the required accessories are provided with the travel chess sets that are walnut-made chessboards. Moreover, two extra queens with 32 classical smooth chess pieces. An instruction book is also available with the packaging.
Pros
An elastic strap closing and opening system for more security
Sections are made for every chess piece for its quality
An upgraded strong magnetic system for firm stability of pieces
Cons
All pieces are not magnetic
The chessboard has an irritating smell
Our Take: Make your parties and gathering more entertaining with this completely featured chess set that can be yours at an affordable price.
FAQ Regarding Best Travel Chess Sets
Q. Do we also get magnetic boards in the given list of products?
Yes, some of these chess games are magnetic with portable aspects. Plus, the foldable feature can turn the expanded board into a carriable design travel case for quick replacement.
Q. Can we easily carry these chess games while traveling?
Of course, the lightweight construction, but yes, standard variation of each part in the structure, makes the chessboard portable. Thus, you can easily carry the game wherever you go and get the handle grip on the sides. That will let you have a firm grip on your hands.
Q. What is the construction quality of these chess games?
Surely the overall materialization is firm with wood construction in most of the enlisted products. The surface is balanced that will sustain an even bottom line on the ground as well. Plus, the shiny exterior will also look appealing as well.
Q. What is the best travel chess set to buy?
On our list, the best sets for traveling are Chess Armory 15″ Wooden Chess Set, QuadPro Magnetic Travel Chess Set, and FanVince Chess Set Magnetic Travel.
Best Travel Chess Sets | Quick Comparison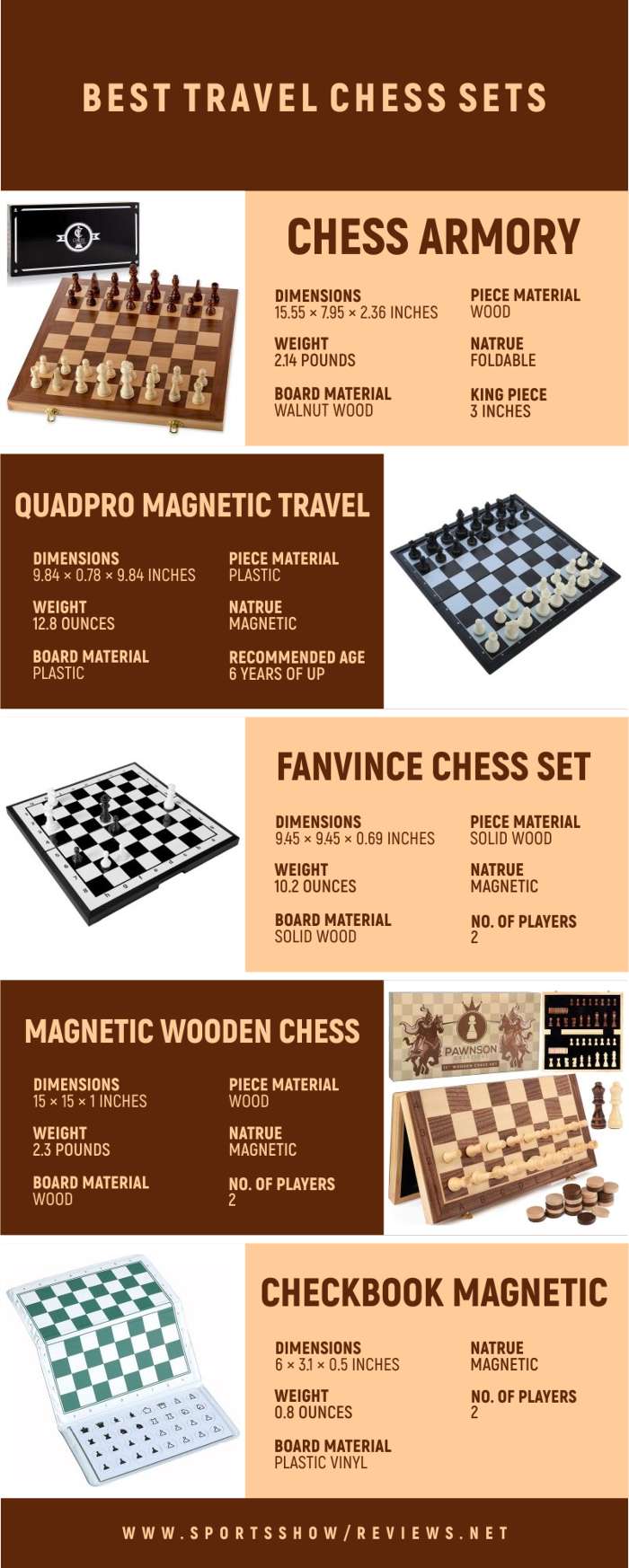 Our Recommendation:
Our 1st recommendation is the Magnetic Wooden Chess Checkers Set as the best foldable gaming set. The Staunton design construction of the chess pieces set also comes with 2 additional queens and a 15-inch board surface
Furthermore, our 2nd recommendation is Checkbook Magnetic Travel Chess Set as the best chess game for traveling. This lightweight and foldable structure of a chess game possess a magnetic surface.
Conclusion
Feel the premium gaming quality anywhere you want by selecting your favorite travel chess sets featuring top-quality manufacturing. And of course, it comes with a complete range of chess pieces in the package, including an instruction guide for beginners. The board surface is entirely made of sturdy wood material.
Furthermore, few portable chess sets also come with walnut construction that can provide an exceptional gaming impact. Also, the foldable aspect and lightweight structure will let you take these gaming sets outside your home.