A sleek dartboard that you see today has gone through major changes in the past. Elm board was one of the early dartboard materials used in its construction. Its early construction had many drawbacks. Players couldn't play consistently, so the players need changes.
Many innovations came to light for adding great functionality to your dartboards. The modern materials sustain the quality of your dartboards for long-term usage. So, players are now able to play for a continuous duration without facing troubles.
There's little to no maintenance required when it comes to modern dartboards. So, players can just start playing without having to worry about past dart marks. You will find many types of materials in a dartboard, and we'll try to cover some of them below,
What is a dartboard made of? – The Detailed Answer
We have recently reviewed the best backing for dartboards and also the best dart shaft sets. But you need to know about the construction of the board, too. So, let's discuss major materials in the dartboard for your better understanding. These explanations help you in improving your knowledge about dartboards.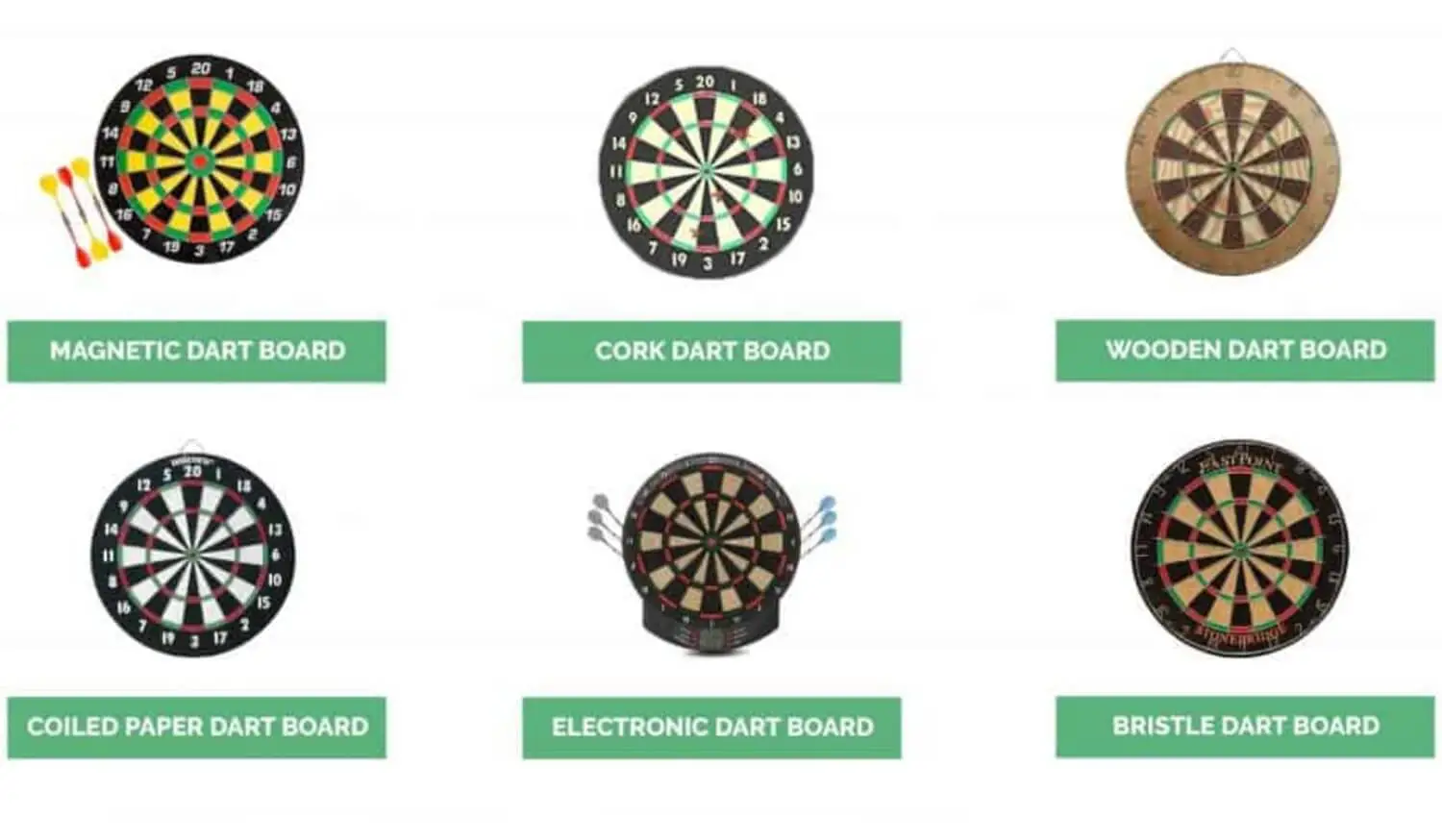 The paper material in the dartboard is widely in practice. These dartboards use wound paper boards. The wound paper boards comprise out of coiling paper sheets together. This results in a smooth playable dartboard surface where players throw darts. You can also consider this as one of the best dartboards for practice this year.
These dartboards should not be put into use for serious dartboard games. They are the least expensive to purchase. So, they offer minimum durability value to their players. The paper dartboards have this idea that thrown darts will be taken in by the paper layers.
So, you can just expect a casual playing functionality with the paper dartboards. But that's not exactly what you get. The paper sheet can easily tear apart from impacts. Thus, these dartboards don't promise lasting life at all.
This is one of the emerging dartboard materials that you'd ever see. There are some great advantages of this dartboard material that is widely in practice. Electronic dartboards are now becoming a dartboard trend for the new players.
There are many exceptions in the plastic dartboards as well. Some use thick plastic composite, while some use moderate-quality plastic material. Therefore, the durability of plastic dartboards can vary from board to board. But, any one of these can be extremely suited as the best outdoor dartboards to try this year.
You can expect to see some restrictions when using most plastic electronic dartboards. Players are to use soft tip darts instead of hard tips. This comes in one of the durability concerns of plastic dartboard construction. So, players must keep this point in their minds.
So, these dartboards can go against your playing style, for example. Players that are not professionals with soft tip darts will face great difficulty adjusting to plastic dartboards. Therefore, it comes down to the preference of the players when choosing a type of dartboard.
Dartboards made out of Bristol are highly in practice. It isn't just bristling that is in the process of making these promising dartboards. Other materials are accompanying the construction of this series of dartboards. The result of the construction serves different impacts on the basis of materials.
These dartboards are highly durable in comparison with plastic or paper materials. Professional players use these dartboards in their games. The bristle dartboards mostly use sisal in their manufacturing process. Some manufacturers in America can even use basswood in the process of construction.
So, the construction of the bristle dartboards varies when it comes to accompanying materials. The construction is also different based on different countries. Still, sisal is most in practice and considered the most promising dartboard material. So, sisal in bristle dartboards is more common than other materials.
We have seen a great playability value when it comes to the Bristle dartboards. These dartboards are fitting for professional-level dart matches. Some of the highest-quality electronic dartboards are also made of this material. So, they have this certain advantage over most dartboards.
Dartboards made out of sisal fiber are extremely durable, and they are highly stiff and offer great value to your shots. Sisal fiber comprises a plant called the Agave Sisalana plant. It is in usage, and many manufacturers worldwide use it to produce high-quality dartboards.
The manufacturing machine takes off the leave's top skin. It then remains with tough fiber materials that are taken. The fibers are processed further by the drying step. This fiber material is taken through many important processes to improve its versatility.
These fibers are then given the form of long bundles and then tubes. The process gives them a circular shape in the form of a promising dartboard. Sisal fibers are very promising as they make highly flexible dartboards. There's another advantage that you get from this material.
Most of the professional-grade dartboards are made of sisal fiber these days. You're getting excellent durability in a relatively low-price range. So, sisal fiber makes up for the dartboards that everyone loves. Its dartboards are often used in tournament-level matches for high-quality performance.
Don't expect to play serious matches on cork dartboards. These dartboards have a low value of durability if we put them in comparison with others. They are one of the low-budget dartboard materials you will find in the market.
There is no maintenance expected from the cork dartboard. So, many of the top-quality magnetic dartboards are now being made of this particular material.
They come in a very lightweight form factor, making them a great fit for beginners. This can be a great choice if you're looking to practice darts in seclusion. Moreover, it makes up for a great choice for kids who are just starting their darts journey.
These types of dartboards are difficult to keep because of the maintenance. This form of dartboard is highly durable as there's real wooden construction involved. It offers a great value of darts touch when thrown on the board. So, these boards are mostly owned by crazy darts fans.
You can't just expect to play on the wooden dartboards without moisturizing them daily. So, they require a great level of care from their players. They are often expensive and very antique because of their resemblance to elm board.
Most of the top-grade dartboard cabinets are made of wood. So, if you're a fan of darts, then you can keep this as an antique. Otherwise, you will rarely see a wooden dart in anyone's ownership.
FAQs Regarding Dartboard Materials
Q. What is the best material for dartboard?
Sisal is the best material that you will find on the dartboards. Many countries are producing sisal in a range of qualities. So, the quality can vary on the production method. They are the best because this material supports steel tip darts.
Q. Are dartboards made of horsehair?
There is no truth to this; it is just a myth, and people often believe dartboards use bristles or hair from pigs, horses, or camels. There are no such kinds of dartboards available in the market.
Q. What is a sisal dartboard?
The competition or professional board comprises sisal fibers that are self-soothing; the bulls-eye is staple-free, letting fewer hits bounce, so it lasts longer. And the number ring is detachable for easier and quick cleaning. Besides steel and soft tip sets, League Pro also supports electric darts.
Q. What are the equipment or materials in darts?
There are 4 parts of a dart's construction, and these parts are barrel, shaft, flight, and tip. All the components are different in every dart, and they are made in various qualities for different playing styles. So, every player can get a dart for his personal requirement.
Q. Are tungsten darts better than steel?
The tungsten darts are better than even the highest-quality steel darts. Tungsten darts are lightweight but acquire great density. They offer excellent control in flight in comparison with the steel darts. So that is why tungsten darts are better than steel darts.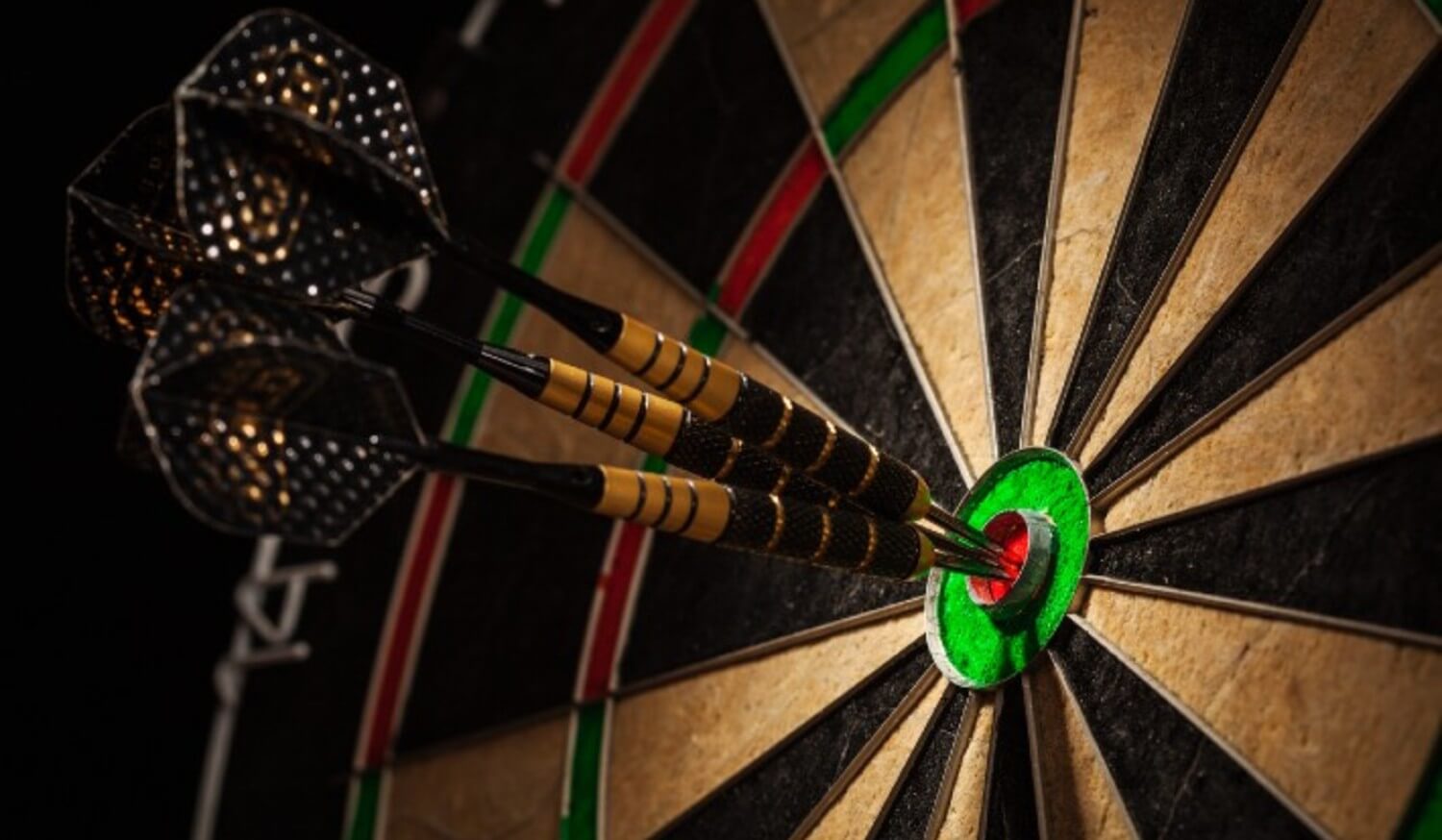 Final Thoughts
Dartboards come in a range of varieties, meeting players' needs. Our brief discussion of the materials in dartboard will give a better comprehension of this sport. There are many materials in use for the construction of dartboards. Each dartboard material serves a different purpose.
So, the choices depend on requirements. If a sisal fiber dartboard is for professionals, then a cork dartboard is fitting for beginners. So, players are to demonstrate their requirements in the game to make a secure selection. This way, they will be able to build their game's foundation in the safest way possible.