In 1908, figure skating pairs were inducted into the Olympics Games for the first time. Since then men's singles, ladies' singles, pair skating, and ice dancing couples have been a part of the Winter Olympic Games. The following is a list of the top 10 most popular skating pairs in Olympic history, presented in descending order.
Most Popular Skating Pairs In Olympic History
Ice skating is not a new phenomenon but figure skating originated somewhere around the mid-19th century. Father of modern figure skating – Jackson Haines developed a style in the mid-1860s that has been widely adopted and what we see today is Haines' free and expressive technique called the "international style."
10. Madge and Edgar Syers – I

ce Skating Couple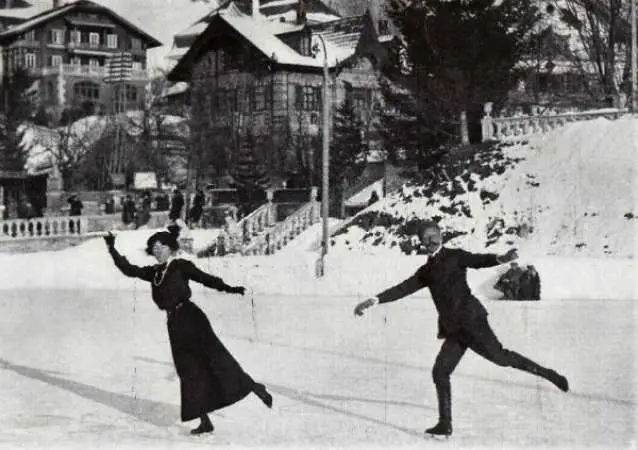 British figure skaters Madge and Edgar Syers competed in the 1908 London Summer Olympics and won bronze. Edgar was Madge's husband and coach. That year for the first time figure skating was part of the Summer Olympic Games and had only 3 contestants.
In 1902 Madge Syers by participating in the World Figure Skating Championships became the first woman to enter an all-male event. She won silver and became the first Women's Olympic Figure Skating Champion ever.
Edgar was a singles skater participatory too. At the 1899 World Championships, he won the Bronze. This pair now holds the tenth place in our list of the most popular skating pairs in Olympic history.
9. Barbara Wagner and Robert Paul – C

anadian Ice Skaters Pairs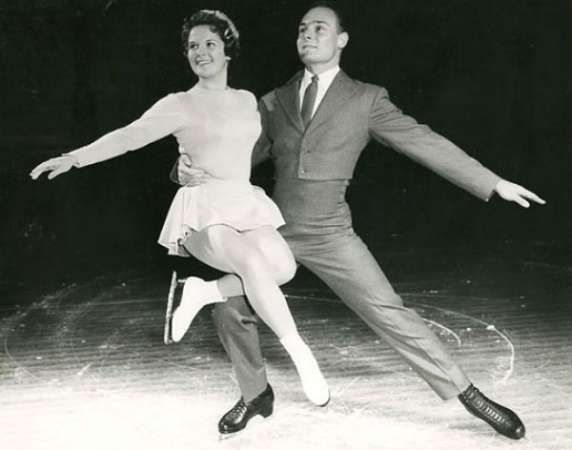 Canadian figure skaters, Barbara and Robert, teamed up in 1952 and together they won the Canadian national champions five-time, World champions four times, and also the 1960 Olympic champion.
During their Olympics performance, the music to which they were skating skipped a few times. They had to abruptly stop but later were given a chance at a second performance.
They skated without a fault and knocked the judges off their feet. Between 1961 and 1964, Barbara and Robert toured with Ice Capades and after retirement became figure skating coaches.
8. Lyudmila Belousova and Oleg Protopopov – R

ussian Pairs Skaters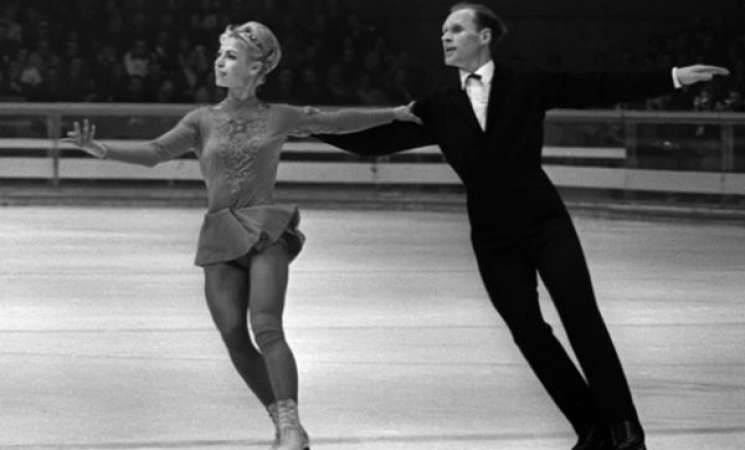 Russian pair skater, Lyudmila Belousova and Oleg Protopopov were four-time World champion (1965–1968) and two-time Olympic champions (1964, 1968).
The couple known as "The Protopopovs" is credited for bringing ballet to pair skating. Lyudmila before becoming a skating legend was an engineer. She started skating with Protopopov in 1957 and together brought creativity and artistry on ice.
Without an official coach, Oleg choreographed their moves while Lyudmila designed their costumes. The Protopopovs were older than most pair skaters and skated to slow melodic classical music. They now hold the eighth place in our list of the most popular skating pairs in Olympic history.
7. Irina Rodnina and Alexander Zaitsev – US

Ice Dancing Pairs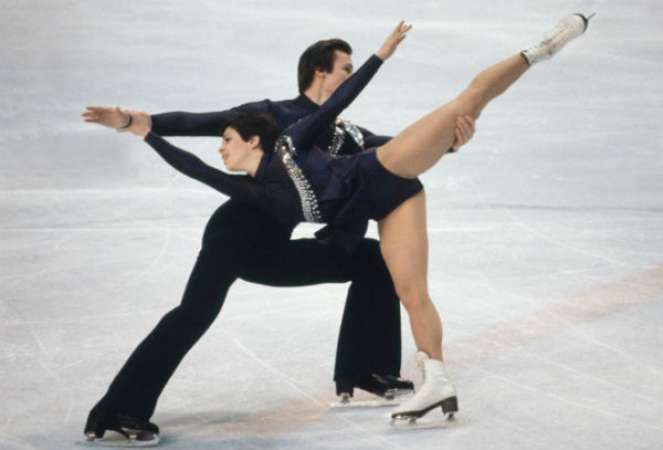 With Alexander Zaitsev, Irina won the 1972 Winter Olympics, and together with Alexander Zaitsev, she nailed the 1976 and 1980 Winter Olympics. Called the most successful pair skater in figure skating history, Irina Rodnina was notorious for winning almost every competition she entered.
She has won three successive Olympic Gold and ten successive world figure skating titles. Besides, fans still regard her as one of the best female figure skaters of all time.
Fun Fact: In 1973 during the world figure skating championships, when Rodnina and Zaitsev were performing the music suddenly stopped but the pair continued skating without it. This prompted a standing ovation and the winning trophy. Irina and Aleksandr now hold their place among the most popular skating pairs in Olympic history.
6. Tai Babilonia and Randy Gardner – A

merican Pair Skaters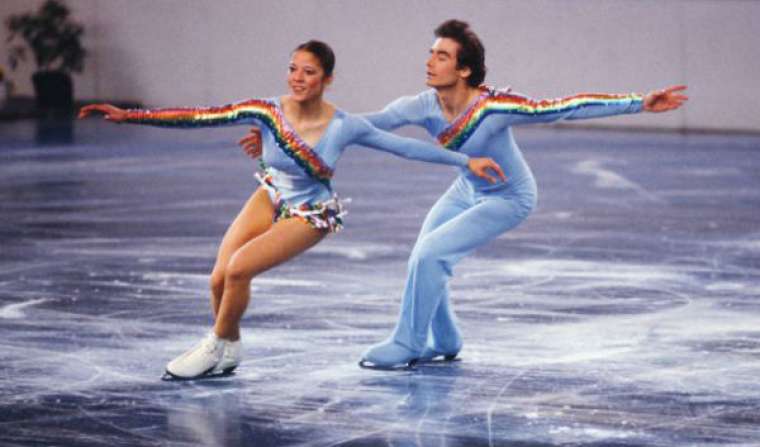 These American figure skating stars began skating together when they were very young.  Tai was eight, Randy ten and they continued for over forty years. The pair had qualified for the Winter Olympics two times, in 1976 and 1980 respectively but failed to grab a win. In 1980 Tai and Randy were fan favorites but an unfortunate injury forced them to withdraw from the Olympics.
The pair had won U.S. Figure Skating Championships five consecutive times (1976–1980), and also the World Figure Skating Championships in 1979. In the year 2008, Tai and Randy announced that they were retiring for two major reasons – they were becoming old and Randy had sustained a neck injury that needed taking care of.
Fun Fact: In 1987, Tai and Randy produced the first-ever "How to Ice Skate" video teaching the fundamentals of figure skating.
5. Kitty and Peter Carruthers – Brother & Sister Olympic Figure Skaters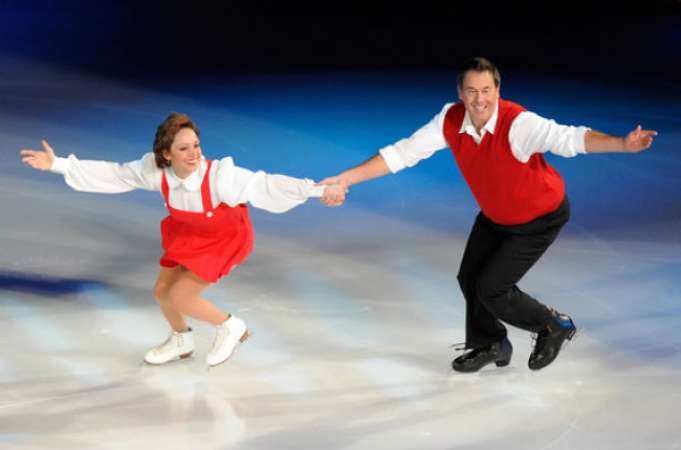 American pair skaters, Kitty and Peter Carruthers, were siblings and together they won Silver at the 1984 Olympics. They were also a four-time consecutive U.S. national champion between 1981 and 1984 and a one-time bronze medallist at the 1982 World Figure Skating Championships.
The sister-brother pair had competed in the 1980 Olympics too. After their 1984 Olympics win they toured with Ice Capades for the next five years.
In 1999, Kitty and Peter Carruthers achieved their place in the prestigious Figure Skating Hall of Fame. Besides, they now deserve their place among the most popular skating pairs in Olympic history.
4. Ekaterina Gordeeva and Sergei Grinkov – M

arried Olympic Figure Skaters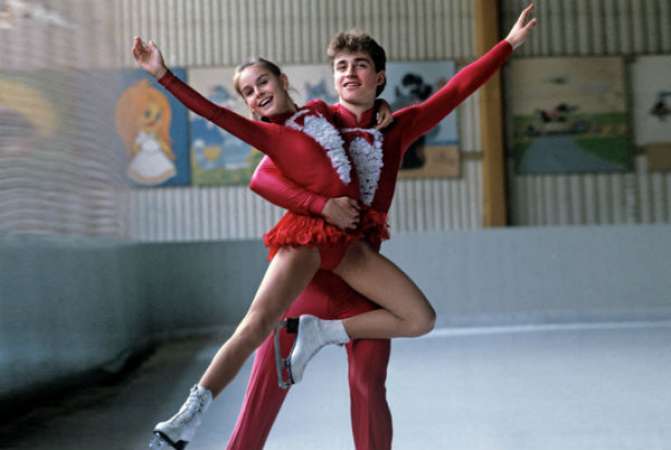 Olympics Skating Pairs Ekaterina and Sergei were one unstoppable predominant ice skating duo who won almost every competition they entered. They won Olympic Champion twice and the World Champion four times. They began skating together in their childhood days, then they fell in love. Sergei then married Ekaterina.
After that, they toured with "Stars on Ice" for two years. This brilliant pair skaters' career came to an end when Sergei had a heart attack while rehearsing for a "Stars on Ice" tour. When he died he was only 28-years-old.
Fun Fact: Fans regard Ekaterina and Sergei for their soft movements on the ice. "They didn't make noise when they skated. They moved so fluidly that their blades whispered over the ice rather than scratching at it." This pair deserves their mention among the most popular skating pairs in Olympic history.
3. Jamie Salé and David Pelletier – C

ouple Ice Skating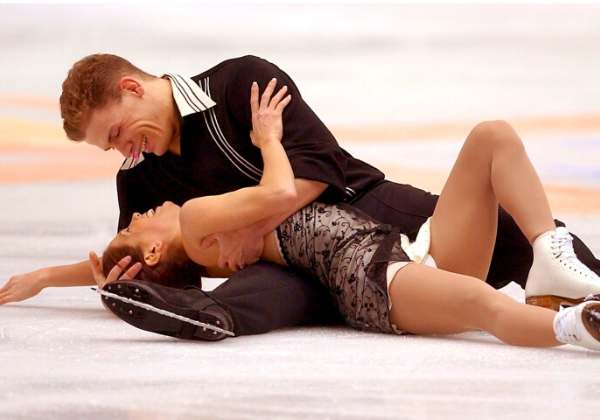 Canadian Olympics Skating Pairs Jamie and David began skating together in 1998 and won the 2002 Winter Olympic Games. Unfortunately, their win was shrouded by controversies which lead to the implementation of a new kind of figure skating scoring system in 2004.
Before pairing up both Jamie and David were the strong singles skater. And they often competed in novice and junior levels. Later the couple also did commentary on figure skating television.
2. Xue Shen and Hongbo Zhao – F

amous Ice Dancers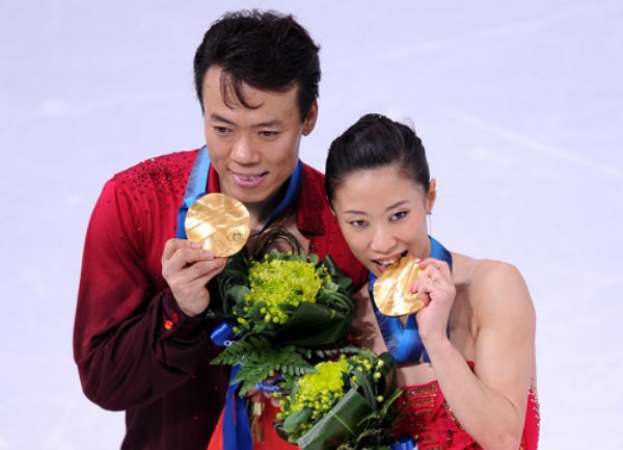 These Chinese Olympics Skating Pairs were champions of the 2010 Olympics Games and bronze medallists of the 2002 & 2006 Olympics.
Together the couple have won  World champion thrice (2002, 2003, & 2007), Four Continents Champion three times (1999, 2003, & 2007) and the Grand Prix Final champion six-times  (1998, 1999, 2003, 2004, 2006, & 2009).
Fun Fact: Xue and Hongbo were the first Chinese pair team to win some of the above titles. This pair now holds the runners-up spot in the list of the most popular skating pairs in Olympic history.
1. Aliona Savchenko and Robin Szolkowy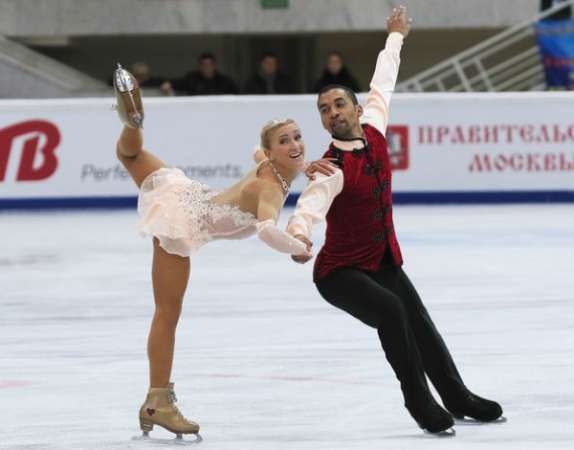 German Olympics Skating Pairs, Aliona, and Robin were the 2010 and 2014 Olympic bronze medallists. This German power-house has won the European title four times (2007–2009, 2011).
Besides, they have also won the world title five times (2008, 2009, 2011, 2012, 2014), the Grand Prix Final champion four times (2007, 2010, 2011, 2013) and the German pair skating title eight times (2004–2009, 2011, 2014).
However, Aliona is currently skating with Bruno Massot. Without any doubt, they deserve the top place among the most popular skating pairs in Olympic history.
Conclusion
So, these were the most popular skating pairs in Olympic history. Don't forget to share and comment down below.
Most Popular Skating Pairs In Olympic – Infographics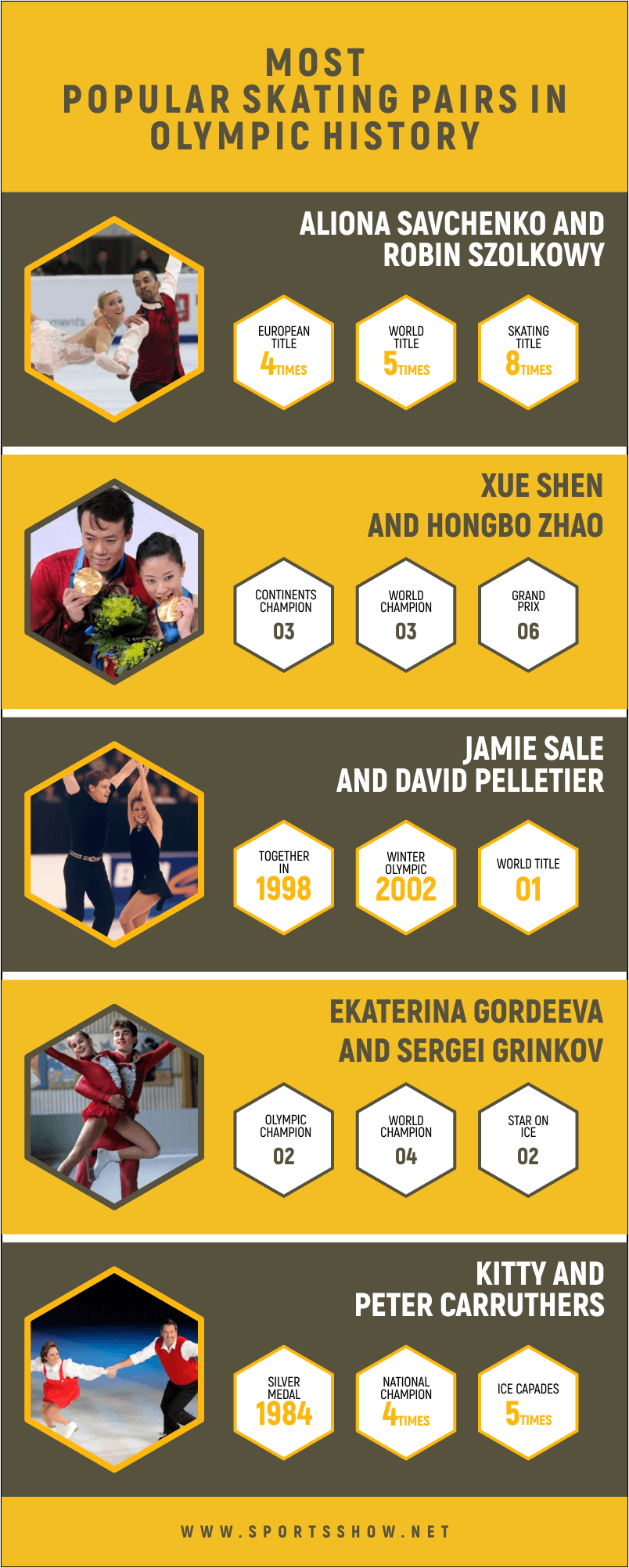 FAQs Regarding Most Popular Skating Pairs
Q. Who is the oldest figure skater in the world?
Martin Stixrud, 44 years and 77 days old, won the bronze medal in men's figure skating at the 1920 Games, the oldest medalist ever. At the 1908 Games, aged 44 years and 176 days, George Hall-Say of Great Britain won bronze in figure skating.
Q. On what level are Olympic figure skaters?
During local, regional, sectional, national, and international competitions, figure skaters compete at levels ranging from beginner to Olympic level (senior). Figure skating competitions and judging are regulated by the International Skating Union (ISU).
Q. Which is the most prestigious figure skating competition?
The Olympic Games are the most prestigious championship in figure skating, held every four years. Competing for gold, silver, and bronze medals are the top singles, pairs, and dance teams in the world.
Q. Who is the most talented figure skater?
Tessa Virtue and Scott Moir have won 3 golds and 2 silvers among Olympic figure skaters. In men's figure skating, Ulrich Salchow of Sweden was the first Olympic champion. The 2006 singles title went to Evgeni Plushenko of Russia with a world record score.
Last Updated On: April 2022