The 4-player air hockey tables are the best way to connect with the family and friends with massive fun output. These tables are made to accommodate more players in the air hockey game rather than just two players.
So it's a wonderful, fun opportunity that promotes physical activity as well. Now let's discuss a few points you must know about an air hockey table. Players must seek a required size product that is neither too large nor small.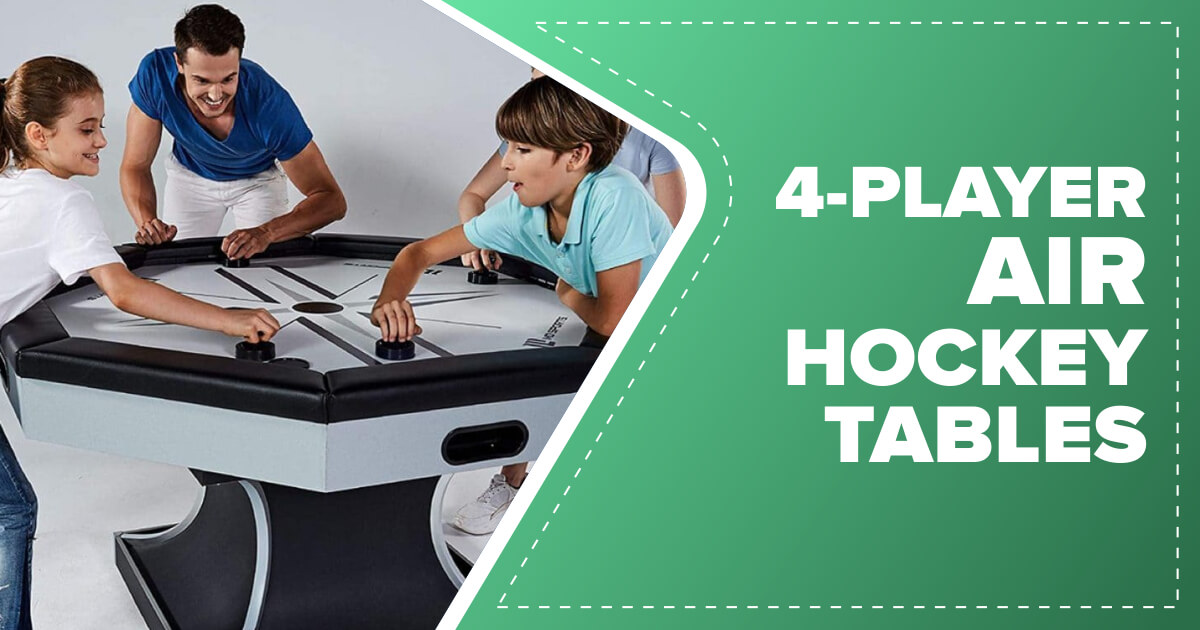 The quality of the air blower should be checked before proceeding with the purchase. It should be powerful enough to carry continuous game action.
Best 4-Player Air Hockey Tables | Editorial Pick
EDITOR
CHOICE
★★★★★
Playcraft Sport Table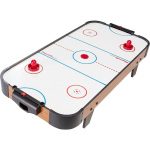 UL Certified
Security Layer
MDF Structure
TOP
RATED
★★★★★
Triumph 4-in-1 Table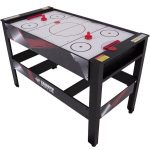 Multi-Game Table
Rotating Swivel
Maximized Air
BEST
SELLING
★★★★★
Atomic 4-Player Table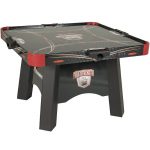 LED Pushers
Effortless Flow
6 Gaming Modes
Best 4-Player Air Hockey Tables | Detailed Reviews
You must have already liked our detailed review of the best mini air hockey tables. But now, it's time to uncover some high-quality air hockey tables that support 4 players. So, here they are!
BEST OVERALL
Playcraft Sport 40-Inch Table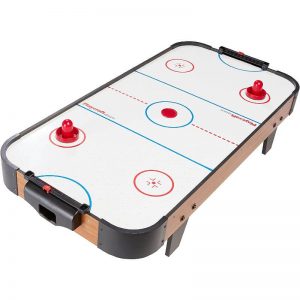 ★★★★★
MDF Construction
UL Certified
Features:
It comes with UL certified motor blower offering a decent airflow across the playfield
Protective caps are attached on all corners of the table for the double security of player
The 40 inches playfield is glossy, and the table holds a solid MDF construction
The package includes 2 plastic pucks and 2 pushers
The Playcraft sport 40 inches table is made for casual games, especially for the kids. It can be called an enhanced version of air hockey tables made for kids packing UL-certified motors.
The motor offers a decent blow of air and a set of accessories to get you started. Just club it with some high-quality air hockey pucks to have unmatched fun with your friends.
Specification:
Dimensions: 40 x 21 x 8 inches
Size: 40 inches
Material: Engineered Wood
Blower: 110 V
Color: cherry
Assembly Required: yes
Decent Blower: It's an average-performing motor that provides a decent flow of air to the playfield area. Many competitive players won't see this motor performing to their requirements. But it pretty much does a decent job for the beginners.
Compact 40″ Playfield: Playcraft has provided a compact air hockey table for most underaged players like kids. It has a glossy 40 inches surface that promises a frictionless flow of pucks. Moreover, it has MDF construction giving it a great durable profile for straight matches.
Great Tabletop Experience: Your Playcraft sport 40 inches provides a great tabletop experience thanks to its purpose-built design. Furthermore, due to its manageable size, it's easy to carry anywhere you like. Overall, it makes up for a portable air hockey table that offers fun for all.
A Perfect Companion For Kids: This quickly assembled air hockey table makes a great fun companion for all the kids and casual players. Its performance isn't up to the mark for professional games as it's built to offer casual fun.
Pros
Blower performs well for its category
It comes with promising MDF construction for enhanced durability
Includes pushers and pucks in the package
Compact and portable for a 40 inches air hockey table
It comes at a low price
Cons
Fragile side rails
Not for competitive matches
Our Take: The 40 inches compact air hockey table with the durable MDF construction is a great choice for kids as well as for adults. The powerful motor offers consistent and smooth airflow.
BEST-RATED
Triumph 4-in-1 Rotating Multigame Table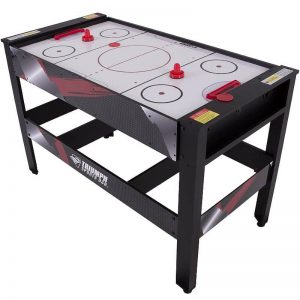 ★★★★★
Multi-Game Table
Swivel Function
Features:
The table offers 4 games, including air hockey, billiard, table tennis, and launch football
It has a rotating swivel functionality that changes games in a matter of seconds
It comes with a patented air distribution technology for an even air throw throughout
Includes all the accessories to play the included 4 games
Experience 4 games, including air hockey, with this one of the best 4-player air hockey tables available in the market. Players can switch between the 4 signature games through just a swivel.
The table offers air hockey, billiard, table tennis, and launch football. Needless to say, it is probably among the best multi-game tables you should try this year.
Specifications:
Dimensions: 48 x 23.75 x 32 inches
Size: 48 inches
Weight: 69 lbs.
Material: metal & plastic
Colors: black & white
Assembly Required: yes
Age Recommendations: 8 years & up
Signature Air Hockey: The patented air distribution technology supports the main air hockey game. This offers an even air distribution throughout the surface, not leaving even an inch for the dead spot. So your air hockey game runs smoothly due to this phenomenal technology.
4-Games In One Table: All amazing 4 games, air hockey, billiard, launch football, and table tennis, are impressively arranged on this table. This gives a great option for the players looking to try different games on a minimum budget.
Just Swivel: Nothing is complicating about this table's game access. Players will experience the ease of the rotating swivel functionality on this table. The player just has to rotate the swivel table to switch between the games.
Less Space, More Options: It offers remarkable space-saving functionality. It's a great option for all those players looking to save space and play more games. Thus, the Triumph Sports Store has provided a great option for a great price.
Pros
Play 4 games on a single table
Incredible air hockey game with patented air distribution
Each game shift just requires a swivel
Cons
Durability is compromised
Motor supporting air hockey is underpowered
Our Take: 4 games on a single table incorporating easy game switching through just a swivel makes it a considerable choice for all. Overall, it is a versatile table.
POPULAR CHOICE
Atomic 4-Player Air Powered Hockey Table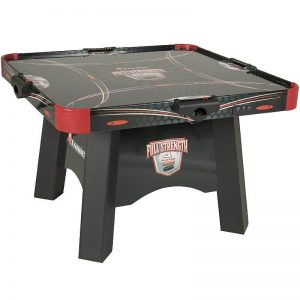 ★★★★★
LED Accessories
Air-Powered Motor
Features:
The 47.5 inches table comes with 4 LED pushers, and 2 LED and 2 usual game pucks
The effortless flow of pucks thanks to a dual air-powered motor in this air hockey table
Players can choose from up to 6 game modes for an ever-changing experience
Interest your family time with this dual air-powered motor air hockey table for 4 players. Players can get to choose from a 2-4 player option with the added goal box.
The table delivers a bright color show even in a dark room thanks to LED pushers and pucks. Needless to say, it is one of the best air hockey tables under $500 to buy this year.
Specifications:
Dimensions: 47.5 x 47.5 x 31 inches
Size: 47.5 inches
Weight: 96.8 lbs.
Material: MDF
Colors: black
Assembly Required: yes
A Fast Air Hockey: The dual air-powered motor on this table blows a consistent amount for a speed puck action. You'll experience more potential airflow with this motor than on other air hockey tables. Players can expect a sublime game in return for this incredible table.
Glow Up: You're getting a beautiful air hockey game with the glowing pucks and the strikers. It comes with 4 LED pushers along with the LED pucks that glow brightly for an engaging game. You can set this table in a dark room and see the magic by yourself.
6 Game Modes: Players can get bored by playing the same style matches over and over. But fortunately, this table is going to serve its air hockey fans with 6 different game modes.
There can be elimination, team efforts, and playing as an individual in a conventional style of play. The goal box on the table allows you to select the player's quantity for the match you're going to play.
Keep All The Updates: It comes with an LED scoring system as well as a manual abacus scoring system. So players can keep all the updates of the match with convenience.
Pros
It comes with LED pushers and pucks
The table can glow up a dark room
Strong airflow with the dual air-powered motor
You can pick from 6 game modes
Sleek and elegant looking table enhance the beauty where you place it
Cons
Chipped corner complains when shipped
Working issues with the scoring system
Our Take: The dual-powered motor blower and the 6 game modes make the air hockey game ever more joyful. This table supports 2, 3, or 4 players.
COMPACT
Sport Squad HX40 Air Hockey Table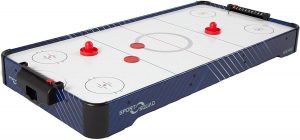 ★★★★★
Impactful Airflow
Truly Durable
Features:
The impactful AC-12V motor offers a good flow of air across the playfield for a non-stop puck action
It doesn't demand complex assembling; instead, players just have to connect two-goal boxes for the start
Includes two manual sliding scorers for keeping players updated
This 42 inches table comes with 2 pucks and 2 strikers so that you won't be buying them separately
Bring the wonders of a realistic arcade-style air hockey game with this one of the best 4-players air hockey tables. Besides, you can also count it among the best air hockey tables to get under $1k this year.
It has an effective AC-12V motor that blows a consistent amount of air throughout the playfield for an authentic experience. Moreover, it is quickly assembled and ready to play in minutes.
Specifications:
Dimensions: 40 X 20 X 5 inches
Weight: 10.7 lbs.
Material: Plastic, Rubber, Engineered Wood
Blower: 12 Volts
Available Colors: Sky Blue & Dark Blue
Age Recommendations: kids & adults
Keep Pucks In Action: Players will witness their pucks in action, all consistently thanks to the AC-12V blower motor. You'll notice a thorough airflow happening throughout the playfield area.
As a result, pucks will be in action constantly throughout the match time. Furthermore, players won't deal with the friction on the surface provided the continuous airflow.
Easily Assembled: This table doesn't demand tough assembling like many other air hockey tables in the market. Players just have to connect the two-goal boxes, and they are all set to face their opponents. Moreover, it has rubber padding on the bottom for the protection of the base surface.
Manual Sliding Scorer: It's crucial to get goal updates when you're already in the match. This thing is made easier with its manual sliding scorers installed on both ends. These scorers naturally sit in front of the player's position. Therefore, these sliding scorers offer the best way to keep players updated in the game.
Pros
Offers easy and quick assembling
You're getting pucks and strikers in the package
AC-12V motor blows substantial air throughout the playfield
Low price tag
Cons
Complains about air blower working halts after some usage
Our Take: Easily assembled table with manual sliding scorer give a professional experience and makes it one of the best 4-player air hockey tables.
HEAVY-DUTY
Atomic 8′ Air Hockey Table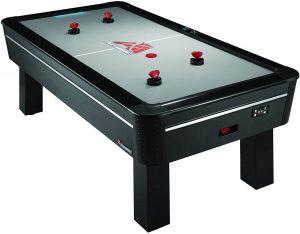 ★★★★
LED Scoreboard
Aluminum Rails
Features:
Experience mighty air blow with a commercial level blower motor with air-chamber channels
The table comes with a big LED scoreboard and glowing return of pucks
A velvet-smooth melamine playfield that is scuff-resistant and swallows friction
The rails are anodized aluminum for outstanding bounce
Reach the maximum air hockey game experience with the atomic AH800 table. It comes with a super smooth melamine surface supported by a commercial-grade blower making it one of the best 4-player air hockey tables.
The table offers premium accessories to complement an already perfect air hockey game.
Specifications:
Dimensions: 96 x 50 x 31 inches
Weight: 316 lbs.
Frame Material: Aluminum
Colors: black
Assembly Required: yes
Age Recommendations: adults
A Commercial Level Experience: You'll be blown out by the maximum air pressure of this commercial-grade blower installed on this table. It doubles the effect of a normal motor on the other air hockey tables. You'll also find air-chamber channels for unstoppable airflow.
Best Playfield: The Melamine playing surface is ready to take your gaming skills to another level of excellence. It is especially scuff-resistant, and you won't experience friction even on a single inch of the table.
That makes it super glossy to guide your pucks to the steadiest and smoothest flow. Moreover, the playfield incorporates pucks return technology for another time-saving bonus.
Level The Surface: Balancing the playfield on uneven surfaces can be frustrating. And that's where this table's surefooted leg-levelers come into play. Its 3 inches round pivoting rubber feet keep the surface balance in check no matter how difficult the surface is.
Delivering The Best: Players will find 4 high-end pucks and strikers to complement their air hockey game. It can lighten up the show with the LED goal lights for engaging gameplay overall.
Pros
Extraordinary air throw with commercial-grade blower
No more scuffs and friction thanks to melamine surface
It comes with pucks return technology
LED goal lights give a joyful game
Cons
Graining texture of the playfield instead of glossy
Overpriced
Our Take: Commercial grade blower and melamine slick surface vouch for an unbeatable air hockey game for all.
PROFESSIONAL
Fran Store 54 Inches Air Hockey Table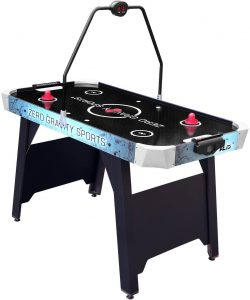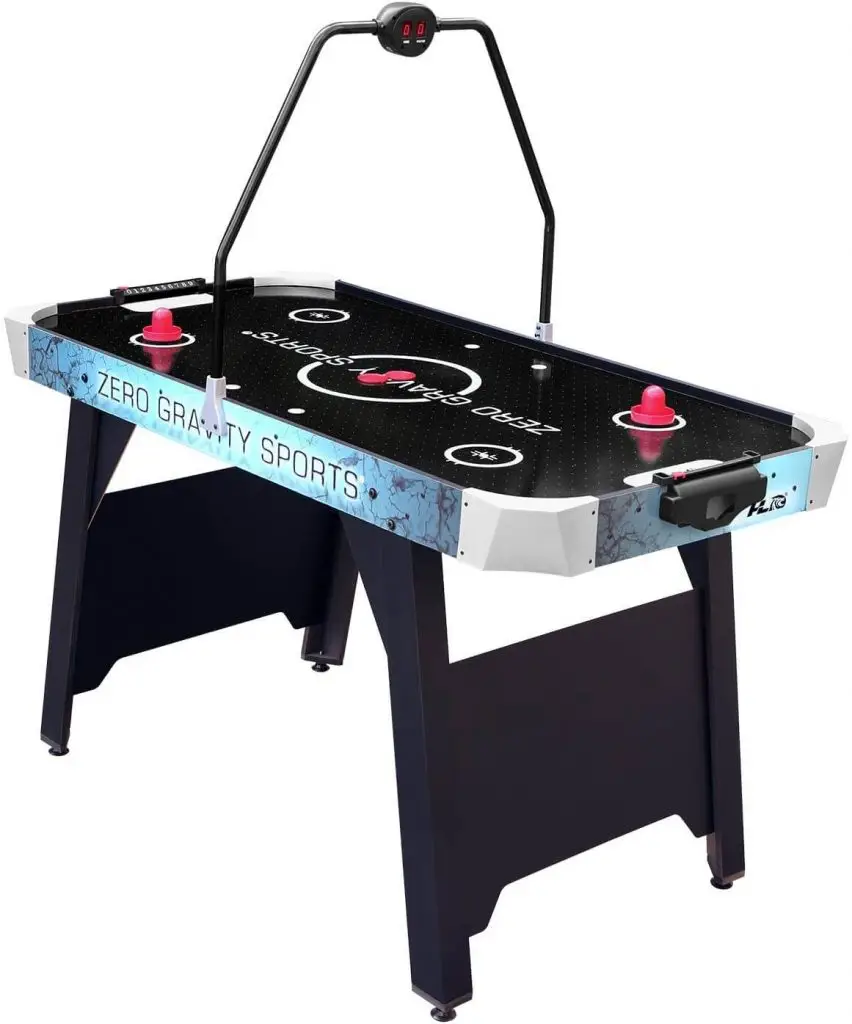 ★★★★
Sturdy Construction
Plastic Corners
Features:
Wooden materialization on the body construction makes it a sturdy pickup for professionals
The table is 27 inches wide for a covering space to play a multiplayer gaming scenario
Plastic corners are also included in the air hockey table package for boundaries protection
The air hockey surface is evenly distributed with the given proportion of weight for a balanced gaming experience. Alongside, the design is not very big, so you can easily place it anywhere.
If you have a good budget to spare for the toddlers in your house, it is surely among the best air hockey tables for kids in 2021.
Specifications:
Dimensions: 54 x 27 x 31.25 inches
Size: 54 inches
Playfield: 53 x 26 inches
Weight: 39.3 lbs.
Playing Surface: MDF
Frame Material: Engineered Wood
Colors: black
Age Recommendations: adults
Firm Structure: The manufacturers have placed MDF substance on the body structure of this air hockey gaming table. That also protects the scratches and damages to the maximum possibilities. Alongside, the smooth exterior is balanced throughout the area of construction.
All The Accessories: Here you'll get a well-furnished air hockey table along with a set of strikers and balanced structure pucks in 2 pieces. Moreover, there are 2 corners for the table placement made of sturdy plastic for preventing the surface.
Electronic Scoring System: Keep yourself updated with the current scoring situation of the air hockey game by the featured electronic scorer. The LED gets the latest score on the board whenever you hit a goal, so you don't have to change the digits.
54-Inch Length: The playing surface having PB layer comes with a smooth texture and wide 54 inches length for fun gameplay. Furthermore, the boundaries are also protected from scratches.
Pros
MDF body construction with firm legs connection
Smooth and balanced playing area made of PB
Electronic scoring system
The price tag is low
Lightweight and easy to move
Cons
The scoring system can miss some points
Our Take: 54 inches PB playing surface along with MDF body construction make it a must-choice air hockey table. Further, this table comes with an electronic scorer device which makes it unique.
COMPACT
Atomic Avenger 8′ Hockey Table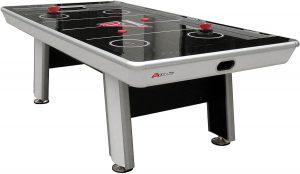 ★★★★
LED Display
Touch Screen Control
Features:
It features an LED display of electronic scorer for match updates with a modish touch
Change the way you play air hockey with advanced touch screen controls
It gives an even playfield on all surfaces thanks to the 5.5 inches leg-levelers
It comes with a highly glossy playfield for an extra smooth performance
The atomic store has set a high standard of air hockey with this table incorporating MDF playfield.
It's a glimpse into the future with the advanced touch screen controls and an elegant design carrying throughout the surface. The powerful 120V blower accompanies the fast performance.
Specifications:
Dimensions: 96 x 50 x 32 inches
Puck Size: 3 1/4 inches
Weight: 290 lbs.
Material: gloss MDF, Engineered Wood
Blower: 120V motor 60Hz, .9A
Colors: black
Assembly Required: yes
120V Blower: This blower blows the maximum amount of air through the playfield. Your pucks won't stop at any place in the playfield, thanks to their power and consistency. Its consistency helps keep the pucks moving in an ideal motion for a top game.
Control With Just A Touch: You can now access the conventional air hockey game with touch controls. This air hockey table offers premium touch controls access to the game. So you can play by simply navigating the controls on a generous display without getting lost.
MDF Playfield: A perfect game requires confidence and this highly glossy MDF surface provides you with that. It offers a high glossy appearance for the smooth flow of pucks on the surface. Moreover, the surface friction issues have been dealt with so you can have the best experience ever.
Electronic Scorer: Get all the in-game updates with this cleverly installed LED electronic scoring system. Thus, keeping you informed about the goal count most thoroughly.
Pros
Modern LED display scorer offers match updates with convenience
Access the game with the advanced touch screen control
Perfect game balance thanks to 5.5 inches leg-levelers
Strong and well-made legs
Cons
High price
Underpowered speaker
Our Take: Glossy MDF playfield combines with touch screen controls to give a modern air hockey sensation for all. Plus, it has a built-in powerful motor that gives consistent airflow and offers a smooth game.
FAQ Regarding Best 4-Player Air Hockey Tables
Q. What should I look for when buying an air hockey table?
You should always look for an air hockey table that has a sturdy base with legs. This makes your table a durable table, and it lasts for many years to come.
Q. How much room do you need for an air hockey table?
The space that is required in the room for the air hockey table during the gameplay is dependent on the player's maneuverability or, further, you can say at least a 3 feet extra space on either end of the table. This space is a must for the players to conveniently move around and play the game comfortably.
Q. How long does an air hockey table last?
On average, an air hockey table can last for almost 5-8 years in general. This is an average life of the table that allows you to play the game with maximum fun and pleasure.
Best 4-Player Air Hockey Tables | Quick Comparison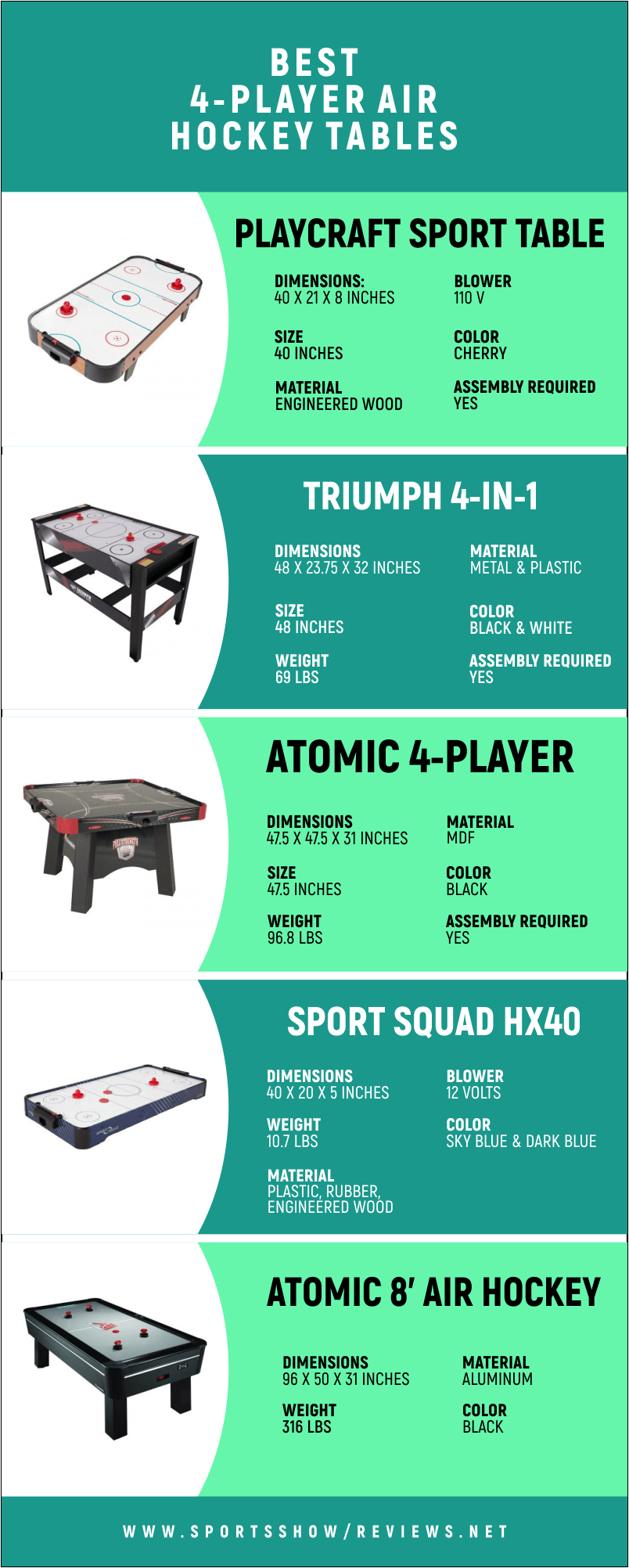 Our Recommendation:
Our 1st recommendation is the Atomic 8′ Air Hockey Table with a High-powered Blower as one of the best air hockey tables. LED scoring system along with aluminum frame structure makes it a prime selection.
Withal, our 2nd recommendation is Sport Squad HX40 40 inch Table Top Air Hockey Table as the most durable gaming table. A wooden construction design is having a lightweight structure compatible with multiplayer.
Conclusion
These are the best 4-player air hockey tables having a wide range of playing surfaces. You'll get a smooth playing field along with a balanced structure due to the supported leg connection. Plus, the boundaries are all covered with protected material to prevent the marks and damages from the strikes.
Withal, the electronic scoring system keeps you update with the latest scoring of each player. And the build-in motor enhances the smoothness of the surface with an optimized airflow rate.