Encore is a name of trust if you're trying to improve your pickleball game further. So the best Encore pickleball paddles on our list will help you out in many ways. They are made to resist the toughness of the match, whether played inside or outside. The paddles are the performance builder under all circumstances.
Their pickleball paddles line-up comes in various choices for different game levels. So it's important to understand the exact type of product you're seeking to purchase. Moreover, they are built with different materials and for different game types.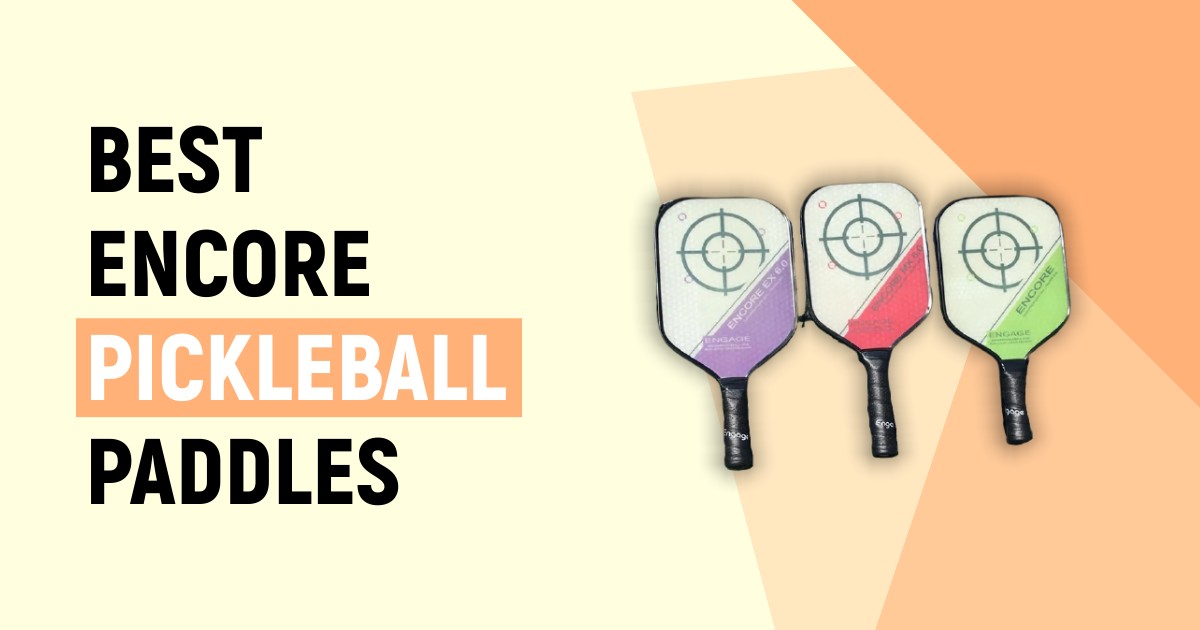 So, players must demonstrate their level of expertise and buy accordingly. Lastly, the long-term users focus on durability, so this aspect should be considered as well. So, let's get into the list below.
Best Encore Pickleball Paddles | Editorial Pick
EDITOR
CHOICE
★★★★★
Encore MX 6.0
FiberTek Substance
Thickest Surface
USAPA Approved
TOP
RATED
★★★★★
Poach Extreme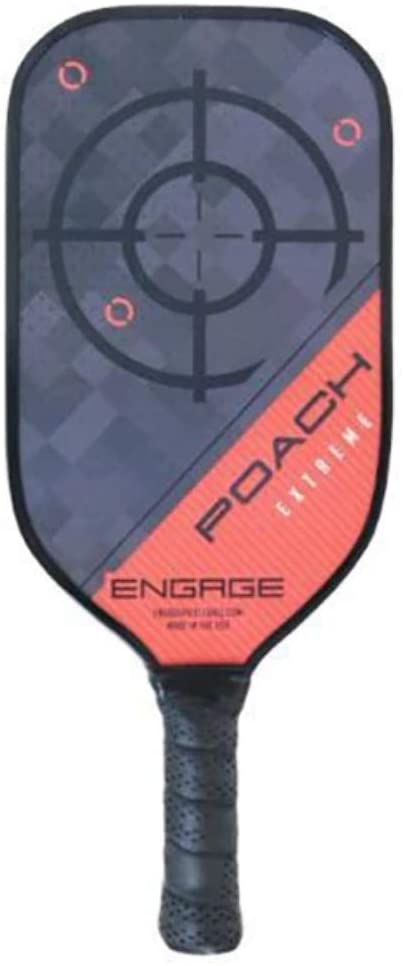 Innovative Design
6-Layer Fiberglass
Vibrant Color
BEST
SELLING
★★★★★
Elite Pro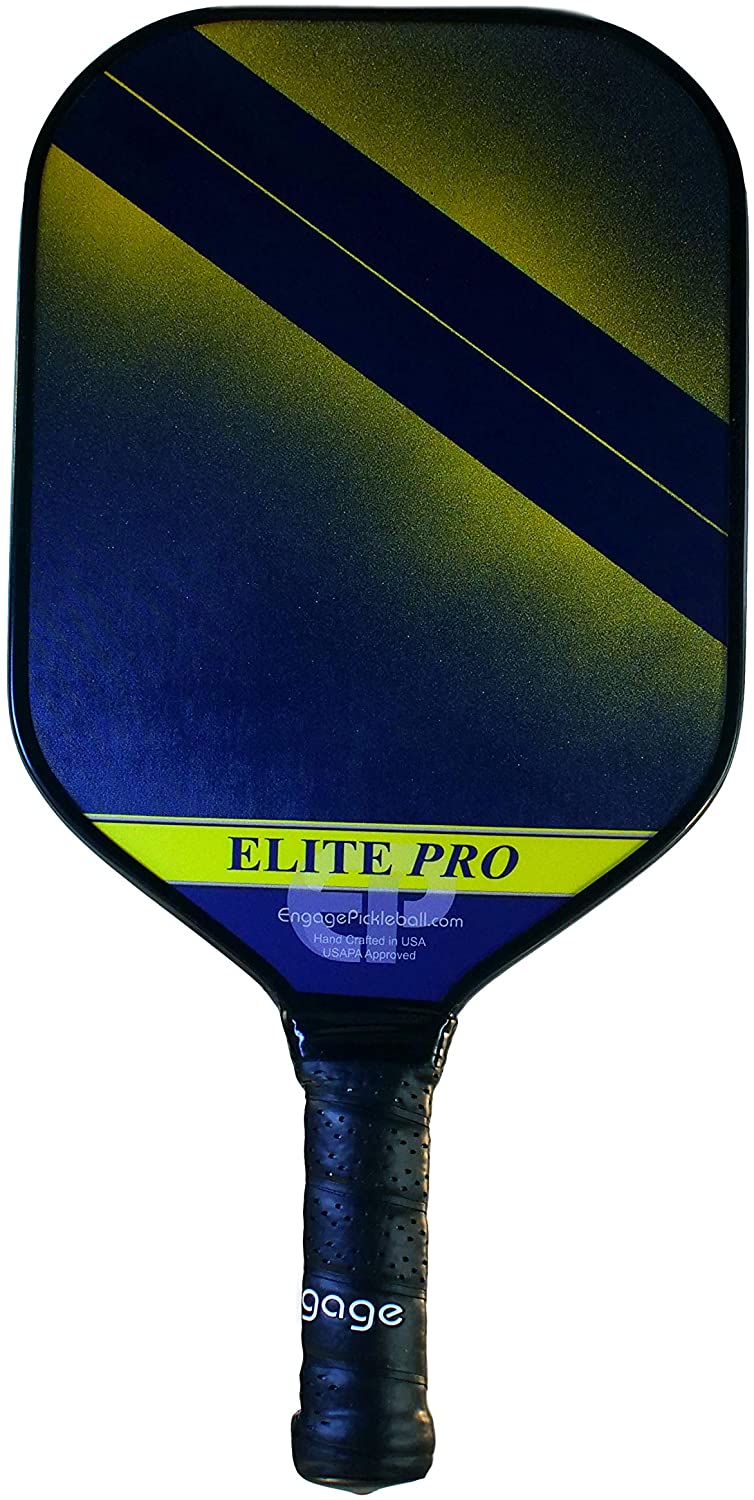 Standard & Lightweight
Dual Variant
Smooth Surface Area
Best Encore Pickleball Paddles | Full Ranking
You may have already liked our in-depth reviews of the best Franklin pickleball paddles and the best Onix pickleball paddles. And now, it's time to dive deep into the best paddles from the house of Encore.
BEST OVERALL
EP Engage Encore MX 6.0 Pickleball Paddle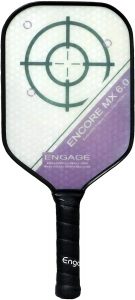 ★★★★★
FiberTek Substance
Soft-Grip Handle
Features:
The surface has been constructed with FiberTek substance that will improve the bouncy impact
A 4 1/8 inches thickness of the surface is much smoother than the normal paddle with extra grip
Soft grip handling when you adjust the paddle and perform the tough strikes at different lengths
Made in America and USAPA listed as well as approved for tournament
In this paddle, you get the best controlling factor with maximum speed cushioning. Encore has introduced the EP Engage MX 6.0 version structuring the optimized design along with a larger spot.
And of course, the handling surface is remarkable for smooth placement. Needless to say, it can easily claim its spot as one of the best pickleball paddles for beginners.
Specification:
Size: 16.5 x 7.5 inches
Weight: 7.5 to 8.3 Oz
Color: White/Purple
Handle Length: 5 inches
Handle Circumference: 4 3/8 inches
Material: FiberTEK
Core: 'ControlPro' Polymer
Technology: Vibration Control Technology
Core Surface: An advanced technology-based core surface will surely minimize the vibration effect and slippery issues. The Control Pro structure is something more than professional when you try hitting the ball with a wide covering surface. And you'll also not find the dent problems on the stable surface placement.
USAPA Thick Frame: As they spin factor has been improved with controlling capability so you will get a smooth hitting texture while playing. Alongside, the 7.5 inches frame width has been featured with an advanced texture layered surface. That will let you swiftly move the paddle in any direction you want.
Powered Surface And Spot: The sweet spot area has been extended in the frame structure, and the core area has got a more controlling impact. Plus, the pace rating will keep your paddle at an aligned angle for directional shots, which is also beneficial in handling the grip when you don't get the shocking effects.
Pros
The controlling impact is maximum
Advanced technology supportive core structure
Long sized surface with a smooth texture
Wide-angle frame design and durable gripping
Our Take: The USAPA approved core controlling structure along with a larger sweet spot design is one of the best encore pickleball paddles.
BEST-RATED
Engage Poach Extreme Pickleball Paddle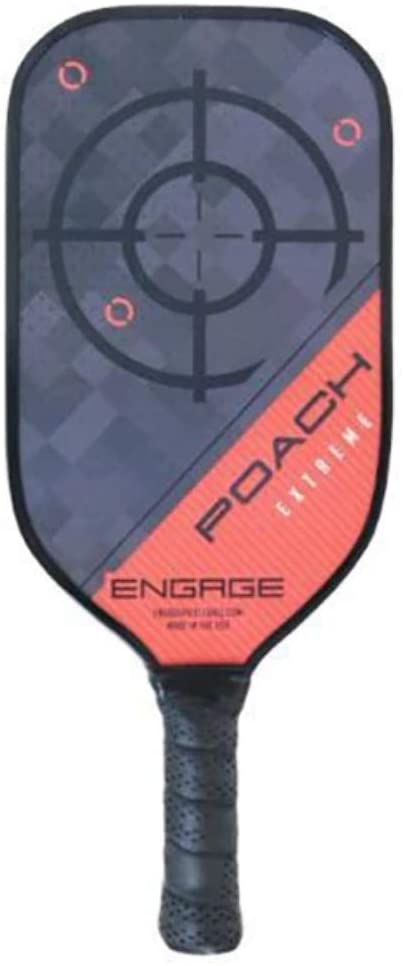 ★★★★★
Innovative Technology
6-Layer Fiberglass
Features:
Innovative technology in the paddle that controls excessive vibration and judder
It comes with various color options so you can have a personalized feel with each paddle
The paddle face has a 6 layered fiberglass polymer composite technology for impeccable responsiveness
Your paddle incorporates a proprietary core technology for enhanced precision
Approved and USAPA listed that makes it suitable for the tournament.
A new evolution in the paddle's surface is achieved that works following the situation. Now, you can play more and worry less with the top-level construction that is made to last.
Further, it is equipped with polymer composite technology that makes it one of the best encore pickleball paddles.
Specifications:
Size: 17 x 7 inches
Weight: 7.5 – 8.3 oz.
Color: Marcin Signature Black, Blue, Green, Red, & Purple
Handle Length: 5 inches
Handle Circumference: 4 ¼ inches
Material: Fiberglass Polymer Composite
Core: Proprietary Polymer Composite
Technology: Vibration Control Technology
No Vibrations Anymore: It was never easy to achieve a smooth pickleball game, but it's made possible with engage pickleball. It's a blend of advanced innovative technology that optimizes your every shot. It can effectively suppress excessive vibrations and any disturbance out of your strikes.
Add Colors To Your Game: Sometimes, getting to choose your favorite color in a paddle means huge for a player. It adds personalization to your game, and a specific color becomes your sign or identity concerning the game. This paddle adds more color options than anyone so that players can get more personal with color selection.
All-New Fiberglass: This modern evolution in fiberglass adds more response to your shots. It is achieved by the composition of 6 layer fiberglass technology that adds a new layer of perfection to your game. Furthermore, it is USAPA listed and approved you this paddle with confidence and enjoy your game.
More Precision: The great core technology is crucial when it comes to a pickleball paddle as it directs your strikes to the sweet spot. Thankfully, we're looking at a proprietary core technology guiding your shots to the perfect path.
Pros
5 inches soft grip offers a firm hold
6 layered fiberglass adds more responsiveness
A bunch of color options for a personalized feel
Lightweight and suitable for tournament
Moderate price tag
Cons
Handle's rough usage can lead to damage
A customer reported scratches on the paddle surface
Our Take: A paddle made with durable material and 6 layered technology that level up your game. Furthermore, the handle offers a comfortable and strong grip during playing.
POPULAR CHOICE
Engage Elite Pro Pickleball Paddle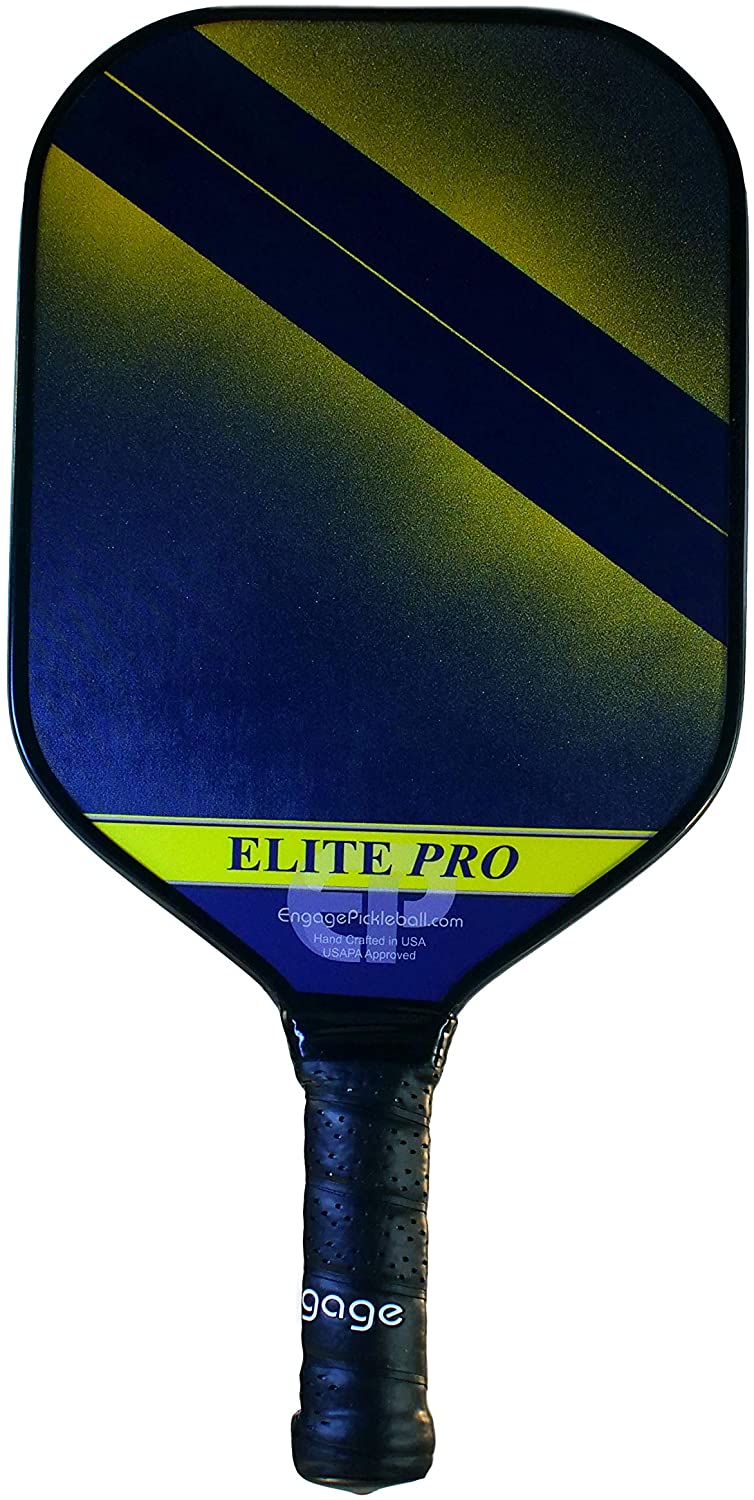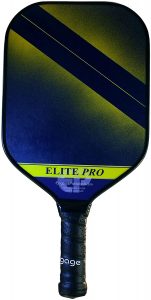 ★★★★★
Dual Variant
ControlPro II Polymer
Features:
It comes with both standard and lightweight variants to be chosen based on the player's compatibility
It features a ControlPro II polymer for reducing the amount of judder from the shots
Cutting-edge liquid graphite facing for improved surface response and accuracy
This paddle is designed to offer maximum control to the players with a seamless design that melts the eyes and experience the wonders of a perfect paddle for your pickleball with this Elite pro version paddle.
Moreover, stun the opposition with the amazing spin strikes this paddle creates for its players. And without any doubt, it can claim its place among the best pickleball sets to try this year.
Specifications:
Size: 16 x 8 inches
Weight: 7.5 to 8.3 Oz
Color: Blue, Red, White, Blue/Yellow Fade, & White/Maroon Fade
Handle Circumference: 4 ¼ inches
Material: Cutting-Edge Chemical Bond Graphite
Core: 'ControlPro II' Polymer
Technology: Vibration Control Technology
Choose The Right Balance: Every player has a unique body response, and it varies when it comes to pickleball paddles. Many players prefer lightweight, and some go for the standard one based on their preferences. Now, you can achieve the right balance with the weight options coming along this paddle. So, players can get to choose the best for themselves.
No Judders: An advanced ControlPro II polymer core is well known to filter out the excessive disturbance from the pickleball game. They bring this technology on this paddle means that all your shots are now played without vibrational effects.
Innovation Continues: This paddle's face is a true spirit of innovative design. It comes with a magical liquid graphite face surface which is proven to provide the best and accurate shots. Furtherly, the wider dimension of the paddle promises more on-point strikes with incredible spin.
Pros
Choose from the weight-based variants based on your compatibility
Innovative liquid graphite takes a huge leap in terms of response rate
Advance ControlPro II polymer controls the distractions for a seamless match
Premium functioning makes it a certain choice for pro matches
Reasonable price range
Cons
Sticker on the paddle's bottom effect ball striking
Grip tape is not wrapped
Our Take: An advanced paddle with ControlPro II polymer core that provides durability and is suitable for professional matches. Moreover, it comes in multiple colors and weights so you can choose according to your need.
LIGHTWEIGHT
Engage Encore EX 6.0 Pickleball Paddle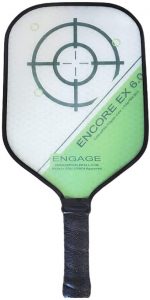 ★★★★★
Bigger Sweet Spot
FiberTek Skin
Features:
Larger sweet spot supported by the next-level ControlPro polymer core technology
The core technology gives an entirely new spin and much-needed power with every shot
Incredible FiberTek skin for unbeatable control and mobility in the match
Your package contains paddle, fuse G2 balls, and pickleball tips sheet
Approved for the tournament as it is USAPA listed
Beat the opposition and hold a dominating position in the pickleball game with one of the best Encore pickleball paddles. Go premium on all game levels with this unique paddle that is adaptable and comes in handy in each match.
It improves your skills along with modern innovation that carries. So, don't hesitate to try this unique paddle to have unmatched performance.
Specifications:
Size: 16 x 8 inches
Weight: 7.9 – 8.3 oz.
Color: Blue, Green, Purple, White, & Red
Handle Length: 4 3/8 inches
Handle Circumference: 4 ¼ inches
Thin: 4 1/8 inches
Core: ControlPro polymer core
Incredible Core Technology: It comes with a sublime ControlPro polymer technology core which supports a larger sweet spot. It guides your shots into the sweet spot target for more spin and bounce. While it diffuses the opposition's spin, giving players a leading edge in every match.
Moreover, it is USAPA listed that ensures quality, performance, and is perfect for the tournament.
FiberTek Skin: Encore has built this breathtaking feature in the paddle for excellent bounces avoiding dead spots. The sweet spot gets larger thanks to FiberTek skin on this paddle for more accurate shots. Hence, it offers professional experience altogether.
For The Important Matches: The elite pro paddle is a prime choice when it comes to tournament-level matches as it has all the premium features expected of a professional pickleball paddle. Moreover, the potent striking and accuracy give it a solid edge over any other paddle in the competition.
What's In The Package? The package contains your professional paddle, a set of fuse G2 balls, and a pickleball tips sheet. So, you get the most amazing tips right out of the package.
Pros
Great in-hand feel with promising grip
Larger sweet spot supported by FiberTek skin on the paddle
Comes included with fuse G2 ball set and pickleball tips sheet
Moderate price tag and durable
Cons
A bit heavy as compared to other paddles
Our Take: It is USAPA listed and approved for the tournament and designed with high-quality material and technology. Treat your professional pickleball journey with this phenomenal paddle packed with sublime accuracy and accessories, which makes it a stellar option.
INNOVATIVE
Engage Pickleball Encore Pro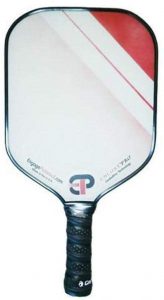 ★★★★
Honeycomb Core
Polymer Structure
Features:
This paddle has specialized in honeycomb polymer core technology for endless accuracy and sublime bounce
Grip contains a very soft cushioning for a grip that never slips
It meets the requirements of stringent community noise for a less noisy experience
It is designed in America with USAPA specifications and guidelines.
This bat comes inundated with all the perfect features like noise suppression, ball control, spin, and many more. So, the players can put their trust in this paddle and reveal their set of skills in the match.
It is USAPA listed and approved to make you tension-free.
Specifications:
Size: 15.5 x 8.125 inches
Weight: 7.8 oz
Color: Black, Red, Green, & Purple
Handle Length: 4 3/4 inches
Handle Circumference: 4 ¼ inches
Material: Specialized 'Proprietary' Fiberglass
Core: Specialized Polypropylene / Polymer Honeycomb
Technology: ControlPro
Made To Flow: The paddle has a smooth fiberglass surface which makes it suitable for every type of table as Encore has been mastering the development of the paddle for years. It provides depth to the shots with substantial spin to deflect the opposition with a fair margin.
Enhanced Core Technology: The advanced honeycomb polymer core on this paddle provides an incredible torque suppression feature. It also works for the longer resonance span along with the demanding accuracy it provides. As always, it gives an enlarged sweet spot for a more perfect striking probability in the game.
A Pleasure To Hold: It's always a pleasure to hold what feels comfortable in your hands. The same idea is put forward into this paddle's grip. It has advanced soft cushioning that keeps your grip in place for longer spans.
Less Noisy Game: It's always frustrating to hear pickleball commotions from a distance. And it comes down to the paddle you're inviting for noises in the match. Fortunately, this paddle meets all the requirements of stringent community noise for a pleasant experience.
So, no matter where you're playing, the game's vicinity is going to be at peace with this professional paddle.
Pros
Reduced paddle noises
Lasting durability with quality construction
Surface offers substantial spin to the shots
Convenient grip
Cons
The body weight is not compatible with everybody
Short length handle size
Our Take: Made with a premium-quality and polymer honeycomb face with a smooth surface, this paddle is perfect for every kind of surface. Further, a noise reduction feature makes it unique that will live up to your confident purchase.
PROFESSIONAL
Engage Pickleball Elite Pro Maverick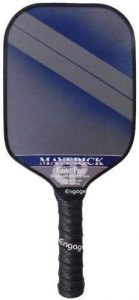 ★★★★
Vibration Reduction
Soft & Firm Grip
Features:
The ControlPro II polymer core shuts the vibrational impacts of the strikes
An exciting take on this premium paddle with standard size and one of the largest sweet spots
Hold for longer with the firmest grip that is made convenient
USAPA certified for pickleball tournaments participation
This paddle gives the most sublime experience while avoiding dead shots to boost your experience and settle for the best while packing the most prime features in a catchy design.
Players can expect to take this paddle for long-term usage because of its durable profile.
Specifications:
Size: 16.5 x 7.5 inches
Weight: 7.85 to 8.3 Oz
Color: Blue, Emerald Green, Metallic, Orange, Purple Fade, Purple Mist, Red, Sky Blue, & Ruby Red
Handle Length: 6 inches
Handle Circumference: 4 ¼ inches
Technology: Vibration Control Technology
Professional Take On A Paddle: The paddle is built for you to feel the impact of a pro match. Its dimensions are in moderation, while the surface offers a very large sweet spot. Sweet spot gives a directional guide to all the shots coming on the paddle. Thus, holding the impacts of spin from the opponent's shots.
Controls The Vibrational Effects: You can always take on the opposition with potent strikes, but the vibration issue remains. Thankfully, with the improved ControlPro II polymer core technology, your paddle won't vibrate. The core will reduce the impact of turbulence and distraction like no other.
Perfect for tournaments: Give this paddle a shot for your all-important matches. As it's officially USAPA certified for tournament-level matches, without a doubt.
Ever-Lasting Performance: A paddle's grip plays a key role in the output of the pickleball matches. Many grips are harsh on the hands and do not offer the level of required comfort to the players. While this paddle incorporates a premium cushioning on the grip with a substantial length for a firm hold to perform for longer.
Pros
No more dead spots with ControlPro II polymer core
USAPA approved for tournament level matches
The larger sweet spot for increased precision
Available in multiple striking colors
Cons
Torque increases with a long handle
It can break with tough shots
Our Take: This 'Elite Pro' is considered one of the most dominant paddles. It comes with the largest sweet spots, amazing spin rating, and offers outstanding control. You can get outstanding performance, precision with it, and it is noise-free as well.
X-SERIES
Encore X-Series Pickleball Paddle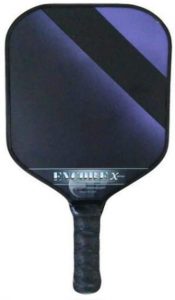 ★★★★
Graphite Body
Better Handling
Features:
Graphite body construction that will improve the exterior ground plus leveled surface for the stability
5 inches of length has been designed on the grip for smooth adjustability and better handling
Approved and tested gaming paddle for advanced level gaming and professional scenarios
A tournament-level gaming paddle is featuring the X-Series design. The design is firmly customized with an enhanced playing surface that will resist the maximum possibilities of damage.
Plus, the extreme level bouncy ground will help you striking tough shots without any hassles.
Specifications:
Size: 15.5 x 8 1/8 inches
Weight: 7.5 – 7.8 oz.
Color: Aqua, Pink, & Purple
Handle Length: 5 inches
Handle Circumference: 4 ¼ inches
Material: proprietary chemically-bonded
Core: Polymer honeycomb core
Extended Sweet Spot: Here you'll get a larger area of sweet spot with an extended platform that is managed with durable frame construction. Alongside, the bouncy impact on the upper surface will produce acceleration on the ball for a better strike.
Spin Capability: The smooth textured design has been featured with an additional spinning factor. Plus, the edges are covering the whole frame to maintain the alignment of the paddle. It will also let your strike the ball in a given direction and more power placement on the pickleball.
USAPA Approved: The Encore X-Series gaming paddle is USAPA approved and tested for tournament platforms as versatile equipment. You'll feel a prime difference while holding the long and handy grip with a better adjustability factor. Moreover, the boundaries are also maintained with a smooth layered surface.
Durable Construction: You'll get 8 1/8 inches sized width of the paddle surface along with a honeycomb core design for exterior support. The long-sized 15 ½ inches length will let you easily place the paddle for tough and swift shots made with a polymer-based structure.
Pros
Appealing colors are available to choose
The exterior skin is chemically bonded for a better grip
An extended, more controlling aspect has been added to the paddle
Moderate price tag
Cons
Striking power is average
Paddle length is short
Our Take: American-made paddle offers sweet and smooth touch feel as it is made with the honeycomb polymer core structure with a graphite-constructed gaming paddle as a prime selection for you.
FAQ Regarding Best Encore Pickleball Paddles
Q. Are Prince pickleball paddles good?
Prince brings innovation to the edges of pickleball paddles. Normally other pickleball paddles have square edges from the top. On the other hand, Prince went for a rounded edge. This makes them stand apart from the rest of the competition.
Q. Does Prince own Paddletek?
This is a joint venture between Prince and Paddletek that came together in the year 2018 to launch the Prince pickleball line.
Q. Where are head pickleball paddles made?
All the heads for pickleball paddles are made in China. However, several companies are now trying to start their manufacturing in the United States and several European countries.
Best Encore Pickleball Paddles | Quick Comparison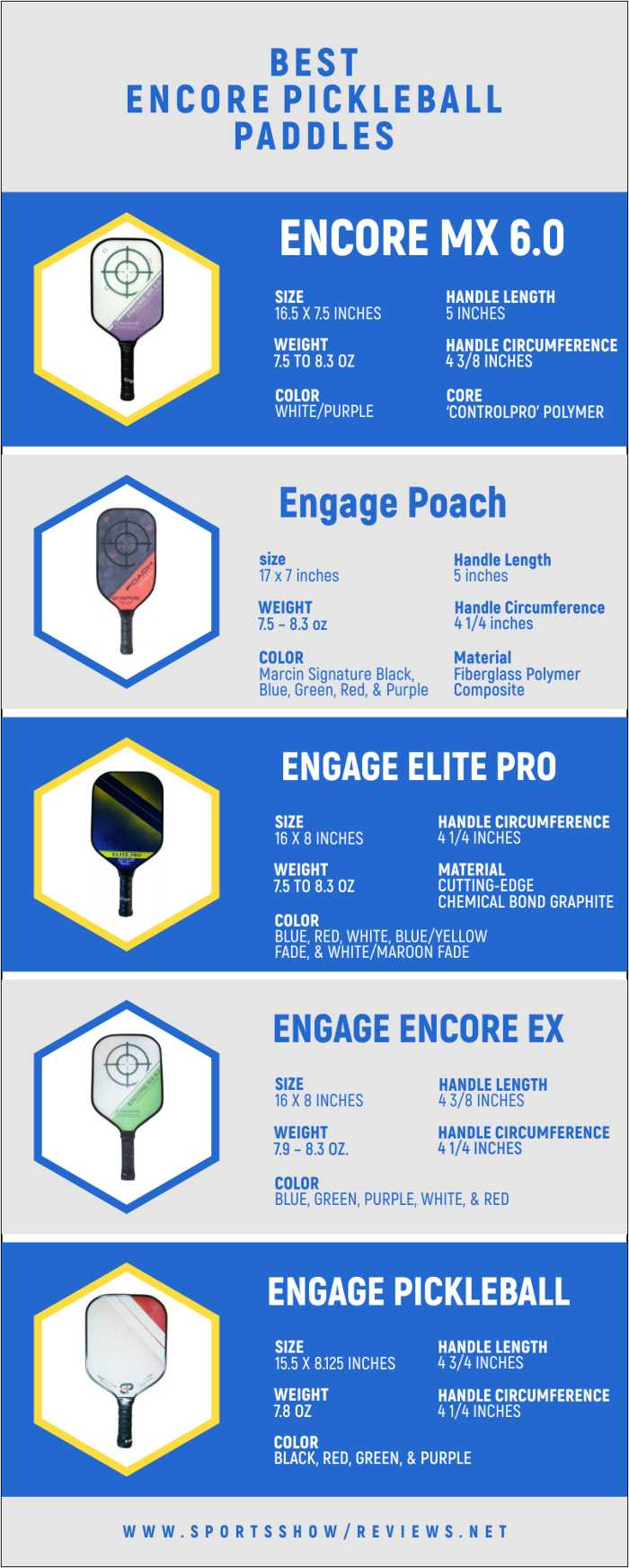 Our Recommendation
Our 1st recommendation is the Engage Poach Extreme Pickleball Paddle as the best pickleball paddle. The body structure has been materialized with 6 layered formats and fiberglass facing along with a firm design to reduce the vibration effect.
Moreover, our 2nd recommendation is Engage Pickleball Encore Pro as the most durable gaming paddle. A honeycomb core surface is having an even connection of gripped handle for a smooth ball strike.
Conclusion
Hence, these are the top-ranked and the best Encore pickleball paddles at a very accessible price tag. The body structure of each paddle is precisely aligned in an even sequence that the frame structure has a remarkably balanced surface. You'll get a supportive core honeycomb design and a firm, sturdy exterior.
Alongside, the detailed craftsmanship of the products with smooth handling will let you play tournament-level games. So you don't feel any hassle while moving the paddle at any angle according to the strike scenario. Choose your favorite encore pickleball paddle to win the match!