Every new football signing always excites the fans because everyone expects to feel the new energy in the game because of the change. The authorities always try to have the best players by offering them great deals for long-term work. But sometimes, these signings turn out to be the worst transfers in football history because of low performance and something unfortunate like injuries or management difficulties.
The infamous transfer of Chilean footballer Alexis Sanchez from Arsenal to Manchester United in 2018 is truly the worst football transfer of all time. That transfer recorded an unbelievable $18.2 million. Andy Carroll's transfer from Newcastle United to Liverpool FC and Fernando Torres' transfer from Liverpool FC to Chelsea also deserve their mentions among the worst transfers in football history.
Even a significant amount of money deals with talented players turn out to be the worst signings and horrifyingly wrong decisions. And, you'll miss the most exciting if you don't know about the worst transfers in history as an avid fan.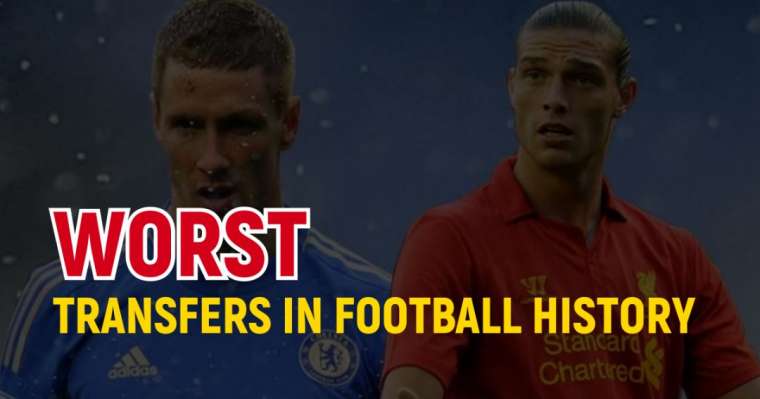 Worst Transfers In Football History | 2023 Rankings
Let's take a look at those worst transfers in football history. Here are the footballers who either failed to justify the huge amounts of money invested in them or turned out to have been so disappointing in their time.
10. Jonathan Woodgate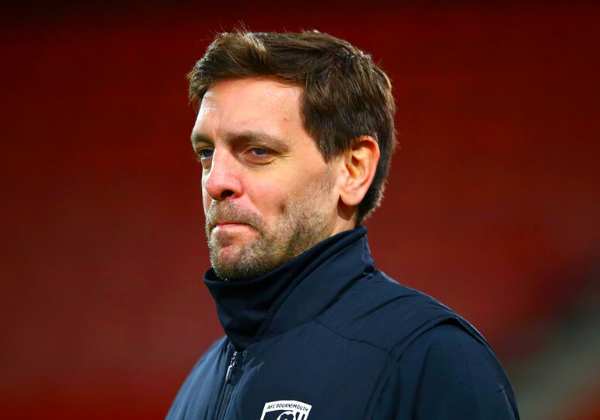 Transfer: Newcastle to Real Madrid
Transfer Value: £13.4 million
Woodgate moved to Real Madrid in an injured condition, the condition he lived up to as he made no appearances after 14 months at the club. In his first encounter with the game, he scored a diving header's own goal against Club Athletic, and he was also later dismissed.
That turns this great signing into one of the worst transfers in football history, which was a massive loss to one of the richest football clubs, Real Madrid.
Then, exactly 11 months after his Euro debut, he was back in England playing for Middleborough, albeit Jonathan scored a goal in the 4-1 game, in which he had to face the defeat against Rosenberg Ballklub.
Bonus: When Do Soccer Players Retire? Retirement Age & Stats
9. Christian Benteke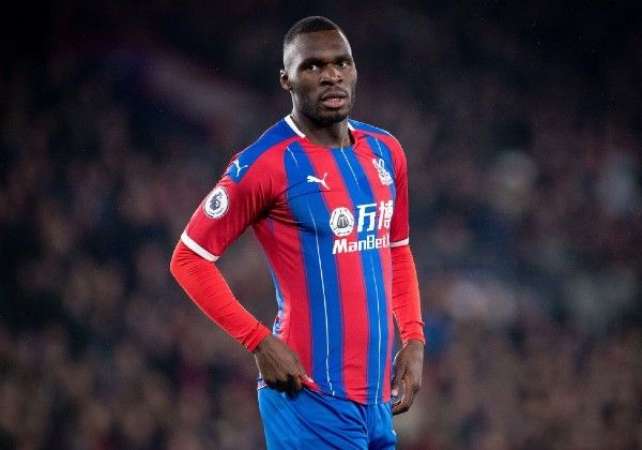 Transfer: Aston Villa to Liverpool
Transfer Value: £32.5 million
He was an excellent football striker in his season with Aston Villa Football Club, and he impressed the Liverpool authorities, which turned into a superb signing deal. Several factors made Anfield a terrible experience for the striker, including the circumstances under which he was signed by Liverpool, the role he was expected to play, and how he was handled.
It was disappointing for the club that turned this signing to be one of the worst transfers in football history. In fact, the aim of Liverpool was not to field a target man at the time. Instead, the team lacked a more fluid striker who could freely create chances and move on the field for opportunities.
Also, Jurgen Klopp, who became the football manager of Liverpool in 2015, did not find it beneficial for the club to fit Benteke in that required spot at that time.
8. Roberto Soldado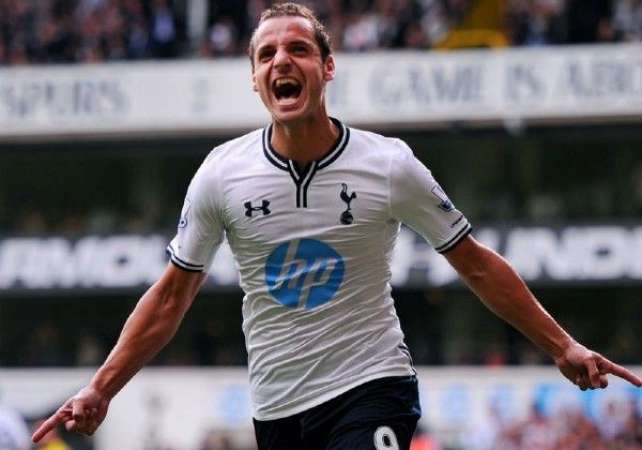 Transfer: Valencia to Tottenham
Transfer Value: £26 million
Roberto Soldado was arguably the player Tottenham fans had the highest hopes for, with a hefty transfer fee and a fine pedigree of goalscoring at Valencia. At Los Che, Getafe, and Osasuna, Soldado averaged over a goal every two league starts, and fans expected him to do something extraordinary.
But he totally failed to be on the same fulfillment in England, which turned him out to be a failure in Premium League at that time.
These are the reasons for this signing to be one of the worst transfers in football history. Also, for a team with the attacking capability of Tottenham Hotspur, his seven league goals over two seasons, four of which were penalties, were something totally unacceptable.
7. Angel di Maria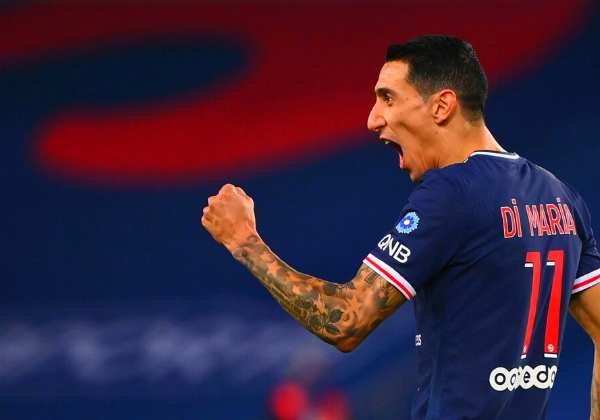 Transfer: Real Madrid to Manchester United
Transfer Value: £59.7 million
Despite beginning the season on a high note and winning Player of the Month and Goal of the Month awards for September, Di Maria quickly fell out of form following hamstring problems in October. He returned to action in January but didn't perform up to his old standards.
The media claimed Di Maria was one of United's worst signings after he missed his medical in Paris in advance of Manchester United's pre-season trip to the USA. Because of his unexpected experience with the club, this signing became one of the worst transfers in football history.
United used to spend big on players who didn't do much. It's an indication of just what a lousy transfer market United had at that time.
6. Gaizka Mendieta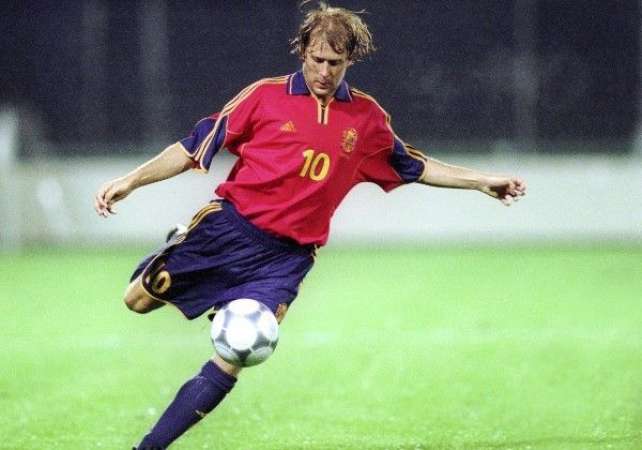 Transfer: Valencia to Lazio
Transfer Value: €47.7 million
The Spanish half-back, Gaizka Mendieta, played for Valencia in Spain and was voted the 'UEFA Best Midfielder of the Year for his excellent technique and offensive capabilities. At the time, Mendieta was highly sought after among midfielders.
However, Lazio was the one to clinch his signature for a record fee of 47.7 million, which made him the sixth most expensive player in world football at that time. Also, with a massive amount of pressure on the Spaniard coming off the transfer, he ultimately struggled to play for the Biancocelesti, where he made 20 appearances and failed to score.
That makes this great signing turn out to be one of the worst transfers in football history. However, he is still regarded as one of the best football midfielders of his time.
5. Jackson Martinez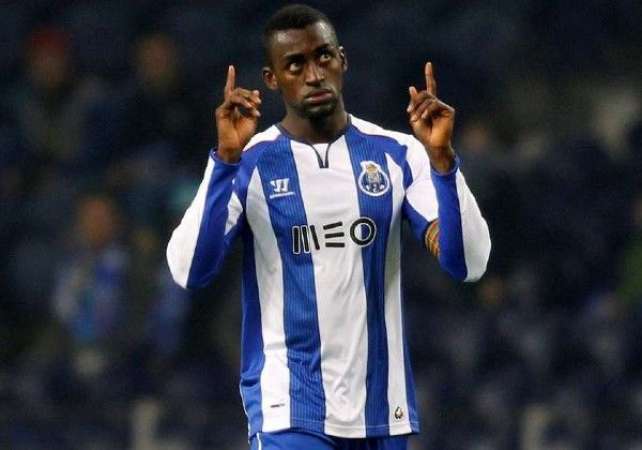 Transfer: Porto to Atletico Madrid
Transfer Value: €35 million
In his time at Porto, Jackson Martinez played for Atletico Madrid. In 2013, Atletico Madrid purchased him for €35 million after scoring a lot of goals. During his time in Madrid, he struggled to find his feet. Diego Simeone was said to be unhappy with Jackson's lack of responsibility.
Jackson's disappointing performance for Atletico Madrid made the fans sad and offended. Also, people consider this signing one of the worst transfers in football history.
A year after joining Madrid, Jackson Martinez was offered to the Chinese Super League team Guangzhou Evergrande for €42m. He scored three goals in 22 games for Atletico Madrid.
You May Like: What Is Trapping In Soccer? Types & Techniques
4. Andriy Shevchenko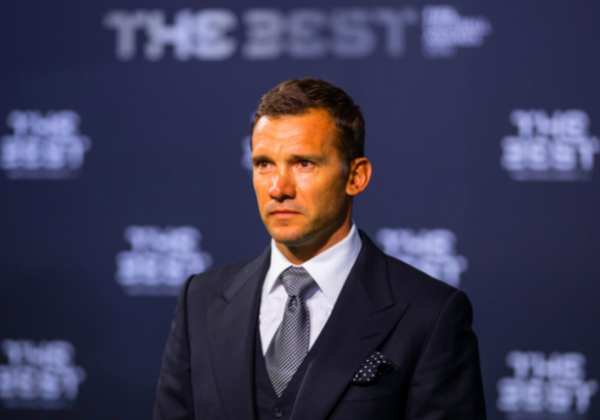 Transfer: Milan to Chelsea
Transfer Value: £30.8 million
One of the best football managers, Jose Mourinho, did not appear to be interested in signing Andriy Shevchenko from the AC Milan to Chelsea transfer. The noise regarding the £30 million deal was primarily based on Jose Mourinho's intention to do so.
In fact, many thought that Roman Abramovich had acted wrongly in signing a 30-year-old striker for such a hefty fee. Unfortunately, what ultimately brings about Shevchenko's downfall is that he is no longer the remarkable player he once was, which turns this signing into the worst transfer in football history.
Furthermore, the fans of Chelsea are not happy with the performance of Shevchenko. Despite Torres' struggles at Chelsea, he returned to his home club Dynamo Kyiv after returning to Milan on loan.
3. Fernando Torres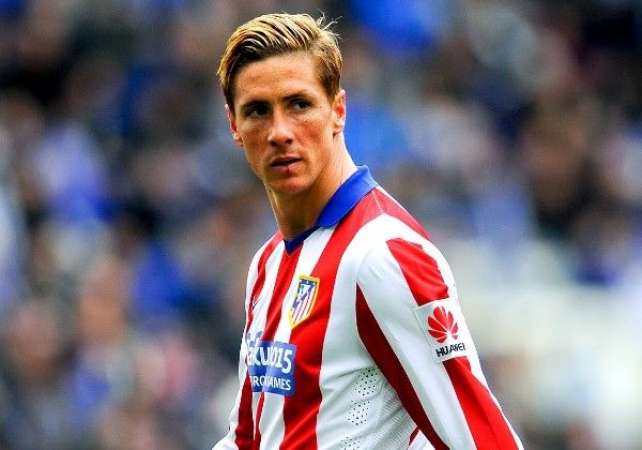 Transfer: Liverpool to Chelsea
Transfer Value: £50 million
Fernando Torres, who cost Chelsea 50 million pounds from Liverpool, has been considered one of the worst transfers in football history. Torres never achieved the stage of success that made him famous and lethal at Liverpool, and it is possible that his transfer fee weighed down on Torres's ability to become the striker Chelsea hoped for when signing him.
This signing was so interesting for the fans, but the lousy performance and experience ruined it all. Despite his arrival at Chelsea, Torres is the first player to be loaned out to another team.
So, it was little wonder that Chelsea brought back one of the most popular footballers, Drogba, that summer after scoring only 20 league goals in 110 matches for Chelsea.
2. Andy Carroll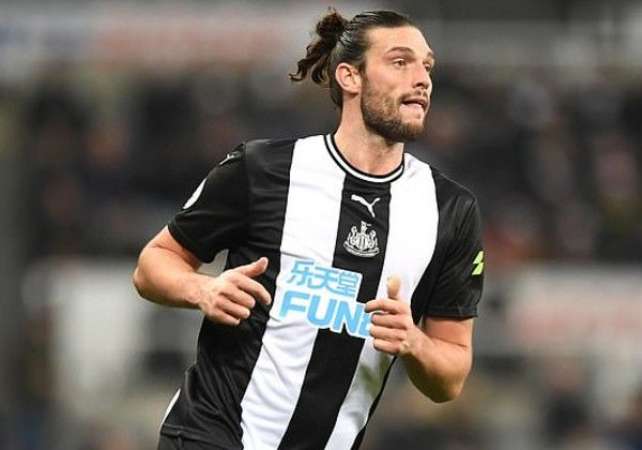 Transfer: Newcastle to Liverpool
Transfer Value: £35 million
At the time Carroll left Newcastle, he revealed he wasn't ready. "I was 22 when I moved. I couldn't handle Liverpool at the time." Carroll says he had to Google his new Liverpool teammates on the helicopter ride down to Merseyside because he didn't even know, at first, who they were.
But unfortunately, this poor decision-making suffered him and the club together and made this signing one of the worst in football history. Unfortunately, Carroll's injuries hindered his chances of developing a solid rapport with the Liverpool team. Still, the unavoidable truth remains.
That he proved to be a massive waste of money, and he only scored six Premier League goals in three years at one of the best football stadiums, Anfield.
1. Alexis Sanchez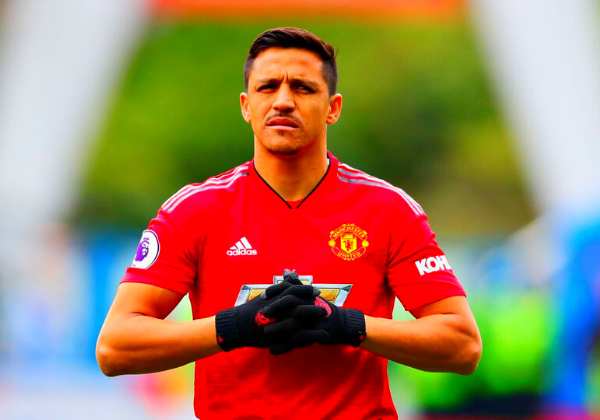 Transfer: Arsenal to Manchester United
Transfer Value: 18.2 million GBP
Astonishingly, the signing of Sanchez from Arsenal in January 2018 was one of the worst transfers. The form of Sanchez, plummeted almost immediately. And United was soon aware they were not getting the same player who lit up the Premier League with Arsenal.
With a goal total of five in just two-and-a-half years for United, he would have been a terrible signing for any attacking signing. However, Sanchez was United's highest-paid player. It ultimately led to the departure of Ander Herrera, who felt undervalued, from Inter Milan and helped form the basis for David de Gea's bumper contract.
The Spanish goaltender also proved his worth as one of the best goalkeepers at that time. Also, the team's inability to back out of the deal, as the numbers became ridiculous, represents appalling value for money.
Final Words
So, this is the list of worst transfers of all time. We will have your precious feedback in the comment box.
Popular Post: What Are Caps In Soccer? Definition, History, & Stats
Worst Transfers In Football | Infographics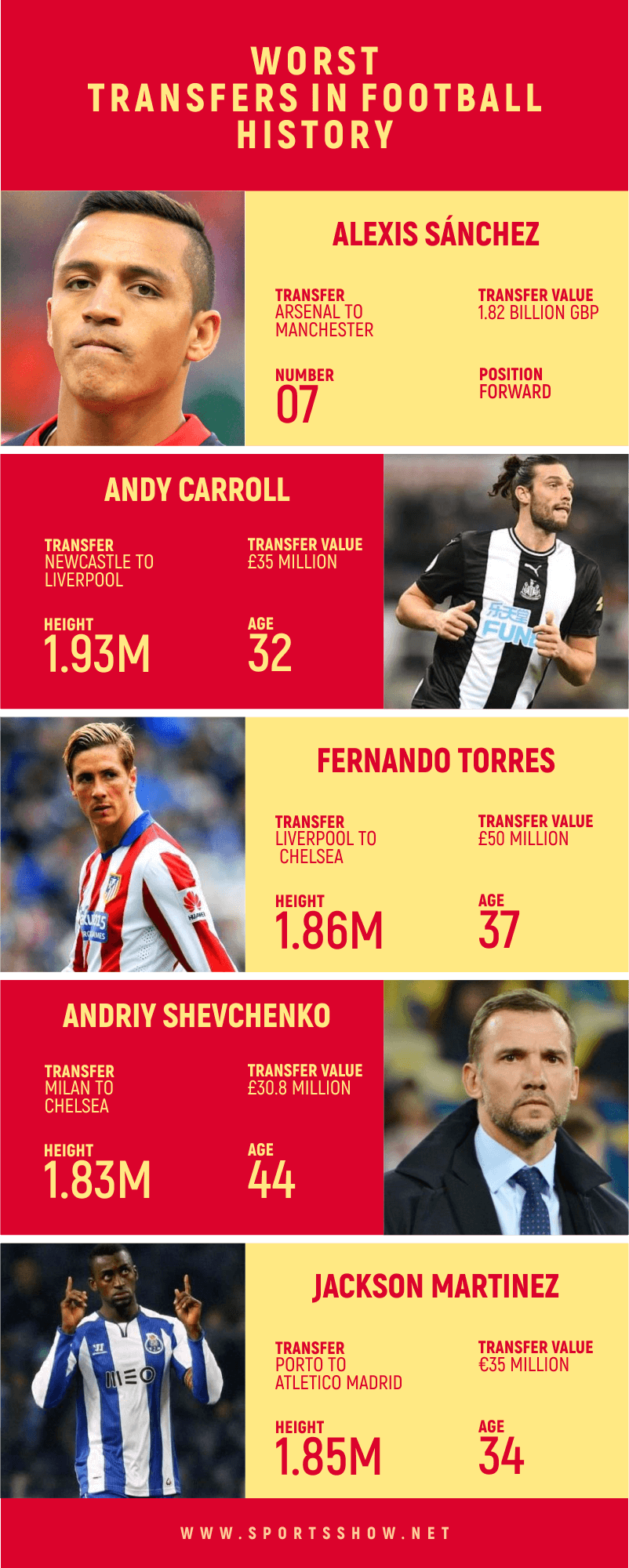 FAQs Regarding Worst Transfers In Football
Q. What are the top 5 worst transfers in football history?
The top five worst transfers in football history are Alexis Sanchez (Arsenal to Manchester United), Andy Carroll (Newcastle to Liverpool), Fernando Torres (Liverpool to Chelsea), Andriy Shevchenko (Milan to Chelsea), Jackson Martinez (Porto to Atletico).
Q. Who is the worst transfer in football history?
One of the world's worst transfers is of Alexis Sanchez, who transferred from Arsenal to Manchester United. Alexis Sanchez was also among the highest-paid player in Latin America, and his transfer value was 18.2 million GBP.
Q. Who is the biggest football flop?
Juan Sebastian Veron is regarded as the biggest flop in football; his widely famous flop was in the United States. In the US, after two years of bad performances, he transferred to Chelsea, where he again failed to deliver. Although after some grinding, he became successful in Italian football.
Q. What are the latest worst transfers in football?
The recent worst transfers of football players are Antoine Griezmann (Atletico Madrid to Barcelona in 2021), Eden Hazard (Chelsea to Real Madrid in 2019), Philippe Coutinho (Liverpool to Barcelona in 2018), and Ousmane Dembele (Borussia Dortmund to Barcelona in 2017).
Last Updated On: December 2023