Ever missed your favorite cup of coffee while playing with foosball table? Well, the best foosball coffee tables on our list seem to be the best possible solution. All these tables incorporate a tempered glass surface top for keeping your cups of coffee and other essentials.
Moreover, there are no compromises made on the gaming experience of the signature foosball. All the game components are crafted with high precision delivering the best foosball game overall. Also, these tables offer space-saving functionality, and they are easy to move around as well.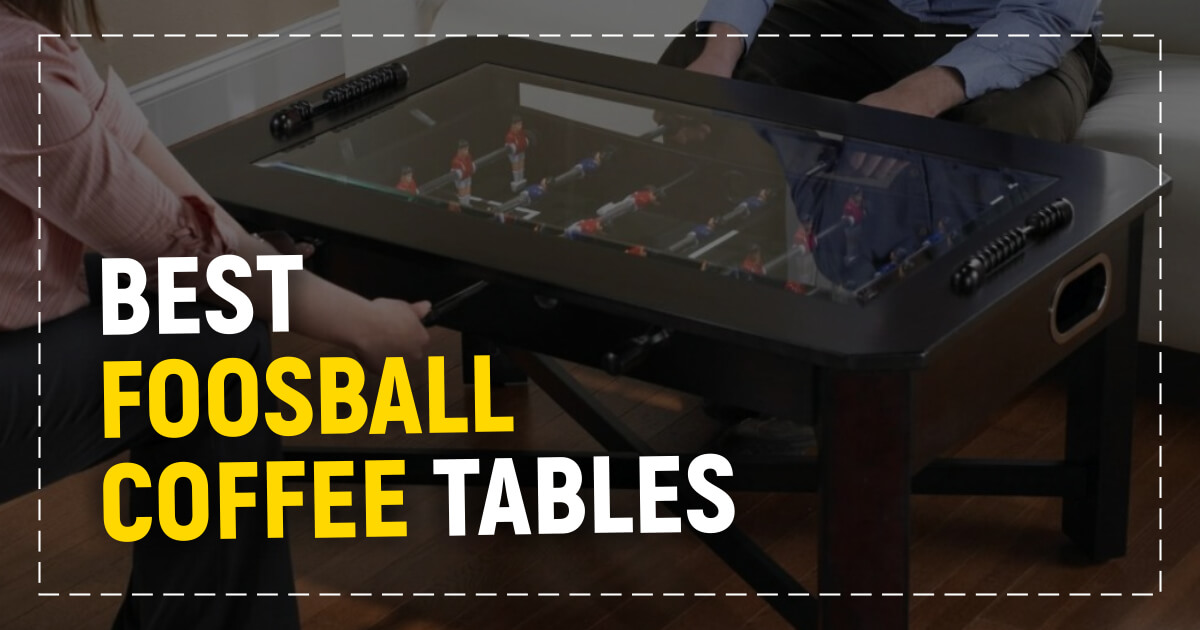 In addition, the tables vary in terms of their materials and durability. Every table has its unique capability that is marked by the price tags so buyers can decide what suits them. Lastly, buyers must demonstrate the size and mobility of the tables before making purchases. This will help them gain more from the same versatile table.
Best Foosball Coffee Tables 2023 | Editorial Pick
EDITOR
CHOICE
★★★★★
Barrington 42″ Table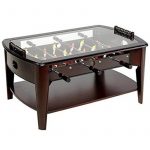 Classy Wood
Chrome-Plated Rods
Super Sturdy Legs
TOP
RATED
★★★★★
Chicago Gaming Signature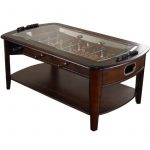 Impressive Detailing
Furniture Grade
Functional Shelves
BEST
SELLING
★★★★★
Hanover Foosball Table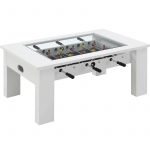 Engineered Wood
Different Look
Rigid Legs
Best Foosball Coffee Tables 2023 | Detailed Reviews
We have already tried and reviewed some of the most amazing LED foosball tables and the best mini foosball tables. But this saga remains truly incomplete without mentioning these high-quality best foosball coffee tables. So, here they are!
BEST OVERALL
Barrington 42″ Foosball Coffee Table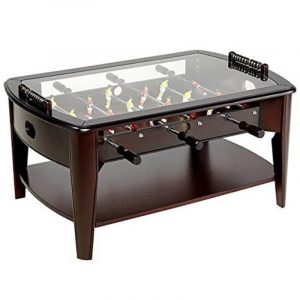 ★★★★★
Classy Wooden Feel
Sturdy Table Legs
Features:
A classy wood construction that can be placed in offices, game rooms, and living rooms
This table's legs have sturdy 2 7/8 built with provided extra space at the bottom for more storage
It comes with chrome-plated steel rods and handcrafted and painted players
Incorporates thick tempered glass providing an excellent level of protection and ample space
Wood scoring beads installed on both ends for easy access to score updates
Entertain yourselves in luxury touch with this one of the best foosball coffee tables available in the market. Traditional wood construction offers impressive durability for long-term usage.
In addition, it fits into your living space just like a conventional table with its sturdy tempered glass surface. Besides, it is also among the best foosball tables for teenagers in your house.
Specification:
Dimensions: 42 x 28 x 20 inch
Shape: Rectangular
Weight: 101.86 lbs.
Color: brown
Material: Glass, Wood
Rods Material: Chrome-Plated Steel
Leg: 2 7/8 inches
The Tradition That Follows: Some people prefer elegant furniture crafts for adorning their room's beauty. Here, this foosball coffee table seems to provide exactly that with its classy wood construction. This table comes with a tempered glass surface where you can place your essentials like coffee.
Further, the BARRINGTON store has given this table a traditional and elegant feel with a dark brown finish.
Sublime Foosball Experience: It comes with chrome-plated rods offering a high value of comfort as you hold them. Furthermore, the on-field players are handmade, offering a high value of precision in the game.
You love the color combination on these hand-painted players. There are wood scoring beads on both ends, offering easy score updates. As a result, you're getting a sublime foosball experience that lasts.
More Space Than Before: This coffee foosball table is a complete family-oriented craft with its bottom space bar. Your bottom space is a flushed surface completed from wooden materials offering consumers to keep more items conveniently.
Surface Materials: Its tempered glass surface is made to offer a high value of versatility in terms of items keeping space. Further, it doesn't stop here; you're getting a smooth and glossy surface that is appealing to look at. This improves the overall beauty of the table without a doubt.
Pros
Handcrafted players offer extra precision in the game
The sturdy foundation supported by strong 2 7/8 legs
Classy wood built offers high value of endurance
Scoring beads on both ends for keeping players updated
Cons
Don't have all cutouts to place the players
Complains about damaged order
Our Take: A perfect foosball table as well as a coffee table for offices, living rooms, and game rooms. Further, it allows you to stand out from the rest with this premium wooden foosball table, offering a sturdy leg at the same time.
BEST-RATED
Chicago Gaming Signature Foosball Coffee Table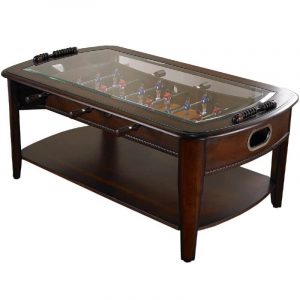 ★★★★★
Impressive Hand-Detailing
Octagonal Handles
Features:
It's built from promising hardwood with impressive hand-detailing, bringing elegance to you
It comes with a furniture-grade playfield along with the signature wood veneers
Featuring comfortable octagonal handles along with hand-painted foosball players
The functional shelf for more room and incredible leg-levelers
This foosball coffee table from Chicago gaming brings the joys of coffee and foosball craze together. It has a rigid and modish hardwood construction with hand-carved details.
Also, its brilliant design brings the elegance of its furniture style built that infuses in your living space. Without any doubt, it is among the best-rated professional foosball tables to try this year.
Specifications:
Dimensions: 47 5/8 x 28 x 20 inches
Weight: 75 lbs.
Color: brown
Material: Stainless Steel & Glass
Total Rods: 6
Leg Levelers: adjustable
Style: Freestanding
Dual Function: Chicago Gaming Signature Foosball coffee table doubles the fun with its glass surface and centerpiece construction. Now you can enjoy your favorite beverages placed safely on the tempered glass construction and keep playing along.
Therefore, you are no longer required to purchase another table for placing your drinks or snack. This table classically delivers it all.
Unforgettable Game: It's now easier to get lost in the foosball game with this table offering furniture-grade smooth playfield. You'll now find red and blue team players made from solid wood providing incredible accuracy. Teams are scrutinized from dedicated sides by 3 separate wooden handles.
Ball Return:  Players can count on this table's foosball performance with its ball return system; foosballs are now conveniently returned from a stainless steel ball return. The balls are put back into their dedicated slots for a convenient game.
Leg-Levelers: Play a confident game with this table's signature leg-levelers that can be adjusted as well. You can practically move this elegant table to your favorite place without having to worry about stability. Thus, players can achieve the flat playfield thanks to the leg-levelers installed on this table.
Other Features: Your favorite foosball coffee table has appealing accents and keen detailing. Each part of the table is carefully built, offering great durability. Furthermore, its playfield area is supported by the inlaid wood veneers and hand-painted players.
Besides, there are wooden scoring beads installed on both ends keeping players updated. These scoring beads are presented in a traditional wooden built and are placed in clever positions for easy access.
Pros
Flat playfield area with the promising and adjustable leg-levelers
It comes with the convenient ball return feature
2 traditional wooden scoring beads for easy updates
Lightweight and sleek design foosball coffee table
Cons
Balls continuously get stuck
Not ideal for tall people
Our Take: Stay on top of your foosball game with wooden scoring beads and the ball return feature of this wooden foosball coffee table. Moreover, it comes with adjustable leg levelers that enable you to play a consistent game.
POPULAR CHOICE
Hanover Foosball Coffee Table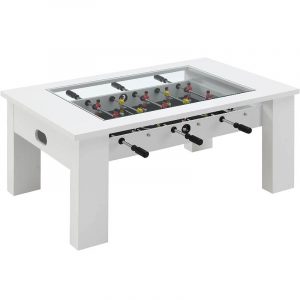 ★★★★★
Sturdy Engineered Wood
Handmade Wooden Players
Features:
The manufacturer builds the table with sturdy engineered wood
You can easily operate the playing rods during game
Red and yellow handmade players in the playing field
The table is built with a clear glass top, play and have food at the same time
Here you'll get a 45 inches wide playing field
Playing your favorite game with the best items makes your experience remarkable. You'll get an accurate body construction along with smooth moving rods given in the table.
Meanwhile, such foosball tables are a plus point for you to grasp the game as these tables look like ordinary tables, but you can have fun and food at the same time.
Specifications:
Dimensions: 45 x 28 x 20 inches
Weight: 70.4 lbs.
Available Colors: white, blue, & grey
Material: Wood, glass, and tempered glass
Total Rods: 6
Assembly Required: Yes
Strong-Grip Handles And Rods: Build a robust and fun foundation with these strong-grip handles. The handles of this foosball table are finished with an ergonomic black grip. It offers a firm grip on rods and easy operation because of the material used in the table.
45-Inches Playing Field: Hanover offers you 45 inches of the wide playing field. Now, you no longer have to worry about the foosball table, which eats up your living space. Further, the width of this table is enough to play the game. Buy this table and place it anywhere and start playing due to its space-saving specialty.
Wood Frame Material: The legs and body of the table are manufactured with fine wood. Its material makes the table look like other furniture in your living place or office. This material is responsible for the table not to damage.
Have Ultimate Fun: Once you buy these best foosball coffee tables with easy placements, you can put it anywhere you want. Place the table in your living rooms, offices, recording rooms, or man caves also. Simply adjust the table and let the competition begin. Moreover, this classic foosball table provides you the ultimate fun foundation.
Pros
Quick and easy one-time table assembling
The balanced and smooth playing area
Sturdy game with playing rods that offers smooth grip
Clear glass top
Cons
Some customers don't like the design
Our Take: A 45 inches table with a super fine clear glass top offers a great experience to everyone. Further, it has lightweight that allows you to move easily.
TRADITIONAL
Steve Silver Diletta Foosball Coffee Table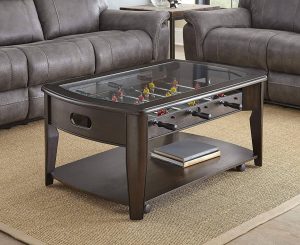 ★★★★★
Tempered Glass Top
Sturdy Shelves
Features:
An elegant tempered glass surface with iron complementing its safe profile
Works as a normal coffee table as well as a fully functioning foosball game for everyone
Easily displaced with provided 5 casters and 2 locking
Excellent gripping materials offering firm hold on 6 high-quality handles provided on the table
Includes a generous shelf at the bottom for storing extras without troubles
Turn your standard foosball game into an elegant furniture-style table offering room for your coffees/drinks. It is also among the few high-quality foosball tables under $500 to buy this year.
This table performs just like a regular coffee table but now with a fully functional foosball game. Therefore, you can enjoy both functionalities at the same price tag.
Specifications:
Dimensions: 20 x 45 x 28 inches
Color: dark brown
Weight: 85 lbs.
Furniture Finish: Walnut
Material: Walnut wood, Tempered Glass, & Iron
Legs: Tapered
Assembly Required: Yes
Enjoy And Play: This dual-purpose table has an elegant tempered glass surface making it one of the best foosball coffee tables. As a result, this table welcomes all your favorite drinks and essentials without disrupting the game mode.
On the other hand, you'll find a brilliant foosball playfield below this smooth glass. Therefore, this table offers you both a glass surface as well as a foosball playfield for you to enjoy.
Easily Displaced: This table comes with five casters offering brilliant movement on every floor. Magically, it is adaptive to all kinds of surfaces. These casters swallow friction from the base surface thus, offering a free flow of table movement overall.
Excellent Grip: Its 6 high-end handles offer wonderful hold with excellent gripping materials. Many times, your hands release sweat, making it difficult to get a proper grip, but no more, as these excellent rods provide players with a complete hold of the game.
Other Applications: Players will find another storage space at the bottom for more coverage. The wood construction is supporting the whole experience with the iron complementing its resilient profile. Besides, there's a side entry port for an easy game start.
Pros
Easy game start with side entry port
5 casters installed on this table offer convenient mobility
Rods offer superior grip for a great game control
Wood and iron amalgamating to provide lasting durability
The price tag is affordable
Cons
The finish has an odd odor
Fragile screws
Our Take: Bring life to your foosball game with this excellent table offering a super sleek glass surface. Plus, players can easily move this table around with its 5 rapid functioning casters and wood built.
HEAVY-DUTY
KICK Java 48″ Foosball Coffee Table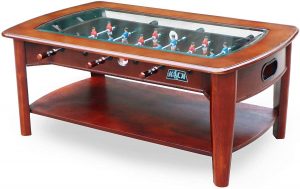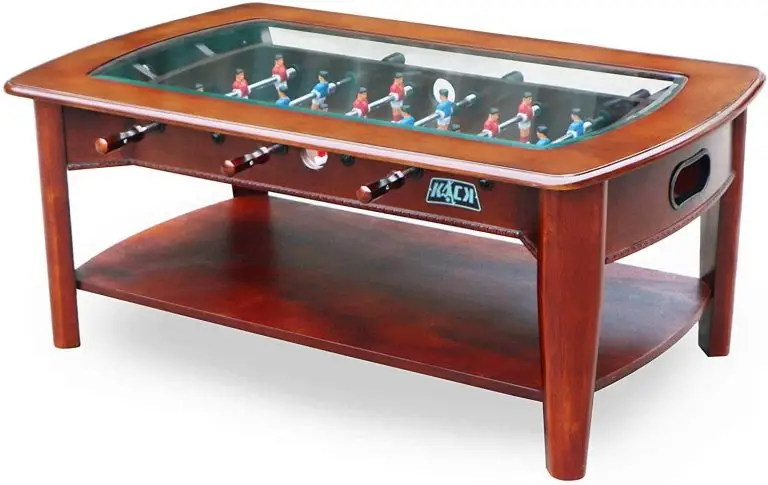 ★★★★
Genuine Hardwood
Telescopic Rods
Features:
Genuine brown hardwood construction with super sleek tempered glass surface
Super comfortable 6 telescope rods and 18 multi-colored men simulating the best foosball game
Instantly turn your beautiful coffee table into a complete foosball game
Your favorite foosball game is here but with a luxurious touch of brown hardwood construction. It comes with high-quality multi-colored men on the field, simulating the best soccer experience within the comfort of your rooms.
Now you can seamlessly enjoy a foosball game with a coffee/tea party on its tempered glass surface. All you need is some high-quality foosball balls to have unmatched fun.
Specifications:
Dimensions: 48 x 29 x 20 inches
Weight: 80 lbs.
Color: black
Material: Glass & wood
Rods: Telescopic
Total Rods: 6
Assembly Required: Yes
Lasting Built Pleasure: The table boasts a brown hardwood construction making it one of the toughest in the block. Usually, hardwood has been acknowledged as the most resilient composite of any product. Therefore, your coffee foosball table remains there no matter what happens.
Handling A Men Set: Game on with 2 colored men teams ready to play on the generous playfield area. These men set are highly precise in their working and offer commendable leverage over the game. On the other hand, the 6 telescope rods bring the best handling experience present on a foosball table.
Built-In Bottom Shelf: Many consumers just prefer more and more space to keep their belongings, and that's what you'll get here. The table has an in-built bottom shelf finished with pure wood. Besides its surface top, you can also put some stuff on this convenient shelf.
Pros
Exceptional handling experience with the telescope rods
It brings two features on a single table
Brown hardwood built made to last
It comes with the balanced and accurate men set
It comes with a lifetime warranty
Cons
Complains about dents and cracks on the playfield
Thin plywood on the playfield doesn't edge near the goal
Our Take: Kick Java 48 inches is a perfect addition to your living space with its hardwood construction and catchy appearance. Further, this table comes with a lifetime warranty in case if you are satisfied you can get your money back.
PROFESSIONAL
Berner 2-in-1 Foosball & Coffee Table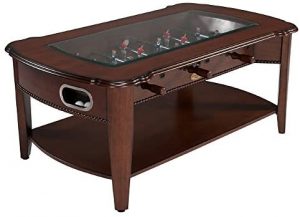 ★★★★
Sturdy Exterior
Hand-Painted Desgn
Features:
The rods have telescopic style with sturdy exterior formation as well
You'll get 48 inches of table length with a smooth playing surface throughout
Wooden body construction having walnut wood comprising high-ranked material
The foosball men have a hand-painted design with a sharp striking impact
Premium and professional game selection of table with shining glass surface featured on the upper surface. Alongside, the balancing aspect of the table format has been optimized here with efficiency.
The walnut structure delivers a fine playability experience for the multiplayer. But yes, you do need to use some top-rated foosball tables covers to increase its durability.
Specifications:
Dimensions: 48 x 26 1/2 x 20 inches
Weight: 75 lbs.
Color: brown
Material: Walnut Wood & Wood
Rods: Telescopic
Leg Levelers: adjustable
Solid Grip Handles: The manufacturers have introduced octagonal shape handles with proper grip throughout the surface. Plus, the players get a smooth sensation of handling the rod due to the versatile playability. The sliding impact is also smooth here with proper rolling functionality.
Appealing Structure: Walnut wooden frame construction of the table has also got the balanced surface of the glass exterior to complete the coffee table formation. The detailing of the surface includes a hand-carved aspect that enhances the visual expressions. Moreover, assembling with no professional tools is required.
Smooth Rods With Supportive Shelf: The rods have a telescopic design structure along with gripped handles as well. In brief, the top and below shelves with tempered formation also provide a functional feature to the table body.
Leveled Body Construction: Here the players will experience adjustable leveled legs structured on the table body along with ground support. Moreover, the ball returner is here having stainless steel construction on the gaming surface of hand-painted men.
Pros
Smooth glass surface along with side shelves
Telescopic rods are here with firm gripping
The surface men have hand-painted exterior design
Balanced formation of the table with leg levelers
Cons
The slider can fall after few uses
The price is too high
Our Take: This table has an elegant and smooth playing design along with telescopic rods with octagonal griping handles balanced with leg levelers.
FAQ Regarding Best Foosball Coffee Tables
Q. Is my coffee table too high?
The coffee table must be around half the length of your sofa. Or you might say that in inches, it must be 4 inches high.
Q. How much weight can the top handle?
The weight handling capacity of any table has nothing to do with anything as there is no specific limit described by the companies when it comes to recommending the weight.
Q. Can I remove the tabletop of these coffee tables?
Yes, you can conveniently remove the tabletop of these coffee tables as they come with features that allow them to remove the top quickly.
Best Foosball Coffee Tables 2023 | Quick Comparison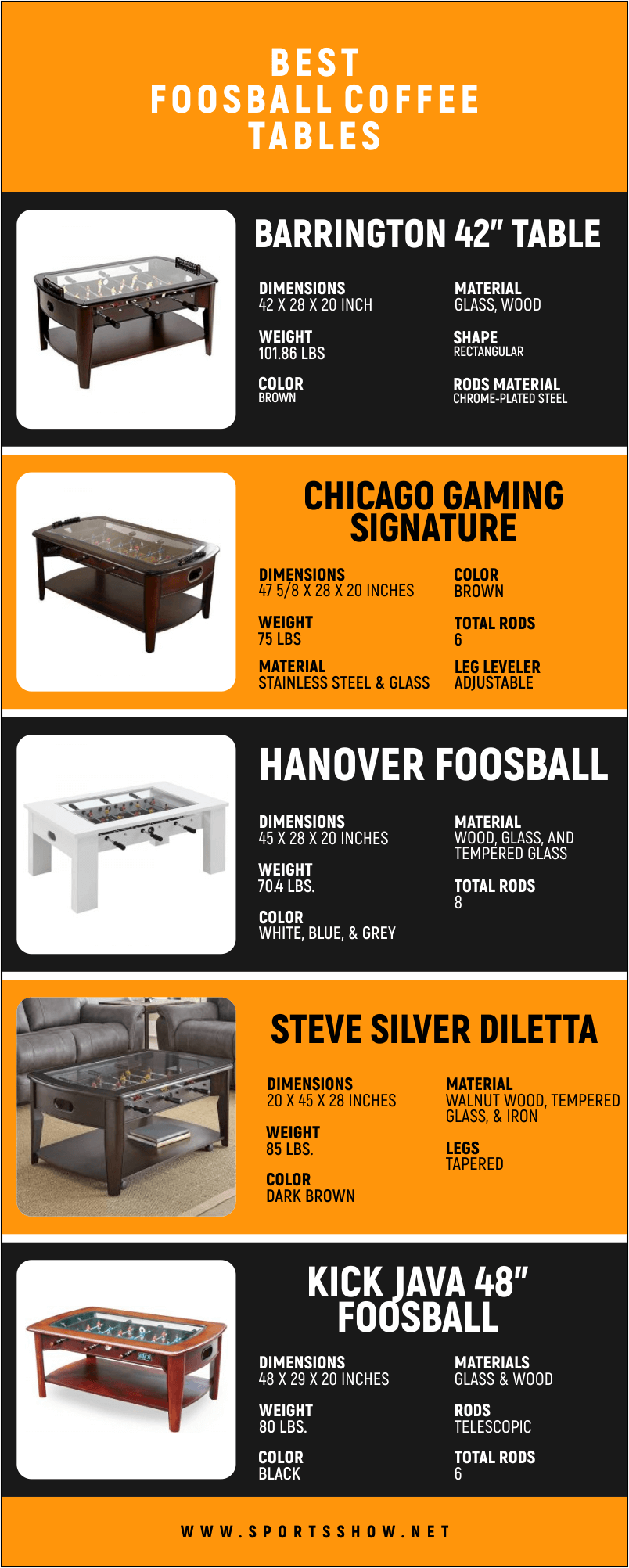 Our Recommendation:
The list of top-quality manufactured and best foosball coffee tables are given here with optimized playability. Moreover, the exterior formation also gets smoother throughout the gaming surface and table body. The rods are perfectly arranged with swifty movements and a versatile rolling aspect connected with players.
Withal, the leg levelers have adjustable placements to maintain the balanced construction of the gaming surface and exterior. The glass tempered upper section has professionally enhanced the visual appearance together with firm adjustments. Additionally, the glass construction is also firm here with the durability factor.
Conclusion
The list of top-quality manufactured and best foosball coffee tables are given here with optimized playability. Moreover, the exterior formation also gets smoother throughout the gaming surface and table body. The rods are perfectly arranged with swifty movements and a versatile rolling aspect connected with players.
Withal, the leg levelers have adjustable placements to maintain the balanced construction of the gaming surface and exterior. The glass tempered upper section has professionally enhanced the visual appearance together with firm adjustments. Additionally, the glass construction is also firm here with the durability factor.