Finding fitting wristbands could be a trouble for most table tennis players. Our best table tennis wristbands will cut down your chase by providing what you have been looking for. These wristbands offer superior sweat absorption functionality for hassle-free matches.
These wrist guards are highly durable with top-quality construction and safety measures. You can confidently wash these wristbands without expecting to witness quality decline. That makes them one of the most suitable options for most consumers out there.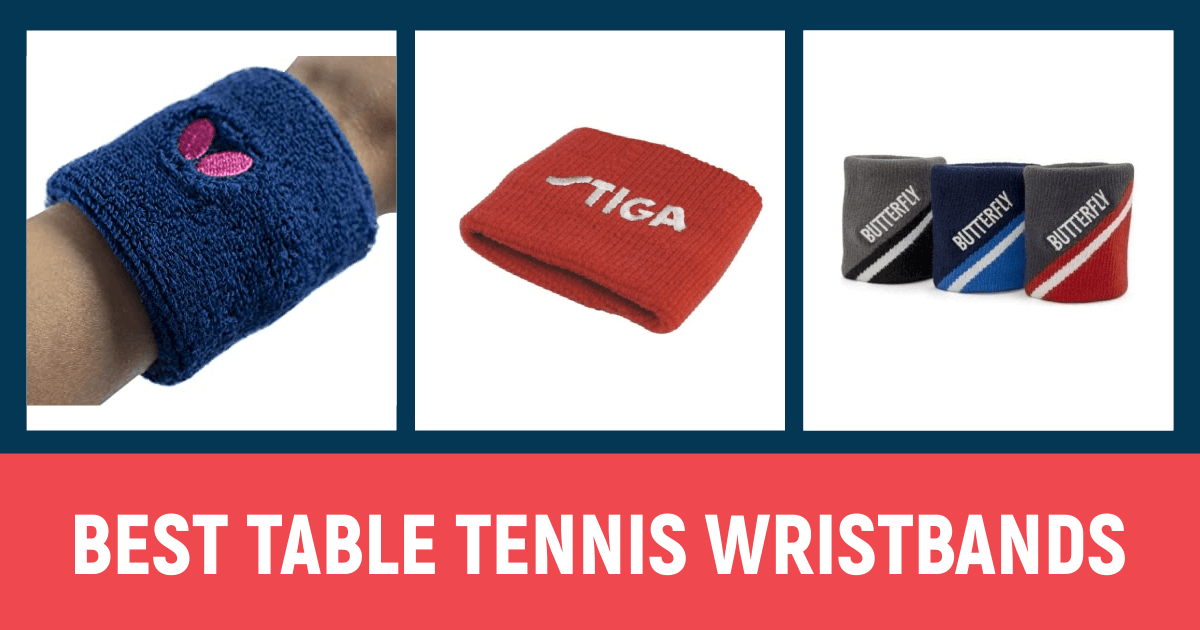 Fitting is another dominant factor when you look to buy a wristband for yourself. Most of these wristbands bring better fitting flexibility suitable for both men and women. That makes them a versatile pick for most players. Besides, they are lightweight and comfortable enough to wear in the most challenging environments.
Best Table Tennis Wristbands | Editorial Pick
EDITOR
CHOICE
★★★★★
Butterfly NL Wrist Band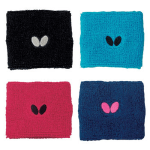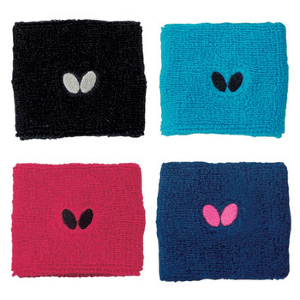 Premium Designs
Universal Sizing
Better Protection
TOP
RATED
★★★★★
Willbond 6″ Sweatband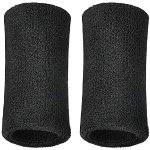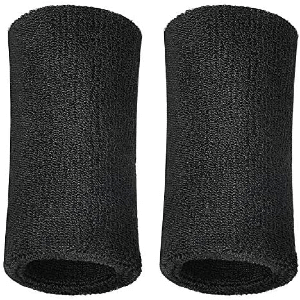 Spandax and Nylon
Premium Dual Layer
Skin Friendly
BEST
SELLING
★★★★★
12 Sports Wristband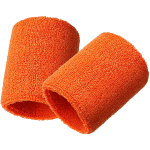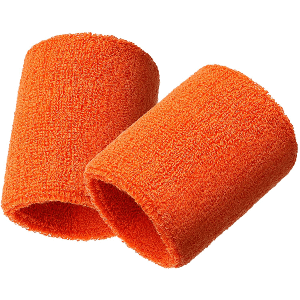 Wide Color Range
Premium Construction
Lightweight Design
Best Table Tennis Wristbands | Detailed Reviews
We have recently reviewed the best table tennis shoes for men and also the best table tennis shoes for women. But in TT, your hand is equally (sometimes even more) important. So, here are the best wristbands to assist your gameplay in TT.
BEST OVERALL
Butterfly NL Wrist Band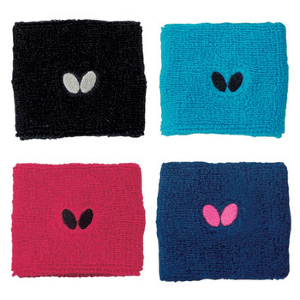 ★★★★★
Premium Fabric
Universal Sizing
Features:
Offers universal size for most wrist types
Features cotton, polyester, nylon, acrylic, and polyurethane
Brings protection against wrist injuries
This special wristband features a fusion of cotton, polyester, acrylic, polyurethane, and nylon for superior protection. It is designed to keep wrist injuries at a distance with a straightforward and comfortable design.
This wristband fits all limitless table tennis players. Just have some pro-rated table tennis shoes with these, and you are ready to go!
Specification:
Dimensions: 5.197 × 3.937 × 0.63 inches
Weight: 0.044 pounds
Color: blue & sky blue
Texture: Soft and flexible
Material: Cotton, polyester, acrylic, & nylon
One Size That Fits All: There is no size limitation in this wristband offering universal size to the consumers. That means you will no longer feel hesitant when purchasing this band for you as it's made for most wrist types.
Versatile: It features polyester, cotton, nylon, polyurethane, and acrylic as processing materials. That forms a highly stretchable profile offering great value of elasticity for most of the usability. It easily wipes off any symptoms of sweating with the excellent soaking materials.
No Wrist Injuries: The incredible design makes it highly protective against all sorts of wrist injuries accompanying your playing routine. These materials support your wrist health offering maximum protection so you can stay safe no matter what happens.
Pros
Fits most wrists
Strong and stretchable
Premium construction
Suitable for professionals
Our Take: Experience the best wrist comfort with this wristband offering universal fitting and stretchable profile.
BEST-RATED
Willbond 6 Inch Wrist Sweatband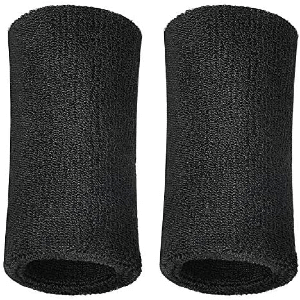 ★★★★★
Organic Material
Dual Premium Layer
Features:
Incorporates 12% spandex and 3% nylon in construction
It comes with dual-layer thick organic material
Fits most wrist types with a flexible design
Skin-friendly design that fits both men and women
Now you can focus on your game with this one of the best table tennis wristbands featuring a breathable design. This wristband is made out of spandex and nylon, offering excellent elasticity to your wrists.
You can play without breaks with its quick-dry functionality. If you have a kid TT player, just buy one of these wristbands and specially-designed kids TT shoes to see the improvement in no time.
Specifications:
Brand: Willbond
Colors: 8 unique colors
Dimensions: 6 x 3.15 inches
Weight: 8.43 ounces
Band Size: 6 inches
Materials: Nylon
Materials: These promising wristbands are made out of 12% spandex and 3% nylon offering a soft profile. That makes up for a soft profile that is easy on your wrist. In addition, the lightweight design makes sure that troubles don't follow you when in important matches.
Absorbs Sweat: That is one of the prime highlights of this wristband. This wristband offers sweat absorption functionality, so your wrists remain dry even in hot and humid conditions. It effectively reduces signs of sweats thanks to the dual-layer thick organic material. So, players can stay focused no matter how the weather conditions are.
Fits All Wrists: Its stretchable profile brings elasticity to another level making it complain about most wrist types. The area of the wristband has been increased to offer more protection. Its design perfectly fits both men's and women's wrist types, making it a versatile choice.
Sustains Quality: You will no longer notice quality decline even when you wash this wristband. The premium materials make sure that the band remains in exact shape without showing signs of quality decline. Hence, washing this sweatband is no longer a worry for most consumers out there.
Pros
High elasticity
Sustains quality
Moderate price
It fits most wrist types
Cons
Too tight for some wrists
Not exceptionally absorbent
Our Take: This sweatband offers it all with the flexible nylon material and sweat absorption functionality.
POPULAR CHOICE
12 Pieces Sweatbands Sports Wristband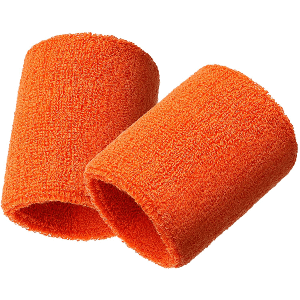 ★★★★★
Quick Drying Material
Wide Range Of Colors
Features:
A set of 12 wristbands with a range of colors
Features 12% spandex and 3% nylon in construction
It lets you wick away extreme sweating
Elevate your comfort with this premium wristband featuring non-slip technology. These wristbands come in appealing colors offering better choices for most players.
Also, the wristbands are highly absorbent so that you can stay right on top of all your physical activities. You can also comfortably carry it in your table tennis kitbag.
Specifications:
Brand: Bememo
Colors: 17 striking colors
Dimensions: 3.15 × 3.15 × 0.39 inches
Material: 12% spandex, 3% nylon
Weight: 8.11 ounces
Washable: Yes
Construction: This wristband makes sure that you wear the best in your most important matches. It features 12% spandex and 3% premium nylon in construction. These materials offer remarkable elasticity that brings ergonomic fit for most wrists.
No More Sweaty Hands: Persistent sweating is one of the prevailing troubles in table tennis when playing in hot conditions. The sweaty hands can trouble when you look to perform well in important matches. This wristband makes a great sweat-absorbent when you confront this trouble.
Durable For Most Events: Finding a durable wristband is mostly trouble. These wristbands prove extreme worth in all sorts of physical activities like gym, running, and taxing yoga classes. So, players can rely on its durable construction and make the most out of their physical ventures.
A Worthy Purchase: You are getting about 12 wrist bands in different colors with this extra value pack. There is a range of colors that players can choose to wear every other day. That brings a variety of choices so that players can pick a different color depending upon their preferences.
Pros
Washable material
Extreme durable
Bid farewell to face sweating
Comes in a range of colors
All value for money
Cons
Could be better at absorption
Not suitable for women
Our Take: Your outdoor table tennis adventures are highly convenient with these wristbands featuring washable materials and a durable profile.
COLORFUL
Hapy Shop 12 Pack Colorful Cotton Sport Wristbands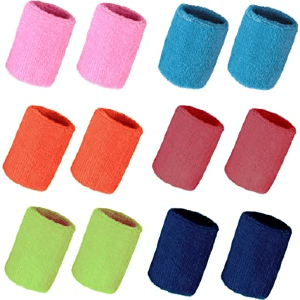 ★★★★★
Non-Slip Designs
Extremely Lightweight
Features:
Made out of 80% cotton and 12% spandex with 8% nylon
Brings a lightweight and non-slip design
It offers a high degree of elasticity for most wrists
Maintains shape even after washing
Try this valuable wristband pack offering compelling colors and striking durability on top of everything. Its impressive elasticity makes it one of the best table tennis wristbands that you can try this year.
You can wash them or soak them in water with complete confidence. Besides, you can also carry this band inside one of the best-rated paddle carrying cases that come with a moderate budget.
Specifications:
Brand: Hapy Shop
Dimensions: 3.1 x 2.9 inches
Weight: 6.38 ounces
Color: 6 trendy colors
Material: 80% cotton, 12% spandex, & 8% nylon
Composite: These sweat-absorbent wristbands are 80% cotton and 12% spandex, accompanying 8% nylon. That gives it a superior profile combing elasticity and durability that cotton provides. Hence, the materials elevate the wrist comfort and provide better protection overall.
Universal Fitting: Everyone can be confident when buying these wristbands as they offer universal fitting functionality. These wristbands are made for both male and delicate female wrist types making them highly versatile. Almost most players can use these wristbands.
Strong And Washable: You can easily wash away these wristbands due to washable functionality. The strength of cotton combines with the flexibility of other composite materials makes this a more robust wristband than most in the consumer's space.
Worthy Non-Slip Design: This wristband doesn't slip away even when you face continuous sweating in humid environments. It comes with an excellent texture offering help against sweaty and slippery hands and wrists. So, players can focus on their game no matter what goes around.
Pros
Non-slip design
Sturdy cotton composite
Offers universal fitting
Low price
Our Take: This wristband offers maximum non-slip functionality for your wrists in sweaty environments featuring cotton composite and universal fitting.
DURABLE
Payanwin 10 PC Sports Wristbands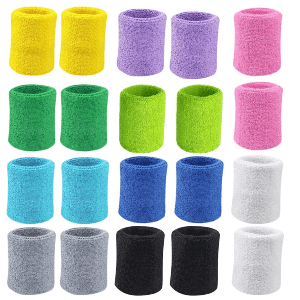 ★★★★
Cotton Construction
Perfect For Outdoor
Features:
Made out of 95% premium cotton construction
A pair of 10 wristbands in different colors
Suitable for most extreme outdoor activities
Experience this premium quality wristband in a strikingly attractive value pack that features good quality cotton composite. These wristbands come in a range of compelling color options, making them a highly personalized fit for most consumers.
You can choose to perform all physical activities with these wristbands. Have this on your wrist and start practicing with high-quality table tennis training sets to witness a better performance.
Specifications:
Brand Name: Payanwin
Dimensions: 3.15 × 3 inches
Material: Cotton
Color: 11 mesmerizing colors
Total Bands: 10 pieces
Suitable For The Best: These bands bring about the best performance in most extreme weather conditions without showing the quality change. Cotton promotes a high value of sturdiness and reliability when tested in harsh environments. They have quick dry functionality making them resilient against wetness and such impacts.
Comfortable: There is a great sense of comfort and pleasure when you put this wristband on. The flexible materials exalt your comfort level when playing crucial table tennis matches. Therefore, that makes it one of the helping factors in your upcoming table tennis matches.
A Valuable Pack: You get all the value for your money when you buy this incredible wristband pack of 10 pieces. These bands come in many attractive color variants in the package to wear more colors every day, depending upon the activity.
A Sense Of Style: Wearing a wristband in different colors exalts your style language. You can choose to wear your favorite color band depending upon the nature of the activity and day. So, you get to show your sense of style by wearing these bands on your wrists.
Pros
Resilient against excessive moisture
Brings more colors
Comfortable to wear
Sturdy cotton composite
Cons
Not suitable for small wrists
Different sizes in a single package
Our Take: Try one of these wristbands for your upcoming table tennis matches featuring sturdy cotton and comfortable wearing functionality.
FULL SET
Obmwang 18 Pieces Wrist Sweatbands
★★★★
Quick Sweat Absorption
Better Breathability
Features:
It comes with a premium sweat-absorbent functionality
Offers high value of breathability for the most part
Brings ease of washing in a cleverly processed design
Get your hands on these stylish wristbands featuring premium sweat-absorbent technology for physical activities. You can now try a new color every other day when going out to perform exercise or playing table tennis.
Besides, the cotton composite opens the breathability to perform to the fullest. Just have one of the best-rated ping pong paddle sets and you are ready to dominate with these wristbands.
Specifications:
Brand: obmwang
Dimensions: 3.15 x 3.15 inches
Weight: 8.47 oz
Color: 9 eye-catching colors
Material: cotton
Total Bands: 9
Breathable Material: This wristband proves to be the best performer in almost all circumstances. Besides, the breathable substance makes it easy for the air to pass through. That naturally reduces the probability of sweat build-up on hands and arms.
Lightweight And Durable: You are getting a lightweight design when it comes to this wristband. The wristband is soft, and it promotes demanding comfort to your wrists without a second thought. So, you can perform your level best in challenging conditions.
For Most Physical Activities: Get the most out of your outdoor struggles using this wristband to your requirements. This wristband can accompany you to different physical activities rather than just table tennis. So, you can outshine everyone in every physical domain.
Show Your Style: The processing has given it a sense of modish touch along with some color options for you to try daily. In addition, wearing these wristbands improve your sense of fashion while elevating your style language.
Pros
Enhanced breathability
Flexible and durable
Sweat-absorbing cotton
Cons
Offers lose grip on most arms
Latex might not suit allergic skins
Our Take: Bring the best performance out of table tennis matches using this wristband featuring a breathable and lightweight design.
CLASSIC
ADV Tennis Bamboo Charcoal Ace Wristbands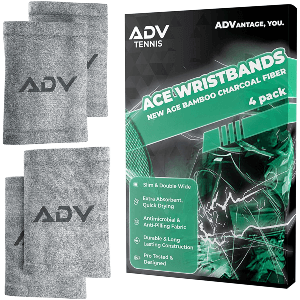 ★★★★
Better Blood Circulation
Ultra Absorbent
Features:
Offers prime improvement in blood circulation
Made out of ultra-absorbent bamboo charcoal
Charcoal fibers are improvised for superior comfort
Take the table tennis performance to another level with this wristband featuring ultra-absorbent bamboo charcoal. This premium wristband can treat smelly arms so you can stay confident throughout.
Additionally, the versatile charcoal fiber brings about a porous breathable design along with sweat-absorption functionality. Have one of the affordable ping pong robots on your side, and you are good to have a grand practice session.
Specifications:
Brand: ADV Tennis sport
Dimensions: 6.89 × 4.53 × 0.73 inches
Weight: 3.33 ounces
Color: Gray & black
Material: Bamboo charcoal
Ultra-Absorbent: Its ultra-absorbent bamboo charcoal makes it one of the best table tennis wristbands out there. The resulted texture reduces the impacts of sweating and undesirable smell. That ultimately boosts your confidence wherever you go.
Moreover, this grip keeps your grip highly dry and resilient to slipping. That brings better playability or exercising for the most part.
Highly Durable: You can rely on the durability standards of this promising wristband featuring quality sustainability even after continuous washing. The materials don't stretch or morph, making it a trusted wrist band for long-term usage.
A Worthy Competitor: The band is made out of bamboo charcoal fiber, offering its users a thin and soft profile. You can also find a porous texture that improves breathability while minimizing the sweating impacts. It also has a cross-section inundated with small gaps just right to suck all the moisture out of your face with a single wipe.
Better For Health: Bamboo charcoal incorporates potassium, calcium carbonized material, and magnesium offers improved blood circulation. The improvement of blood circulation brings the best performance to you.
Pros
Improves blood circulation
Ultra-absorbent
Anti-slip functionality
Superior comfort
Cons
Shrinks when heated
Slightly high price
Our Take: Get the best out of your table tennis matches with this ultra-absorbent wristband featuring anti-slip functionality and improved comfort.
FAQ Regarding Best Table Tennis Wristbands
Q. How to wear a tennis wristband?
Sweatbands are worn over the hands and above the wrists. For maximum joint flexibility, adjust the bottom edge of the band, so it rests just above your wrist bones. For the other wrist, repeat the process. You will achieve a more comfortable grip by preventing sweat from trickling into your palms. Your grip and racket handle will stay dry.
Q. Do wristbands help in tennis?
Tennis has been dominated by wristband use since they were first introduced. Tennis players can use a wristband to wipe sweat from their foreheads. By doing so, your vision will be improved. In addition, they reduce sweat absorption into the hands.
Q. Why do tennis players wear wristbands?
The racquets are an essential part of the sport, and the regular grip and the fact that they are held in one hand. As a result, the armpits and hands don't usually sweat much, while the sweat collects at the wrist. Wristbands play an essential role in this process.
Q. How do you clean tennis wristbands?
Make sure the sink is full of hot water and soap. Ensure not to scrub the wristbands with the solid soap bar as you soak them in the soapy water. The wristbands should be washed under hot water under the faucet after draining the sink. It is recommended that you wring the wristbands until they are dry to around 80-90%.
Best Table Tennis Wristbands| Quick Comparison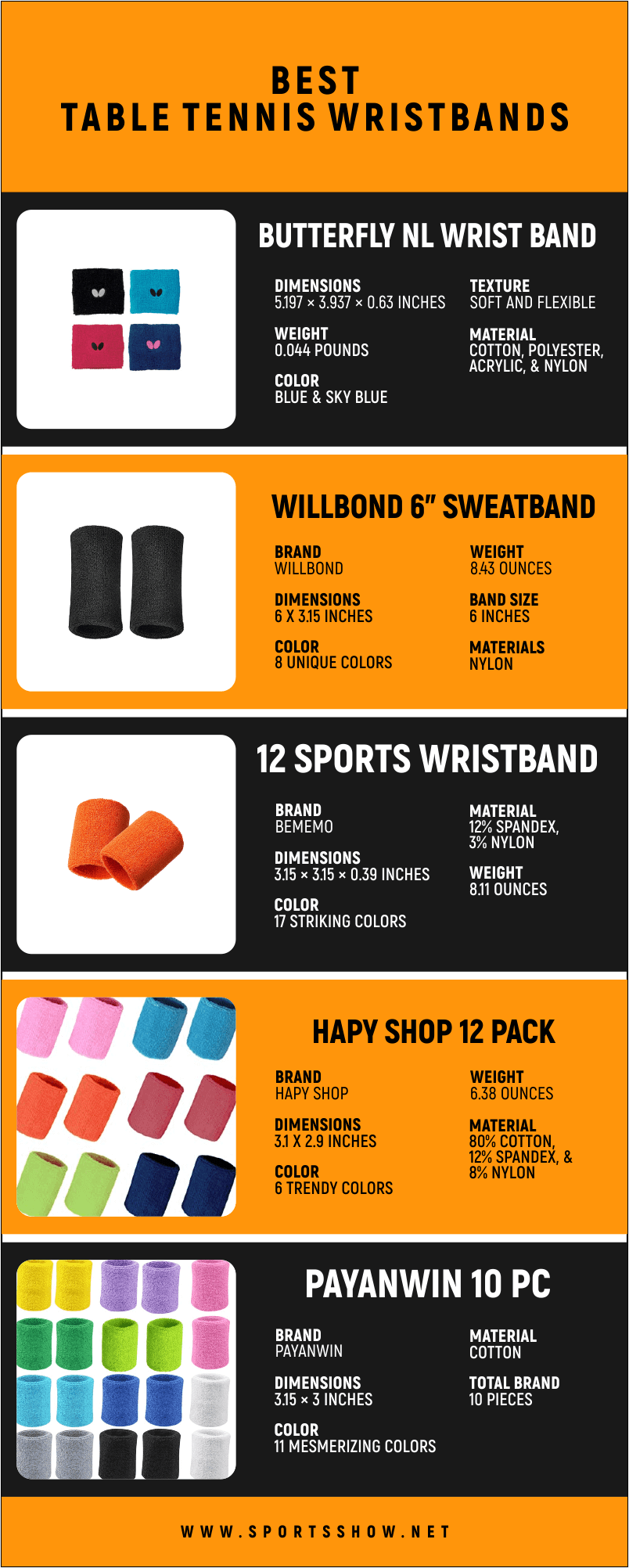 Our Recommendation
Our 1st recommendation is ADV Tennis Bamboo Charcoal Ace Wristbands as the most advanced product. This wristband features a slim and strong profile thanks to the bamboo charcoal fiber. In addition, it helps and improves blood circulation keeping things safe.
Also, our 2nd recommendation is Butterfly NL Wrist Band as the most accessible of all the above offerings. It features compliant universal fitting functionality in a range of compelling color options. There is moisture absorbent support improving your physical performance value.
Conclusion
These 7 best table tennis wristbands that most professionals must try. These wristbands offer strength and flexibility at the same time. So, players don't lose out on performance when availing comfort.
The authentic materials construction improves the longevity of these wristbands. You can trust them for all your physical activities besides just table tennis. Overall, these wristbands meet every player's expectation with a fair margin.